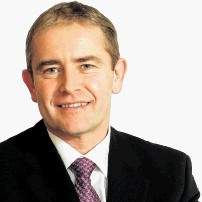 North Sea entrepreneur Tom Cross said yesterday he would "certainly be interested" in exploration and production assets currently owned by France's Engie.
Mr Cross was speaking after Aberdeen-based Parkmead Group, where he is both chief executive and the biggest shareholder, revealed it had nearly £30million to spend in a market where assets are being picked up at knock-down prices.
Parkmead said it had completed six acquisitions since positioning itself as an independent oil and gas firm, and was currently evaluating further opportunities to take advantage of bargains in a troubled market.
North Sea assets in need of a new home are believed to include the UK offshore business of Paris-based Engie, formerly GDF Suez, which has put all its oil and gas upstream interests under "strategic review" as it turns its focus on low-carbon activities.
Engie's UK exploration and production arm is operator of the Cygnus and Juliet gas fields in the southern North Sea, while it also has interests in the central North Sea and west of Shetland.
Asked if Parkmead could be a buyer, Mr Cross said: "We have already done a number of deals where we have seen large companies changing their strategy.
"We bought a stake in Athena from Ewe Group (German utility) when it changed direction from oil and gas to renewable-energy.
Parkmead and Engie/GDF Suez had a track record of working together, he said, adding: "It is natural that we should look at their assets. We would certainly be interested."
Centrica and Total have reportedly been in talks about some of Engie's oil and gas interests.
Engie has no "specific" plans for an oil and gas exit but it is thought to be planning to sell assets worth nearly £12billion to cut its £21.6billion debt, while reducing its exposure to commodity prices.
Corporate broker WH Ireland said Parkmead was "uniquely well-positioned" among its peers to make acquisitions.
"It has no debt, an unrivalled acquisition track record and a leading technical understanding of the UK North Sea and the Netherlands," it added.
Mr Cross said Parkmead's approach to acquisitions encompassed "individual distressed companies" as well as offshore assets.
First half results showed the firm's current production focus on Dutch onshore gas fields paying off in operating costs as low as $12 per barrel of oil equivalent (boe).
The firm reported a narrowing of pre-tax losses to £4.56 million for the six months to December 31, against losses of £17.02million a year earlier.
Revenue for the latest period totalled £7million, down from £10.1million previously.
Parkmead said it had made further progress on its Perth, Dolphin and Lowlander (PDL) oil hub project in the Outer Moray Firth, adding in "other proven oil fields" in the area.
It also reported significant progress with its Platypus gas field development in the southern UK North Sea.
Mr Cross was confident about overall prospects, thanks to "significant growth across oil and gas operations in the UK and the Netherlands" and a cash pot worth £29.6million at the end of 2015.
Recommended for you

CNOOC confirms first oil from delayed Buzzard Phase 2 project