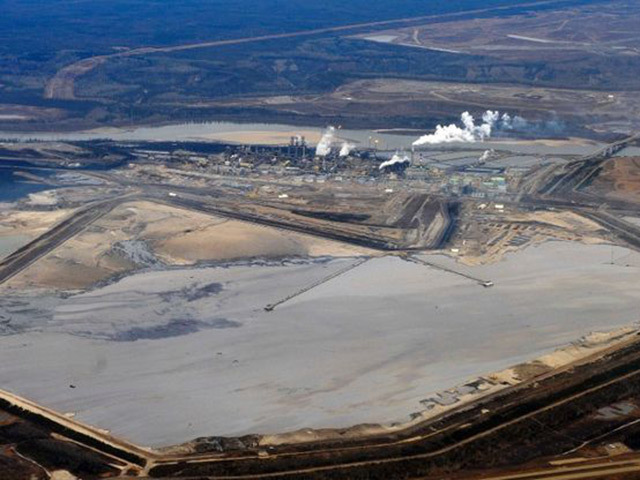 Suncor Energy Inc. is making the biggest bet on oil among the world's largest producers, counting on recent purchases to help push costs lower while betting demand will outweigh supply — and environmental angst over one of the dirtiest forms of the fossil fuel.
The 13th-largest integrated oil company by market value, the Canadian producer has spent $6 billion on acquisitions in the past year, more than any other competitor, including PetroChina Co. and Total SA, according to data compiled by Bloomberg. The company's focus is on the long-term trend of diminishing global oil supply and rising demand, said Rafi Tahmazian, a Calgary-based portfolio manager.
"They've done a hell of a good job taking advantage of the depressed environment to make some very smart purchases," said Tahmazian, who helps manage C$1 billion ($770 million) in energy shares, including Suncor, at Canoe Financial LP. "They've bought assets closely associated with their own, which helps them lower costs. They're going to reap the rewards."
Top Dealmakers Among Integrated Oil Companies
Company Value of Deals Over Past 12 Months Suncor Energy Inc. $6 billion PetroChina Co. $3.9 billion Total SA $1.5 billion Marathon Oil Corp. $888 million Vitol Group of Cos. $861 million
Steve Williams, chief executive officer of Canada's largest energy company, entered the oil downturn in 2014 with firepower, having cut costs and set aside cash. Since then, he's used a combination of shares and cash to snap up assets in the country's oil sands where its operating costs to produce a barrel are now less than C$25, down from C$37 in 2013.
In the meantime, Suncor has become an increasingly important force among global producers, creeping up from 17th position among integrated oil and gas companies by market capitalization in 2013. Recent purchases include the takeover of Canadian Oil Sands Ltd., Total SA's stake in the Fort Hills bitumen project and Murphy Oil Corp.'s 5 percent interest in the Syncrude oil-sands mine in Alberta.
"Given the strength of our balance sheet, we were in a position to take advantage of accretive acquisitions," said Sneh Seetal, a Suncor spokeswoman. The company has a history of buying when prices are low, she added.
Production Boost
The company plans to boost daily production to about 800,000 barrels in 2019 from almost 600,000 barrels in 2015 by increasing its exposure to the oil sands, mainly with the Fort Hills mine and a bigger stake in Syncrude. Crude derived from bitumen is more carbon intensive than conventional oil because of the energy used to free the hydrocarbons from the sticky sands, which has resulted in opponents targeting expansion as a fuel source.
Suncor's strategy is "smart" because demand for oil continues to grow and few new drilling projects around the world are being approved, said Jennifer Stevenson, portfolio manager at 1832 Asset Management L.P. "U.S. shale can't feed us all," she said. Suncor has bought long-life, low-decline assets that generate free cash flow at today's prices, she added.
Canada's oil sands competes with U.S. shale for capital, even though the resources are very different. The oil sands require billions of dollars of upfront investment for mines or underground steam facilities that operate for decades. In contrast, shale wells require constant investment and production lasts for a shorter period.
Rising Debt
Suncor shares are up by about 6 percent in the past 12 months, beating the 13 percent decline for the Bloomberg World Oil & Gas Index, as well as the 4.9 percent drop for Canada's S&P/TSX Composite Index Energy Sector Index. The stock has 17 buy ratings, eight holds and two sells, according to data compiled by Bloomberg.
West Texas Intermediate crude has rebounded to near $45 a barrel from a 12-year low of about $26 in February. The North American benchmark lost $2.29 to close at $45.14 in New York on Thursday.
One downside to Suncor's acquisitions has been rising indebtedness. The company's debt stands at about C$14.5 billion according to data compiled by Bloomberg.
Cash Flow
The company is relying on a combination of divestitures, cost cutting and equity raises to bolster its balance sheet as it buckles down for cheap oil. The company recently sold C$2.5 billion of shares and offered to buy back $1.5 billion of its own notes.
The company has also identified as much as C$1.5 billion worth of assets it can sell. It's forecast to post an adjusted net loss of C$187.7 million for 2016, according to the mean estimate of analysts polled by Bloomberg.
"Their cash flow has held up better than most and they've been able to spend through this malaise," said Bloomberg Intelligence analyst Michael Kay. "If you get a rebound in commodity prices, their market cap is going to go up."
Greener Fuel
Suncor and other Canadian producers face the risk of an environmental backlash against the oil sands similar to the opposition that helped thwart TransCanada Corp.'s Keystone XL pipeline. Investors like NEI Investments, a Toronto-based fund company with about C$6 billion under management, and organizations such as Ceres are encouraging a shift to lower-carbon fuels. "Breaking the link between economic and social well-being and the use of high-carbon energy will be challenging, but to ensure long-term sustainability for the planet we need to explore alternatives," NEI Investments said on its website.
Suncor's long-term growth may also be hindered by a lack of export capacity with no new major pipelines under construction, even though Suncor transports 700,000 barrels per day on current conduits and rail cars that give it access to global markets and prices, according to an April 28 investor presentation.
Over the past month, analysts have speculated Suncor may be interested in buying more oil-sands assets and even North Sea and Canadian offshore operations.
For Canoe Financial's Tahmazian, Suncor has already made the best purchases it could make in this business cycle. "There's slimmer pickings now," he said. "They're limited in what they can now buy without stepping outside their comfort zone."
Recommended for you

Report – global energy robotics market to be worth more than £8bn by 2050