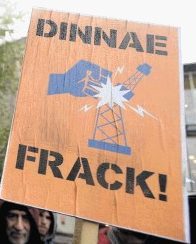 A bid to ban fracking in Scotland has been backed by the majority of respondents to a public consultation, according to the Scottish Labour party.
Figures released by the political party found that nearly 90% of respondents were in favour of a ban.
Over 1,000 responses were submitted to the online survey, launched by Labour MSP Claudia Beamish – a well known critic of unconventional oil and gas recovery.
Of the responses received 61% were anonymous submissions, 5% requested confidentiality and 3% came from organisations.
More than one in nine people (95%) claimed fracking poses "too many risks relating to pollution of the earth, water and air, and increased seismic activity", with only 4% disagreeing.
Just 6% of consultation responses said fracking could stimulate the economy and create jobs, with 88% disagreeing.
The MSP will now take forward her Private Member's Bill to try and ban fracking outright.
A moratorium on unconventional oil and gas recovery was put in place by the SNP in January 2015 pending further studies.
Despite the moratorium, Scotland currently imports daily shipments of fracked gas from the US to Grangemouth.
A full public consultation, called 'Talking fracking' is currently being carried out on the Scottish Government's consultation website. It is due to end next month.
Beamish, who represents the South of Scotland, said: "There is a loud and clear message from this consultation – the overwhelming majority do not want fracking in Scotland, and have raised profound concerns about the potential environmental impact if it is allowed.
"The climate science is irrefutable. Scotland does not need a new fossil fuel as we shift towards a low carbon economy. Most respondees [sic] argued that we should be focussing on the development of jobs in the renewables industries."
Scottish energy minister Paul Wheelhouse has said the will of the Scottish Parliament will be respected when a final decision is made.
Scottish Liberal Democrat environment spokeswoman Mariam Mahmood said: "Scotland cannot be a world leader on climate change while SNP ministers toy with opening up a new front of carbon-based fuels.
"It is high time the SNP joined Scottish Liberal Democrats and unequivocally ruled out fracking."
Dr Sam Gardner, head of policy at WWF Scotland, said: "The results of this consultation are another reminder that there is overwhelming public support in favour of cleaner forms of energy and against fracking occurring in Scotland."
Green MSP Mark Ruskell said: "This show of public support is very welcome because it's an issue Greens have been campaigning on tirelessly since 2014, and I'm pleased to now welcome Labour's support.
"Whether we ban this dangerous practice with a member's Bill, or a government ban, the most important aspect is that it must be legally watertight.
"The current 'moratorium' isn't ideal and the Scottish Government really needs to get a move on, conclude its consultation as quickly as possible and come to an early decision so communities across Scotland have certainty."
Recommended for you

Sunak reinstates fracking ban in reversal of Liz Truss policy