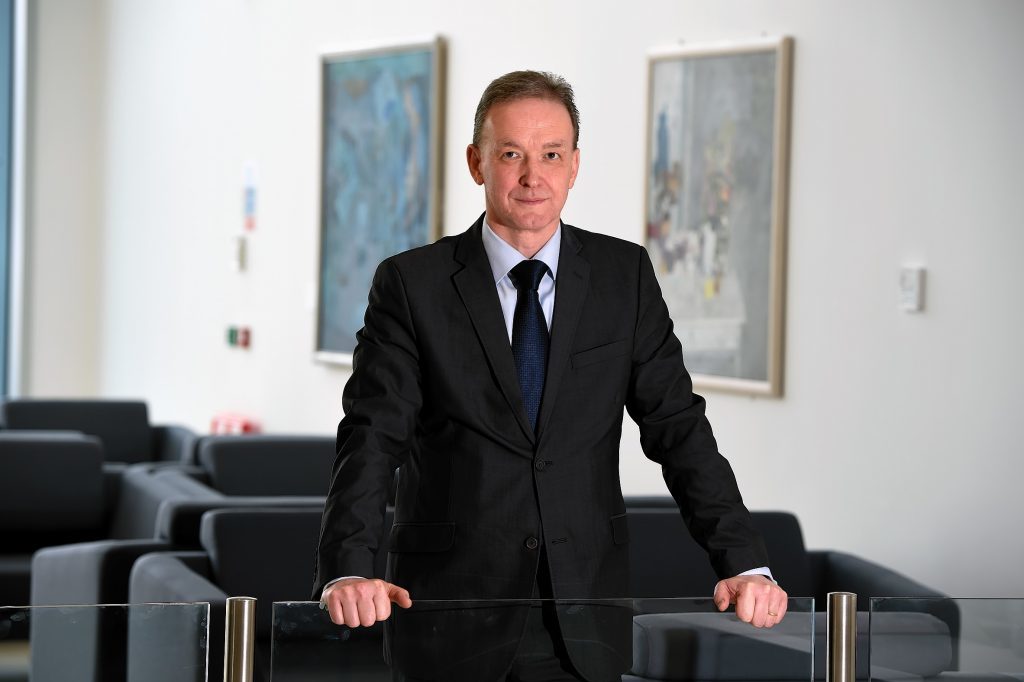 Wood Group has today completed its £2.2billion takeover of Amec Foster Wheeler.
hief executive Robin Watson also revealed plans to rename the new company Wood (WG.L). The service firm, now worth an approximate £5billion, will be headquartered in Aberdeen. The deal has also cemented Wood's place on the FTSE 100 as one of the most prosperous firms in the country. Find out the who's who if it's new executive board below. Read the exclusive interview with Robin Watson here.
Robin Watson
Chief executive
Robin Watson is chief executive of Wood and is an executive member of its Board of Directors. He was appointed chief executive of Wood Group in January 2016, having been chief operating officer (COO) and an executive member of the Wood Group board since January 2013.
Robin has more than 30 years' engineering and industry experience, with the past 11 years spent in a variety of executive positions and being actively engaged with various industry and governmental representative bodies. Prior to joining Wood Group, Robin worked for Petrofac and Mobil Oil, working both in the UK and internationally.
He is a chartered mechanical engineer, a Fellow of both the Institution of Mechanical Engineers and the Energy Institute. He holds an honours degree in offshore & mechanical engineering and a master's degree in business administration (MBA).
David Kemp
Chief financial officer
David Kemp is chief financial officer (CFO) of Wood. Formerly CFO of Wood Group from May 2015, he joined Wood Group in 2013 as CFO of its Wood Group PSN business, and was responsible for aspects of finance and administration, IT, real estate, and legal services.
David has more than 20 years' experience in the oil & gas sector and prior to joining Wood Group, held executive roles at Trap Oil Group, Technip, Simmons and Company International, and Hess Corporation, working across finance, mergers & acquisitions and operations. David is a member of the Institute of Chartered Accountants and holds an honours degree in accountancy.
Dave Stewart
CEO of Asset Solutions, EAAA
Dave Stewart is CEO of Asset Solutions EAAA (Europe, Africa, Asia & Australia). Dave was formerly CEO of Wood Group's Asset Life Cycle Solutions in the Eastern region in 2016, bringing almost 40 years' oil & gas industry experience to the role.
Since joining Wood Group in 1997, Dave has led the business to notable achievements. He established Wood Group's duty holder capability in 2007 and broadened the service offering in the UK Continental Shelf after being appointed UK managing director for Wood Group PSN in 2012.
Dave also serves in active roles in some of the UK's oil & gas industry organisations. He is a board trustee member for Oil & Gas UK and plays a key role in industry bodies such the helicopter task group.
Andrew Stewart
CEO of Asset Solutions, Americas
Andrew Stewart is CEO of Asset Solutions Americas. He was formerly CEO of Wood Group's Asset Life Cycle Solutions business in the Western region from 2017. Since joining Wood Group's Australia operations in 2009, he has served in a number of positions, most recently as president of construction, maintenance and operations for the United States, Canada, Latin America and the Caribbean. He previously led Wood Group's brownfield production services business in Australia & Asia Pacific.
Andrew received the Managing Director of the Year Award from The CEO Magazine in 2015 for his outstanding achievement in growing Wood Group throughout Australia and Asia Pacific, transforming the business by securing several notable contracts across the region.
Andrew holds an honours degree in mechanical engineering and a master's degree in business administration (MBA).
Bob MacDonald
CEO of Specialist Technical Solutions (STS)
Bob MacDonald is CEO of Specialist Technical Solutions (STS). Since joining Wood Group in 2003, Bob has held a number of key operational and leadership roles, contributing significantly to the growth and performance of the business. He was appointed CEO Specialist Technical Solutions in 2016.
Bob started his oil & gas career in the subsea industry more than 20 years ago. He has held a wide variety of roles, working extensively offshore and on assignments in Europe, North and South America and in the Middle East.
Bob graduated with a degree in engineering technology and subsequently earned master's degrees in law & arbitration and in offshore engineering.
Ann Massey
CEO of Environment & Infrastructure
As CEO of Environment & Infrastructure Solutions, Ann leads a high-performance team concentrating on growing the business by delivering profitable engineering, consulting and project management services to customers across a broad global geography. She maintains visible and active roles with several of EIS's key customers and, together with the managers and project teams, drives a customer-focused culture within EIS.
Ann previously held the role of President of Environment & Infrastructure, managing E&I America's Sector Programme, including responsibility for the growth of E&I services across the Americas, Europe, Middle East and Asia Pacific with an emphasis on building a strong customer-focused sector team globally. Under her leadership, the Sector teams, in collaboration with Operations, achieved significant market diversification and growth and advanced the integration of our E&I business with our Oil & Gas, Mining, and Power and Process businesses.
Ann has 30+ years of experience in project, programme, operations and business development in the engineering, construction and environmental markets. She began her career as a project manager and progressed through key Operations and Business Development leadership roles, including serving as President of both the engineering and consulting and construction businesses within MACTEC and as CEO of MACTEC, Inc., which became a part of the Amec Foster Wheeler family of companies in 2010.
Ann holds a B.S. in geology and an MBA from Tennessee Technological University.
Sue MacDonald
Executive president of People & Organisation (P&O)
Sue MacDonald is executive president of People & Organisation (P&O) and is responsible for delivering the human resources, communications and organisational effectiveness strategy. She joined Wood Group in November 2010 as human resources director for production facilities and was seconded to lead the integration team for the acquisition of PSN. She was appointed human resources director for the Wood Group PSN business in 2011 and to executive president, People and Organisation for the Group in 2013.
Sue has more than 30 years' industry experience and joined Wood Group from Marathon where she was head of human resources for the global upstream business. She has a Master of Arts degree and a postgraduate diploma in personnel management. Sue is a Chartered Fellow of the Institute of Personnel and Development (FCIPD).
Nina Schofield
Executive president of HSSEA
Nina Schofield, executive president – HSSEA, is responsible for developing and implementing health, safety, security and environment (HSSE) strategies across Wood Group's global operations.
Nina has more than 20 years of global HSSE experience with international energy services businesses, and has worked in the UK, Azerbaijan, Canada and US. She joined Wood Group in 2014 from Amec, where she was Group HSSE director.
Nina has earned a Bachelor of Laws, a Master of Arts degree and a National Diploma in Occupational Safety and Health. She is a Chartered Member of the Institution of Occupational Safety and Health.
Jeff Reilly
Executive president of Strategy & Business Development (S&D)
Jeff has 30+ years of industry experience and leads our global strategic, innovative, and business growth initiatives as well as business development across all business service lines, market sectors and customer groupings. Jeff also serves on the board of directors of the company's subsidiary that executes classified projects for the U.S. Department of Defense.
Prior to joining Wood, Jeff worked at ConocoPhillips/Phillips 66, ultimately as the group's Chief Procurement Officer and global head of projects. Prior to joining ConocoPhillips, Jeff worked for international engineering and construction firms Stone & Webster Inc. and ABB Lummus Global where he served as Vice President at both.
He has an MBA in Finance and International Business from the University of Houston and a BS in Chemical Engineering from The University of Texas (Austin) where he is an External Advisory Council Member for the Department of Chemical Engineering.
Steve Wayman
Executive president of Integration
Steve Wayman is executive president – Integration. He has worked for Wood Group for 24 years, most recently as executive president of Strategy & Development. Prior to that Steve held the position of CEO of Wood Group Kenny for 12 years. He joined Wood Group's Executive Leadership Team in November 2012.
Steve has more than 30 years' experience in the oil & gas industry, having started his career with BP. He has developed his career from technical and operational roles into business leadership across a wide range of sectors and geographies including Australia, India, Malaysia, Indonesia and the UK.
Steve has an honours degree in petroleum engineering.