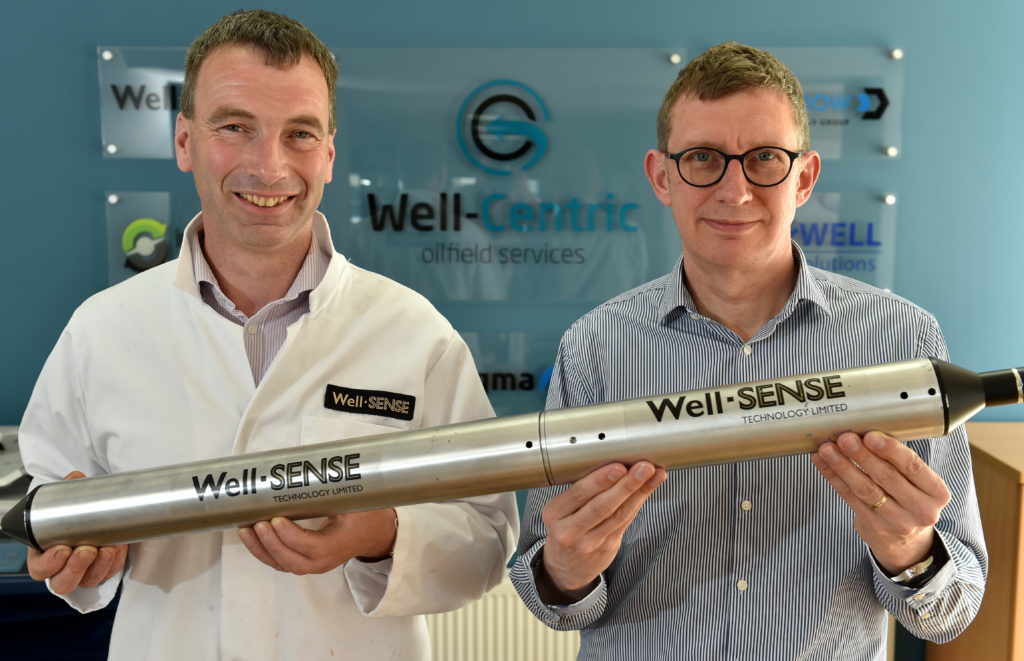 Amazing things tend to happen when Dan Purkis retreats to his shed.
A prolific oil field technology inventor, Mr Purkis has been designing downhole tools for more than 20 years and possesses well in excess of 50 patents.
And now he has come up with another way of giving himself an "edge".
Mr Purkis, technology director at Well-Sense Technology, has put a heater in his shed so he can spend more time there.
It begs the question: Does the North Sea industry actually need an Oil and Gas Technology Centre, anymore?
Yes, it does. But the increase in uptime for Mr Purkis can only be a good thing for the sector.
Energy Voice spoke to Mr Purkis at a time when his latest masterstroke was just starting to come good.
The FibreLine Intervention (FLI) tool is now in the commercialisation phase after three years of blood, sweat and tears.
Mr Purkis says starting up Well-Sense to develop the product in 2015, in the middle of a downturn, was a bold move.
Mr Purkis, winner of the World Oil Awards – Best Completion Technology accolade on two occasions, said new product development almost always takes 10 years.
But Mr Purkis knew he'd had a good idea and was determined to prove it.
"It was the best idea I'd ever had," said Mr Purkis, who also won the SPE Significant Contributor Award at the Offshore Achievements Awards in 2016.
Depending on your perspective, FLI looks like a missile, or an ink cartridge for a huge pen.
It uses fibre optic technology to take distributed temperature, pressure and acoustic measurements along the length of the well and beams the data back to the surface in real time.
The data gives operators a detailed understanding of the well, leading to much more efficient recovery of hydrocarbons.
FLI is built for one-time use, which is the data logging tool's main distinguishing feature.
It is dropped into the well, gets on with its job, and is then abandoned, never to been seen again.
Mr Purkis said the disposability of FLI meant it would be "massively disruptive" in an industry that has been accused of "over-engineering".
Its backers knew from day one that it would be difficult to change people's attitudes to risk, and that is still the case.
Stuart Ferguson, chief executive of FrontRow Energy Technology Group, of which Well-Sense is part said: "This is a start-up business and it's really risky because here is not much venture capital around Aberdeen now.
"Another problem for budding entrepreneurs is that it takes a long time to get to the commercialisation phase.
"You need to have a lot of patience and stick it out."
Mr Purkis said: "It's difficult when you know it's a great idea but no one's buying. For FLI, it has been three years and we are only just getting commercial interest."
FrontRow, which was set up by chairman Graeme Coutts in 2013, has benefitted from a £10million investment from the Business Growth Fund, a provider of growth capital to small and mid-sized businesses.
Mr Purkis said it was unusual to find a backer which talks about "patient capital", meaning they understand the 10-year cycle.
Well-Sense is now overrun with inquiries from around the world and has just agreed to take on a couple of jobs in the North Sea.
Mr Ferguson knows where much of the credit lies.
Mr Ferguson said: "Dan is very inventive. I have met and worked with inventive people.
"But I have never met anyone who makes prototypes as quickly as Dan. From first idea to proof of concept, Dan can do that in days. That makes a massive difference."
It's noticeable after a short time in their company that Mr Purkis and Mr Ferguson are men of refreshing candour.
They are not afraid of using the word "cheap".
Normal, utterances of that word are followed by a scolding from the hovering public relations manager and a stammered retraction.
"Cost efficient" is usually preferred as a banal substitute.
But Mr Purkis and Mr Ferguson make no bones about it – FLI is cheap, and that's its unique selling point.
The former said: "Normally the tools are designed to last a long time, which is part of the reason they are expensive.
"Ours is made in Aberdeen for one use. You abandon the tool in the well. That would normally be a massive problem.
"There are massive charges associated with that. Everyone hates the idea of something clogging a well."
Well-Sense can provide an FLI device made from water soluble metal alloys. It actually dissolves in the well. Mr Purkis said: "Put it in a bucket of salt water over the weekend and by Monday morning you'll be able to pour it through a sieve.
"Other companies have dissolving tools, but none have a dissolving logging tool. That makes it very cheap."
Mr Ferguson said: "This is mainly about cost reduction. The information FLI provides should at least be as good as with traditional tools, but it will be a lot cheaper. If you make tools to last a long time you tie up the company's balance sheet.
"You've got an eye on the inventory and tools become obsolete, but it's easy to integrate new technology and components into FLI."
Mr Purkis and Mr Ferguson also freely admit that the electronics used in FLI are "only just good enough".
Mr Purkis, whose first professional job was designing subsea acoustic systems for both the Australian navy and oil and gas industry, said: "If it was designed to last 10 years it would cost a couple of hundred thousand pounds.
"Tools have to survive terrible abuse. With our product, you drop it in the hole and it lasts 20 minutes. That's good enough."
Mr Ferguson said: "People wonder if things will work. They do feasibility studies and wise minds will look at things and do calculations.
"While people are wondering whether something will work, Well-Sense will have already done it for little money.
"The exploratory approach Dan takes helps to uncover things. There are all sorts of gizmos in your smart phone that cost pennies.
"You can put things in FLI that cost pennies.
"Companies say it won't last and they're right – it's not meant to."
The tool is getting a chance to show its worth, at last.
Mr Purkis said: "We just did a job for one of the oil companies in the US. Another service came along and did the same job. They did a seismic survey.
"They turned up with an articulated wagon, six guys and they spent three days setting this equipment up and running their equipment into the well, taking measurements for seismic survey.
"After three days they had done four seismic surveys. They were really good surveys. They got really good data.
"Then we were invited to step in. We dropped our disposable tool in the well. Three hours later we had seven seismic surveys. We snipped the fibre and we walked off.
"The big service company still hadn't packed up their equipment. Is the data the same? We don't exactly know yet, but the inside word is it's exactly the same. So imagine how disruptive that can be."
Well-Sense is looking to engineer a version of FLI which doesn't require its operator to have any skills relating to fibre optics.
Mr Purkis said fibre optics scared a lot of people in oil and gas because it is delicate and has been associated with many expensive failures. He said: "What we're going to come out with next is the 'launch box', which consists of a man and a suitcase in truck. He brings his launch box with him and he doesn't need any skills in fibre optic.
"It really is plug-and-play. We don't even need the man. We envisage that rig crews will be able to do it themselves, because all of the connections and all of the things you need will be integrated into the tool. It's just a case of switching it on – no skills."
The team at FrontRow is also excited by its launch of oil and gas production technology business Pragma earlier this year.
Mr Purkis, who is also technology director at Pragma, said the start-up was a "huge risk" and has some concepts no one has ever seen before.
He said an announcement on those concepts was probably six months to a year away.