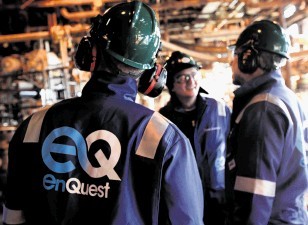 Offshore explorer Seapulse has entered into a pact with EnQuest.
The alliance is intended to "streamline the process for discoveries".
Bermuda-based Seapulse said it would access EnQuest's expertise and capabilities in "fast-track offshore project engineering and execution".
EnQuest will get initial data insight and the preferential farm-in option rights to Seapulse's discoveries, without the cost exposure to exploration.
Earlier this year, Seapulse agreed a pact with Maersk Drilling for 12 wells targeting 4 billion barrels of oil over two years.
Seapulse chief executive Scott Aitken said: "I'm delighted that we have entered into this strategic alliance with EnQuest, who have strong capabilities to select appropriate development and production options to commercialise and develop discoveries.
"This alliance builds on our business model of eliminating duplication in the sector and finding a lean approach to the frequent exploration and development of a world-scale portfolio of prospects."
Recommended for you
X

Rystad forecasts a boom in Xmas trees