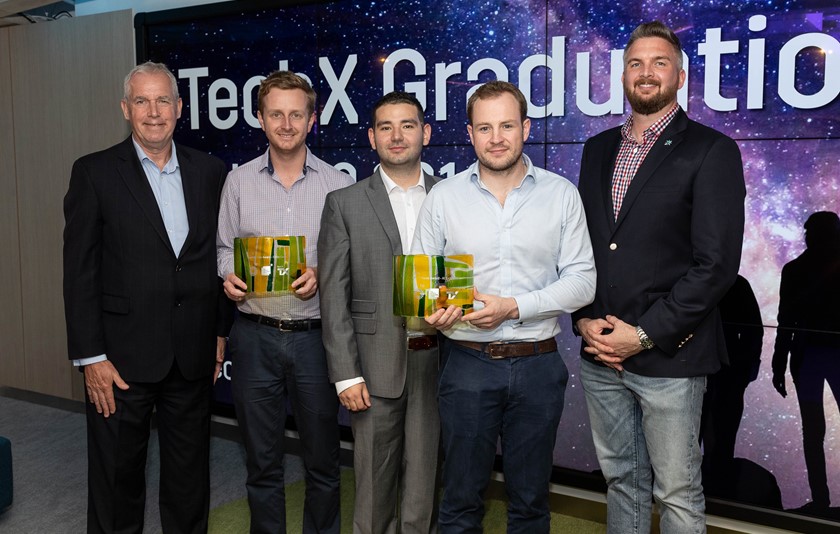 Eleven fledgling companies have graduated from an intensive Aberdeen-based oil and gas technology accelerator programme.
This year's batch of entrants to TechX, at the Oil and Gas Technology Centre (OGTC), have spent the last four months developing and testing their ideas and products, while gaining invaluable advice from mentors and potential clients.
The cohort has secured three commercial contracts, created four new jobs, opened two new facilities and secured 10 field trials with major operators.
Each firm received funding of up to £100,000, with TechX requiring no equity or payback. They also retained all intellectual property.
They will now progress on to the OGTC's two year incubator, TechX Plus.
TechX strategic partner BP Ventures has today confirmed it will award additional funding of £135,000 to two of the entrants, as well as dedicated access to BP's facilities and expertise.
AI Exploration will receive the BP TechX Technology Award of £80,000 to continue to support its technology development. Optic Earth will get the TechX Performance Award of £55,000.
OGTC chief executive Colette Cohen said: "The TechX Pioneer programme is a key foundation of the OGTC focused on creating an entrepreneurial culture and ecosystem in the NE Scotland and enabling young innovative companies to succeed.
"These companies represent the next generation of inspiring entrepreneurs and I am encouraged to see such incredible results in the 16 week programme.
"This could only be achieved with the support of our mentors and programme partners BP & KPMG and the broader industrial community who have already committed to 10 field trials with these new companies.
"It's an exciting start for this cohort and the future of the North Sea"
David Gilmour, vice president business development, BP Group Technology, said: "TechX goes from strength-to-strength with the second cohort, like the first, showcasing some truly innovative thinking and breakthrough ideas, including cleantech solutions that will help deliver the industry's focus on secure, sustainable energy while advancing a low carbon future.
"What the TechX Pioneers have achieved in a few short months is incredible and BP is proud to have been a part of that. TechX has set these companies up for a bright future and BP will be watching with interest as they grow their presence and pursue their ambitions."
Martin Findlay, a KPMG partner who is part of the TechX delivery team, said: "We are delighted to have been awarded Partner of the Year – it's been fantastic working with the TechX team over the past two years and I am thrilled to collect this award on behalf of KPMG.
"The energy sector is going through a period of rapid change and transformation, driven by innovation. The downturn forced everyone in the sector to shift away from their traditional business models, towards a more tech-driven approach.
"The TechX Pioneers are a great example of entrepreneurial behaviour driving future growth in the industry. The wealth of ideas and collaboration displayed by the group is inspiring and KPMG is proud to support their transformational passion and ambition."
TechX director David Millar said: "Our challenge is to reimagine the energy sector and create a more sustainable future for the UK, and that's exactly what we're doing with the TechX programme. The past 16-weeks has been a fantastic journey for both the TechX team and the 11 graduating TechX Pioneers.
"We couldn't have predicted the success of this cohort, with three commercial contracts already in place and 10 field trials secured, the growth has been phenomenal, but this is just the start for these companies – the future is in their hands and we can't wait to see what the next two years in the TechX Plus incubator period will hold for them.
"And once again, we're looking forward to continuing our partnership with BP Ventures, BP UK and KPMG on future programmes, as they will once again be supporting the programme in 2020."
Recommended for you

'Practice makes perfect': North Sea nous guides BP's global decom strategy