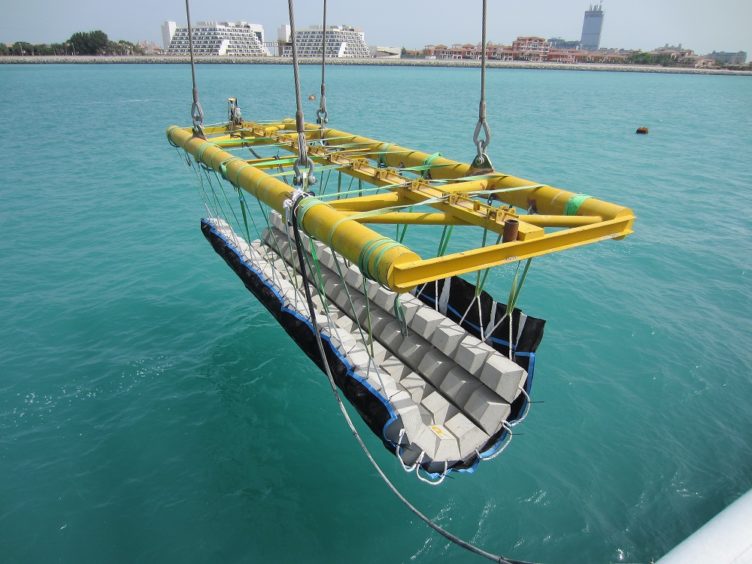 Tekmar Group has signed a deal to buy fellow subsea technology firm Pipeshield International for £6.5million.
Pipeshield, which has a manufacturing centre in Aberdeen, is headquartered in Lowestoft with other sites in the UAE, Saudi Arabia and Signapore.
It marks the third acquisition for Tekmar since being admitted to trading on the alternative investment market in June 2018.
Tekmar said Pipeshield, a provider of subsea concrete matteresses which protects equipment such as pipelines and power cables, has clear "synergies" and extends its offering in the oil and gas and offshore wind markets.
Pipeshield reported pre-tax profits of £800,000 last year on revenues of £6.6m while the firm has net assets of £3.1million.
The company employs 25 full-time staff and around 15 contractors at any one time with revenue being typically split between 35% oil and gas, 35% marine civil engineering and 30% offshore wind.
It will continue to trade under its own name following the acquisition while founder Steve Howlett will remain in place as managing director along with all other management and employees.
The majority of Pipeshield's production activity is undertaken at its new leased facility at Blyth in Northumberland.
James Ritchie, chief executive of Tekmar, said: "Pipeshield is a perfect fit for Tekmar. Its products are complementary, allowing us to upsell and expand our offering to clients, realising our Group vision.
"The business has many similarities with Tekmar from both end customers to markets but also most importantly it fits culturally.
"The business focuses on technology, as its key differentiator, and Pipeshield has outstanding credentials, which demonstrate its commitment to safety, quality and, above all, its people; these are key values which we embrace across all Group companies."
Tekmar, based in County Durham, recently acquired an 80% stake in Ryder Geotechnical and last year signed a £4m deal to buy Subsea Innovation.
Pipeshield managing director Steve Howlett said: "I want to thank the Pipeshield team for all its hard work, getting us to this point, and highlight, to my staff and customers, that this change in ownership will only increase the opportunities for the business and our passion for delivering outstanding technical solutions.
"Other than that, it's very much business as usual."
Recommended for you

Sulmara Subsea aims to double headcount and slash emissions in 2021