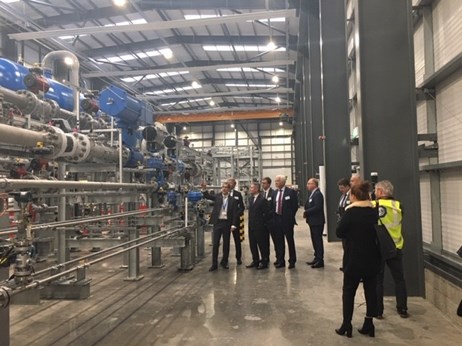 A new £16million subsea development centre has been opened in East Kilbride.
The facility, from German-headquartered TUV SUD, will predominantly focus on training, research and product development for the global subsea sector which is currently worth £50bn per year.
Scottish Enterprise provided £4.9million of funding towards the centre, with TUV SUD investing the remaining £11m.
It will create at least 17 new jobs and will also provide potential benefits to other sectors like food and drink and aerospace.
Known as the Advanced Multiphase Facility (AMF), the new centre is part of TUV SUD National Engineering Laboratory's East Kilbride facilities.
Scottish finance secretary Derek Mackay opened the facility, saying it comes as Scotland seeks to bolster trade links with Germany as Brexit looms.
He said: "TUV SUD National Engineering Laboratory's £16m investment into this facility is great news for Scotland.
"The Scottish Government is working hard to establish stronger trading links between Scotland and Germany and this news is testament to Scotland's ability to attract inward investment in spite of the continuing uncertainty around Brexit."
TUV SUD is an international services group, employing more than 24,000 people in around 50 countries.
Construction of the laboratory began in September 2017.
Brian Millington, managing director of TUV SUD National Engineering Laboratory, said: "he AMF's world-leading research facilities will support the global oil & gas industry with both current and future measurement challenges, from well optimisation to fiscal accounting.
"While significant production opportunities exist in extreme environments, higher operating pressures and temperatures can impact the performance of multiphase flow measurement devices.
"The AMF will increase the viability of well exploitation by helping operators to more accurately measure multiphase flow and better understand the performance of production operations in these challenging but potentially profitable environments."
Recommended for you
X

BP makes multi-million investment in AI energy firm