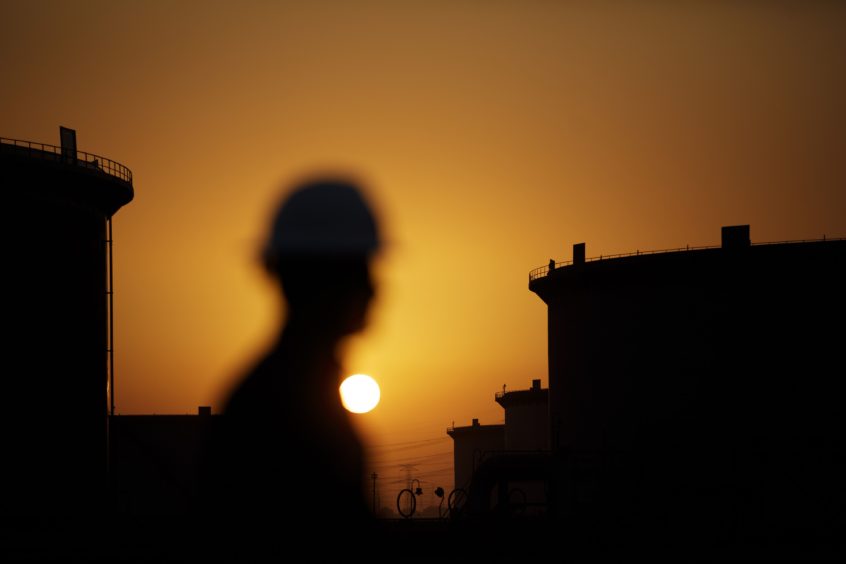 Saudi Arabia's diplomatic push for an OPEC+ production cut ran into Russian resistance again on Tuesday, while delegates from the alliance met in Vienna to assess the fallout from the coronavirus.
OPEC+ technical experts gathered to analyze the impact of the crisis on oil demand, and diplomatic efforts between Riyadh and Moscow continued in parallel. According to two delegates, Saudi Arabia is pushing for a production cut of at least 500,000 barrels a day — and even up to twice that amount. But Russia, whose budget is more resilient to lower oil prices, continued to push back, according to several delegates.
The price of crude has plunged on expectations that the coronavirus will squeeze China's economy and curtail consumption of oil in the world's biggest importer. Bloomberg reported this week that 20% of demand has been knocked out.
"For oil markets, this is the worst crisis, at the worst place, and the worst time," said Roger Diwan, vice president of financial services at IHS Markit Ltd. "OPEC has no option but to cut production as China is going to buy a lot less crude."
It's no easy task for the Organization of Petroleum Exporting Countries and its allies to evaluate the impact of the disease, which continues to infect thousands of people each day and cause massive economic disruption. Estimates of how much demand will be wiped out in the coming months vary widely, making it difficult to gauge the size of a production cut that would trigger a price recovery.
Officials will continue their meeting on Wednesday, and their assessment may help determine whether the 23-nation alliance — which pumps about half the world's oil — convenes an emergency ministerial meeting later this month to consider new production cuts. The dynamic between Saudi Arabia and Russia is not new: since the alliance of OPEC plus allies was created three years ago, the two sides have fought about whether to cut production, often publicly, but have ultimately found a way to compromise.
Differing Views
In Vienna, the technocrats heard a presentation from China's ambassador, Wang Qun, and looked at models of how the virus will affect demand.
OPEC's internal analysis, presented in the Austrian capital on Tuesday, showed a modest drop in global demand growth of about 400,000 barrels a day for about six months even for a worst-case epidemic, according to delegates.
Earlier in the day, BP Plc predicted the outbreak would have a bigger effect, erasing 300,000 to 500,000 barrels a day of consumption for 2020 as a whole. S&P Global Platts said its worst-case scenario was for a hit of about 1 million barrels a day, which would take annual demand growth down to 320,000 barrels a day, the weakest since the 2008 to 2009 financial crisis.
After meeting with experts on the OPEC+ Joint Technical Committee, China's ambassador Wang told reporters that the virus would inevitably affect oil demand, but cautioned against overreacting. Behind closed doors, he told cartel officials that the impact would be limited and localized, said delegates, who asked not to be named because the talks were private.
"Any exaggeration and any overreaction is not in the best interest of the general public let alone the market," Wang told reporters.
OPEC+ only just started a fresh round of deeper cutbacks last month, the latest step in a three-year effort to prevent plentiful U.S. shale supplies putting the global market into surplus. But the outlook has deteriorated rapidly in the last few weeks.
OPEC's research department in Vienna presented two models with different estimates of how the virus may affect oil consumption, according to a delegate. The worst-case scenario envisaged a fast-spreading epidemic that lasts six months and wipes out about 400,000 barrels a day of demand, before a market rebound to pre-virus growth levels in the second half of the year.
If OPEC+ were to maintain its current output reductions throughout that period, there would be a surplus of 600,000 barrels a day in the first quarter and 1 million in the second, the analysis showed. The committee hadn't yet discussed whether the group should deepen its cutbacks, delegates said.
Justified Worries
West Texas Intermediate crude closed below $50 for the first time in more than a year on Tuesday. The U.S. oil benchmark was up 1.1% as of 10:02 a.m. in Singapore on Wednesday. Prices are still far below the levels that most OPEC members need to cover government spending.
While Riyadh has urged fellow producers to meet and act, there's so far been a more cautious attitude from its most important partner, Russia. Though not an OPEC member itself, Moscow has proved to be an influential voice since the OPEC+ alliance was established three years ago.
Russian President Vladimir Putin and Saudi King Salman bin Abdulaziz discussed the global energy markets by phone Monday evening, the Kremlin said in a statement, adding that both leaders confirmed "readiness to continue cooperation within OPEC+."
Moscow doesn't face the same budgetary need for elevated oil prices as most OPEC members. Energy Minister Alexander Novak said on Tuesday his country is prepared to meet this month, and intervene if necessary, but the impact of the virus should be assessed first.
Iraq, which is OPEC's second-largest producer but has a poor record of implementing output cuts over the past three years, said it supported a response to the coronavirus.
"There's definitely a justified worry over what's happening, given the importance of China as a consumer," a spokesman from the country's oil ministry said in a statement. "We believe that the wisdom of the members of OPEC are capable of containing this crisis in the coming period."
Recommended for you

IEA sees biggest China oil demand drop in over three decades