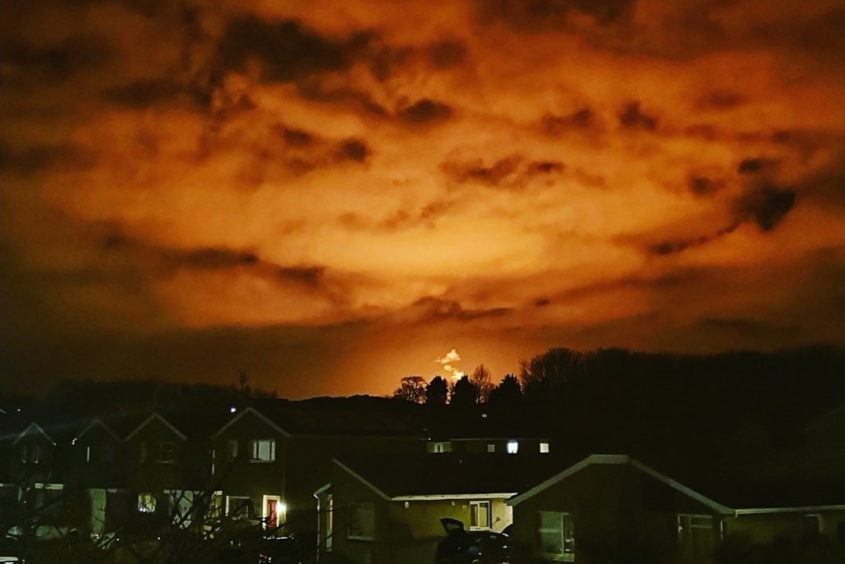 More than 100 workers staged an unofficial walkout at the controversial Mossmorran chemical plant in Fife yesterday.
Operator ExxonMobil issued a statement online that was aware Bilfinger workers "are taking unofficial action following a disagreement we understand to be over pay".
However, the GMB Union said relations between the workforce and management "have been deteriorating for some time" as workers have been "ignored" after raising concerns about safety and conditions.
Bilfinger UK, a subsidiary of the German industrial services giant, said workers had joined an unofficial action started by a "separate contractor".
The firm added that there was "no dispute relating to working conditions, welfare, redundancy measures and health and safety between Bilfinger employees working at the plant and Bilfinger UK".
A spokesman said: "Workers employed by a separate contractor at the Fife Ethylene Plant in Mossmorran staged an unofficial industrial action on Monday, which a number of our employees joined with unofficial sympathy action. This action resulted in a dispute over payment for the time our employees had withdrawn their labour.
"We are now working closely with our employees and the trade union, Unite, to quickly resolve this dispute.
"We maintain an open dialogue with our employees and have rigorous health and safety processes in place, with no incidents reported since the contract began in September 2019."
We are aware that staff employed by @BilfingerUK are taking unofficial action following a disagreement we understand to be over pay. We work closely with all contracting companies working on site, and hope that the parties involved can find an amicable resolution.

— exxonmobil_fep (@exxonmobil_fep) February 19, 2020
The petrochemical plant, which is part of the North Sea's Brent oil and gas system, has been under fire after "intense flaring" sparked alarm among nearby communities earlier this week.
Bilfinger, a large industrial services firm based in Germany, has yet to issue a response to the claims
A GMB Scotland organiser said: "You can't operate a major gas terminal this way and it shouldn't be beyond the capabilities of Exxon and their sub-contractors to ensure workers feel safe and valued."
"INDUSTRIAL RELIC"
Scottish Green MSP Mark Ruskell said: "The Mossmorran workers are absolutely right to take a stand. This comes on a day when SEPA, which monitors the risk of pollution or environmental damage, has rated the site 'poor'.
"Mossmorran is an industrial relic and the frontline of our climate emergency challenge. Not only has the site been causing misery for the local community with unplanned flaring, now we hear staff are concerned about safety. This community faces an uncertain future, with no attempt to build sustainable alternative jobs in the area.
"Neither ministers or operators have engaged enough with this community. The plant must be made fit for a net-zero carbon Scotland or they must plan well ahead for closure. If the plant has to shut in the years to come, then discussions about what is next for this community need to start now."
Recommended for you

Kaefer contractors launch strikes at Shell Mossmorran and St Fergus gas plants