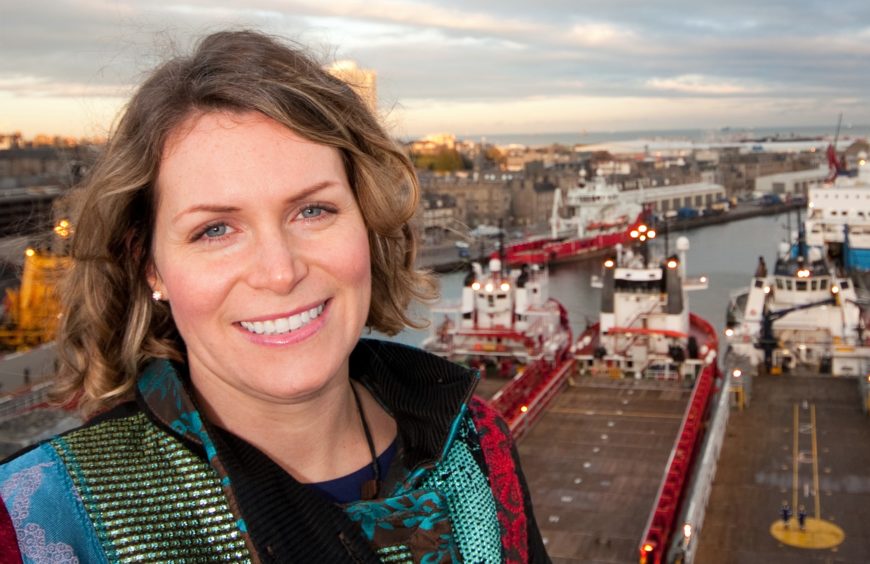 The oil and gas sector's "most pressing challenge" is addressing gender parity and inclusion, trumping even net zero, according to an Aberdeen business organisation.
AXIS, the Aberdeen X-Industry Support Network, said the industry's "highest priority" needs to be attracting a larger, more diverse workforce.
The group, set up to bolster gender diversity in the city's energy sector, has seen memberships increase more than three-fold in the last year to more than 1,000.
Chairperson Karen Blanc argued diversity and inclusion go hand-in-hand with the climate challenge, which requires new roles for the sector and new workers to fill them.
She said: "I think parity and inclusion are the industry's most pressing challenge right now.
"I think we can all agree that this is a really exciting industry to work in, yet our industry is currently struggling for talent. Attracting and retaining a larger, more diverse, workforce needs to be our highest priority, and that means changing our workplaces to work better for a wider group of people.
"The energy transition presents our industry with the perfect opportunity to embrace gender parity and inclusion.
"Over the course of the next few decades, we will shift into careers we can't even imagine now, and solve problems we've never solved before. Diverse teams are more innovative and more successful – it's the perfect time for us to embrace this."
AXIS reports that while drive and activity in this area is improving, the rate of change needs to pick up and the "solution doesn't lie solely in encouraging more girls to pursue STEM".
According to Oil and Gas UK's 2019 workforce report, just 3% of the industry's 50,000-strong offshore workforce is made up of women, with the disparity also reflected onshore, meaning men's voices are "essential" to help achieve balance.
As the industry works towards its "Vision 2035" for achieving net zero, Ms Blanc said the same time frame should be used for gender parity.
She said: "By then, we should have teams at every level in our organisations that represent our entire workforce.
"Seriously, if we decide gender parity is important enough, we can fix it in a relatively short time frame, limited only by the pace of change/turnover in organisations.
"The solution doesn't lie solely in encouraging more girls to pursue STEM – we need to make work a place they will thrive in, alongside their male counterparts, once they get here.
"Let's review our pay structures and correct any gender imbalances. Review our promotion splits – understand why they don't match our workforce split and what we will we do about it.
"Ensure our working policies and practices are modern, inclusive, and suitable for all."
AXIS saw a "step change" in interest over the course of last year, with a surge in memberships and the size of its events.
The organisation sees more recognition of the benefits of a more diverse workforce – better solutions, increased revenue, higher profit, happier people and safer teams to list a few.
Meanwhile the conversation has "matured" over the last five years, moving from most people thinking the answer "lay simply in recruiting more diverse teams" to more informed views "about working to create the right, inclusive, environments, to not only attract more diverse teams, but to allow everybody to flourish and succeed in that environment".
However, certain barriers remain in place on the career ladder, particularly when going beyond entry level.
AXIS said work is still needed to take bias out of the promotion process, for example.
Blanc added: "Many have spoken to us about the 'broken rung' effect, as identified by the McKinsey Women in the Workplace Report last year, and some frustrated managers have even described their experience of trying to promote their female candidates, and it feeling more difficult than for male candidates.
"Many promotion opportunities rely on metrics which appear neutral but are actually skewed towards men, and we also see promotion processes which work for traditionally masculine values – such that employees must self-identify themselves as ready for promotion.
"This doesn't work for so many personality types (never mind gender norms) and instead we'd like to see managers trained as inclusive leaders, able to identify and bring out the best in
their people, regardless of difference."
Another challenge is in representation at speaking events, particularly technical sessions where "much more needs to be done" around organisers actively approaching female speakers and for companies to offer them up.
The visibility of the diversity and inclusion debate has also brought legislation requiring firms to publish their gender pay gap reports, with some of the widest disparities among energy services, drilling and helicopter firms for the oil and gas sector.
For most operating firms, the median gap narrowed between the first and second year of reporting, representing "positive pockets of action" according to Blanc, however she warned against taking a short-term view.
She said: "Measures some companies might take to narrow their median gap in the short term – such as out-sourcing/off-shoring lower-paid support roles typically done by women – are not necessarily progressive in the long term.
"Similarly, success in attracting women into graduate and apprentice roles would show up as a widening gap. Hence, we need to look at the data with more nuance than simply saying 'narrowing gap equals good, widening gap equals bad'."
Annual analysis by AXIS looks beyond the median pay gap, noting that firms with few female leaders in 2018 had even fewer in 2019. But that trend was reversed for those who already had good numbers of female leaders, increasing those figures further the following year.
The deadline for 2019's pay gap reporting will be April 5 and Blanc said they will be paying close attention.
She added: "The variation of median hourly pay gaps within our industry (50% to 0%) tells us the gap isn't simply down to a shortage of women in the talent pool. The companies doing more to attract, retain and develop women will see those efforts reflected in their pay gaps.
"That said, we realise altering the gender balance of oil and gas will take a sustained effort over many years. For this reason, as part of the AXIS pledge, we encourage organisations to 1) analyse their data and diagnose the causes of their gap, before they 2) develop a plan packed with actions whose effectiveness is supported by research.
"Addressing hidden gender bias in the ways in which our workplaces are structured is challenging, so those joining the conversation today will not find a silver bullet but will discover some relatively easy steps they can take to quickly become more inclusive."
Recommended for you

'The bikinis may be gone' but diversity is still an issue at Offshore Europe