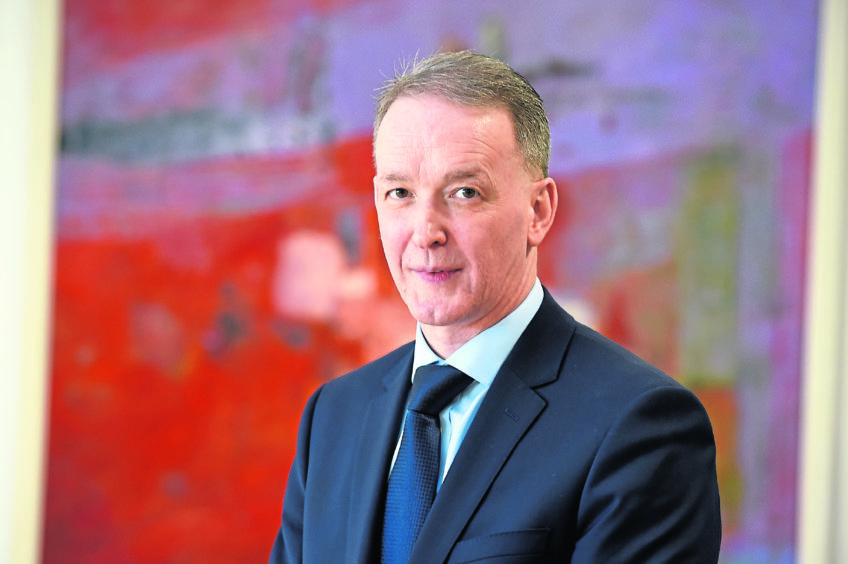 Wood chief executive Robin Watson was in bullish mood about future prospects for the global engineering and consultancy company after a sharp increase in profits.
He said the Aberdeen-based firm was well positioned to prosper, thanks to diversification, despite global financial market woes and a plunge in oil prices on Monday.
Speaking after Wood announced a 178% rise in pre-tax profits from continuing operations for the year to December 21 2019 to £112.5 million, Mr Watson said the company's "asset light" status and broader range of services gave it protection from oil price volatility.
The surge in profits and a 5.9% reduction in net debt were achieved, despite a slight drop in revenue, on the back of the group's "decisive action" to pursue growth opportunities in energy transition and sustainable infrastructure, he said.
Wood has repositioned itself from having 90% of revenue generated by upstream oil and gas five years ago to earning about one-third of its income from that source today.
It is spending much more of its time advising on downstream oil and gas, petrochemical, environmental and public infrastructure projects, while it also has a growing presence in renewables.
Mr Watson said: "We'll double the size of our solar business this year as we continue to optimise our portfolio. We have a really good mix."
Of the remaining upstream work, much is on the operations side and Mr Watson said this was unlikely to suffer – not in the short-term anyway – from lower oil prices.
Only about 5% of total revenue is generated in the North Sea, which also mitigates the impact of Wood recently missing out on a five-year maintenance and operations support deal with Total.
The contract went to new consortium PBS.
Wood's share price fell by 15% on Monday as financial markets continued their coronavirus meltdown but Mr Watson said the firm's structural diversification "stands us in good stead".
ROBUST
Wood's profit boost came alongside a slight drop in overall revenue to £7.5 billion, from just over £7.6bn in 2018.
David Barclay, head of office for wealth manager Brewin Dolphin in Aberdeen, said: "Wood has delivered a robust set of results against a challenging 12 months for the business.
"The company has taken proactive steps to broaden its offering and focused on debt reduction, supported by a targeted divestment programme.
"The benefits of its merger with Amec Foster Wheeler are still filtering through and there are more challenges ahead – not least the plunge in oil prices of the last few days.
"But Wood has relatively good visibility over future revenues and is in a decent position to grow in its other markets, while keeping leverage under control."
On Monday Wood said it had completed the sale of its nuclear business to US company Jacobs for £250 million. The deal was agreed in August but needed merger clearance from the Competition and Markets Authority.
Proceeds from the nuclear divestment and the recent sale of Wood's industrial services business to German technical services provider Kaefer have generated about £327m for the company.
These disposals form part of Wood's "ongoing portfolio optimisation focus" and are also expected to help to reduce debt and accelerate progress towards its target leverage ratio.
In yesterday's results statement, CEO Robin Watson said: "We are confident that from this foundation we are building a differentiated, premium, higher-margin business, supported by a continued focus on margin improvement, execution excellence and portfolio optimisation."
Wood said there had been no material impact to date from the coronavirus but the longer term impact of the illness and sharply lower oil prices was "too early to quantify".
Recommended for you

Reduced growth market exposure may have cut Apollo interest in Wood: Analyst