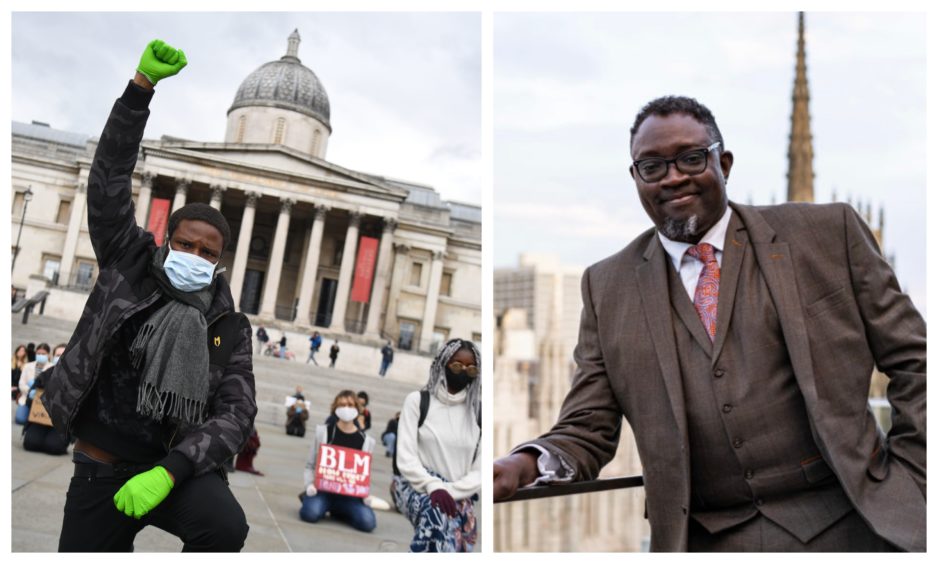 Some oil industry leaders have been "conspicuous by their silence" on racism and global protests, according to the chairman of a group for black and minority (BME) engineers.
Aberdeen-based Ollie Folayan of AFBE-UK Scotland, said "it is hard to explain how terrified and frustrated we all feel" having seen footage of the murder of George Floyd in Minneapolis.
The last two weeks have seen protests globally against racial injustice, with companies across several industries making public statements in support of their BME workers.
While some of the oil industry's leaders have done the same, such as Bernard Looney of BP, others have been "a bit slower", according to Mr Folayan, who urged firms to make their support known.
Mr Folayan said: "To some extent there has been a positive response. I have to also say that the silence of certain champions of diversity within the industry has been quite…they've been conspicuous by their silence.
"On one hand you are getting some people who are responding and on the other there are people who are a little bit slower."
The engineer, who set up AFBE-UK with his sister in London in 2007 before setting up the Scottish branch three years later, said now is the time for leaders to take "simple but powerful steps" to help BME workers.
He said: "A colleague of mine woke up to find her two black nine year-olds lying in bed with her, afraid, because they'd seen this video and asking themselves 'I thought this was something that used to happen before and didn't happen again?'
"That person going into work is not going to be thinking in the same way they normally do. They've got concerns on their minds.
"So the efforts of leaders to reach out to their BME employees and engage with them, and in that sense be an ally, just by listening will go a long way to ensure the people who work for them know they are supported, that they are part of the whole team."
The video of Mr Floyd, who died of asphyxia after former police officer Derek Chauvin leaned his knee of his neck for nearly nine minutes "resonates very personally and very strongly with black people all over the world, and that includes Aberdeen", he said.
"It's hard to escape the racial element of it, however much one may try to delve into other reasons. It's hard to escape the fact that it was a black man subjected to that treatment by someone.
"So in many ways it's watching that and then seeing how it reflects on our lived experiences and the lived experiences of some of our colleagues, the lived experiences of some of our members.
"Most of us, still, in 2020, have experiences in life that remind you, sometimes often, that you are black, you are a person of colour."
For the oil industry's part, Mr Folayan said the it has set out on a journey towards diversity and inclusion (D&I), a step he knows it is "determined" to continue, despite interruptions due to the oil price and Covid-19.
He added: "There has been something growing within this sector for some time, which is a sense of an industry that is coming to understand the importance of diversity.
"We are also evolving into a diversity strategy that isn't just talking about getting more girls into STEM. So I think that foundation that is building has been reflected in this time."
Recommended for you

Offshore energy sector still struggling on representation frontline