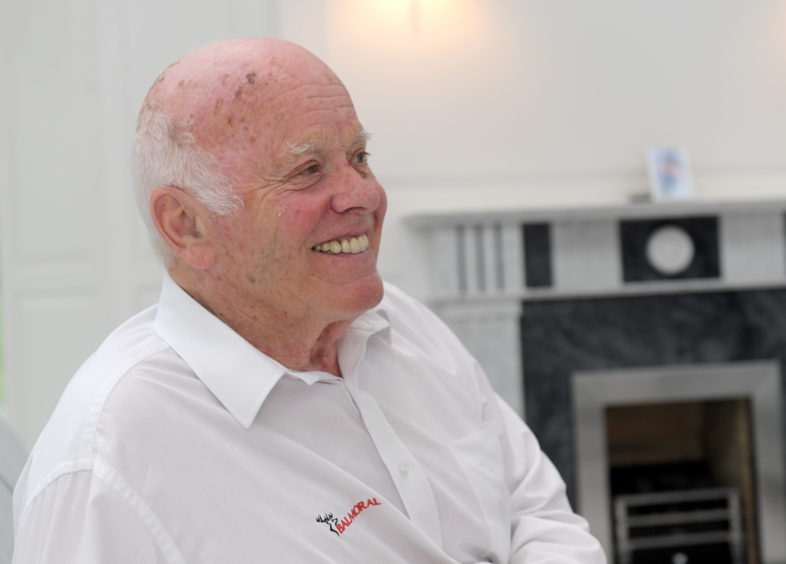 Energy Voice: "I suspect I'm making an error in even asking the question…"
"No, no, there's never a feel question, never a daft question", Jim Milne of Balmoral Group reassures, in broad Doric.
EV: "…You set it up in 1980, is retirement something you'd ever consider?"
"OH NEVER! Never! Now he's asking a stupid question!" the 79-year old declares, still as enthusiastic about the business as ever.
Balmoral Group is hoping to toast its 40th anniversary in some style this year, having largely managed to buck the Covid-19 trend that has crippled the global energy sector.
The Aberdeen-headquartered Group is anticipating 26% turnover growth year-on-year, largely thanks to big orders in South America, however stressed that margins remain "tight" across the board.
Its offshore division, Balmoral Comtec, has been "up to their eyeballs" with orders for buoyancy solutions for flexible flowlines, mainly for FPSOs in hot markets like Guyana and Brazil, as well as the Gulf of Mexico.
Milne said: "Balmoral Comtec has been through our busiest time for ages.
"We took all the precautions obviously but the shop kept producing, all the staff were working from home. (Comtec) haven't furloughed anybody so they're all getting full wages. It is working very, very well.
"The fastest and most inexpensive way to get oil out of deepwater is by flexible flowline into an FPSO.
"They're going deeper and deeper and deeper to find new fields and they all need buoyancy. We take about 90% of the work that's going on in the world."
Balmoral is "very fortunate" to be getting such a high percentage, Milne said "and the reason for that is nae because we're the cheapest necessarily, it's because they know what they're getting".
"It's a reputation thing", the chairman and managing director added.
With a healthy bank balance, Balmoral took a similar approach for its own contractors for some of its £50m investments since 2017, between its new subsea test centre, a new Balmoral Tanks factory in Yorkshire and its expansion, and investment in ACE Winches.
Milne boasts that companies from his own backyard worked on the Yorkshire site, like James Jamieson of Ellon, Cowies of Meldrum and Hutchison Electrical.
"I'm terribly loyal to my locals, it costs you more but you know what you're getting."
He hopes Balmoral's own customers are looking at them and thinking the same thing.
Milne shared a story of how a certain international energy giant (whose name might have been revealed through a slip of the tongue) had hired one of Balmoral's competitors for a £1.2m job which ended up costing £11.2m.
"Serves ya right for going for a cheapo!" he declared, hitting home the point on good work and reputation over price.
However, with "one of the worst downturns" that Milne has seen over his 50+ year career, Balmoral is aware that even it will not be immune to constraints as some of its main cut costs.
He said: "It's exciting times for Balmoral, now how we feel about the future is a big question. I think we could be quieter in the latter part of the year. But just now we're just on a roll, like.
"It has affected the oil companies' profits and of course they're now tightening their belts and it goes down the line.
There's no question mark about it. They're pulling back on expenditure and you don't blame them because their profits aren't where they used to be and they've to be prudent too."
While Balmoral Comtec has been steady, the Balmoral Tanks business has been hit by Covid-19 as "they can't get tanks erected, they can't be in front of the customer", Milne said.
It has seen factories shut as the construction sector was all but closed down during lockdown, and a number of workers have been put on furlough.
However the firm is expecting a pickup going forward, having recently started production on world-leading glass fusion tanks, "the best chemical resistance you can get in a steel plate", he added.
He also happily reported that clients are "looking for a lot more testing" at the £20m subsea centre, opened in Aberdeen in 2018, which is also used extensively by Balmoral Comtec for its own equipment.
A 26% turnover boost would clearly be welcome for the Group, which last year posted a rare overall loss due to the collapse of the Seaproof Solutions business in Norway, which Balmoral acquired in 2018 as part of its expansion into renewables.
However Milne said the firm has been "very profitable" and the loss was a "one off".
Despite the "step back" in Norway, Balmoral has advanced the technology it used and is pursuing opportunities in the renewables market.
The first "big job" of £3.2m in the market is underway, with others lined up, and "it's a case of building up the first few jobs out in Balmoral and building up the reputation on that".
Headcount is also up to nearly 800, from 626 last year, mainly due to the recent acquisition of Blaze Manufacturing and ACE Winches.
Balmoral Group is in good stead, then, as it celebrates its fourth decade, and while Milne may not savour – or even entertain – the thought of retirement, he is stepping back from the minutiae of the day to day running of the business.
Reflecting on how he started up Balmoral, Milne said he is a strong believer in "positive action", and "fear of failure" stops a lot of people from starting their own businesses.
He recalled a previous venture – Aberglen – a highly successful construction business he set up early in his career.
At one point employing over 1,000 people and operating globally, Aberglen went into receivership after two major markets were hit with the collapse of the Nigerian economy and the Shah of Iran being deposed.
"We've had some very difficult times, the old Aberglen days.
"Gee min, I've been down so many holes but when you're down a hole you pull yourself out of that hole and say 'well, right, what did we learn from that?'"
However after having "went to the wall", the entrepreneur founded Balmoral and instilled the values from his rural Aberdeenshire upbringing.
"By jinx we had to work", he said, "My dad was a very strong Christian man, you were taught to show respect, hard work and honesty.
"We have put that into the DNA of Balmoral."
With that, Balmoral Group is its own "biggest critic" with the customer's perception being the most important ("you can start believing your own bull, you know?") meaning it is "extremely important that you keep your feet firmly on the ground".
Positive action has taken driven Balmoral through the good and bad times, he said, with the "secret" being teamwork and drawing on each person's strengths.
He said: "I also know that the happier you are at your work then the more productive you will be.
"It's like a big family, Balmoral."
That's why Milne considers it "worrying" that they have managed to be so successful and productive while working from home, missing the "face-to-face" element he values so highly in the business.
With Aberdeen's recent local outbreak and lockdown, it is hard to say exactly when they might return staff to the office, but tentatively offers the end of September as a loose target.
"I think most of the guys would be feeling that way," he said, but noted that distractions like lengthy office chats could be a distraction.
"Hey maybe if they're into work you're only getting 60% from them but when they're at home they've just got to get on wee it.
"I think it's just managing them and obviously we're managing quite well because it's working exceptionally well with us."
Recommended for you

Impulse Group to create up to 12 jobs in Aberdeen growth drive