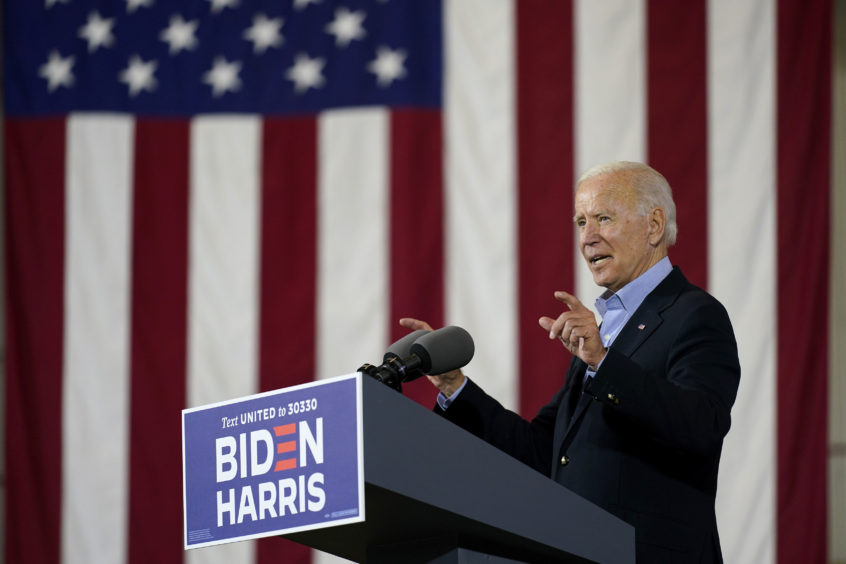 The plan from Presidential hopeful Joe Biden plan to "transition" away from oil and gas "does not sound very revolutionary", according to an Aberdeen University professor.
During the final debate with Donald Trump on Thursday night, the democratic candidate said he "would transition away from the oil industry, yes" during the closing minutes.
He added: "The oil industry pollutes, significantly. It has to be replaced by renewable energy over time."
His opponent Trump described it as a "big statement", suggesting it could hurt Biden in oil-heavy States ahead of the November 3 election, though Biden emphasised it as a "transition", not a ban on fossil fuels.
It comes after Biden's campaign released a $2trillion climate plan in July, aimed at net zero greenhouse gas emissions for the country by 2050.
However Marc Gronwald, energy economics professor at Aberdeen University, highlighted that, by international standards, this oil and gas transition concept from Biden not a new one.
He said: "What Biden has announced does not sound very revolutionary: net-zero greenhouse gas emissions by 2050 is very similar to objectives in the UK (net zero by 2050) or Scotland (net zero by 2045). Even China announced a plan to become carbon neutral by 2060.
"Not many details are known about how this would be achieved. Biden only emphasised that there would be no ban, just a slow transition away from oil and gas by phasing out subsidies."
Trump claimed Biden's plan aims to "destroy the oil industry", adding "will you remember that Texas? Pennsylvania? Oklahoma? Ohio?" – States the President won in 2016.
However, Democrat Biden's plan focuses on transitioning out of oil and gas over time and focussing on tech to capture emissions, as the UK North Sea industry is currently doing.
Oil and Gas UK said the debate highlighted "exciting international opportunities" for the UK sector.
Mike Tholen, sustainability director at the trade body, said: "The transition Biden speaks of is becoming apparent – America is already acting to cut its emissions and there is much we can do together by sharing technology and businesses of the future based on the experience we have gained in the North Sea over the last 50 years.
The global oil and gas industry has been crippled by Covid-19 wiping out fuel demand, with the US shale industry particularly hard-hit, as illustrated by West Texas Intermediate (WTI) crude hitting negative pricing the first time in history back in April.
Around 107,000 jobs were slashed in the US sector between March and August, according to accountancy firm Deloitte, so Biden's plan may not be the immediate concern for the sector.
Mr Gronwald added: "These are long-run objectives and there is emphasis on smooth transitions. In the short-run, the oil price itself is a much bigger factor. If the oil price remains low, the oil and gas industry will continue with the transition which already has begun.
"The effect on outcome of election is very difficult to predict. The observation that the oil and gas industry is in a challenging situation in the oil-heavy states should not be new to the voters."
Recommended for you

Bigger in Texas: Can Aberdeen learn from Houston on energy transition?