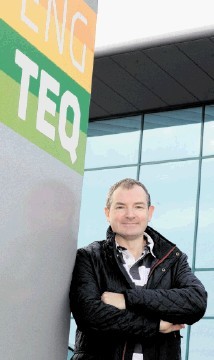 Aberdeen energy service company CAN Group revealed yesterday that it wanted to recruit 40 people at its asset-integrity and engineering service operation.
The unit has just been rebranded as Engteq and is working out of its new £5million headquarters at Altens.
CAN has a 700-strong workforce, with 180 of them under the Engteq banner.
The number of people at Engteq is expected to rise substantially as the operation grows at home and abroad.
About 100 of the current workforce are based in Aberdeen with the remainder offshore.
CAN Group director Innes Walker said Engteq would remain part of the group, but added that he expected it to flourish under its own brand.
He said: "CAN is already a major player in this market and has been for three decades, but it is a slightly different marketplace and Engteq needs its own identity in that space."
Mr Walker added that, in addition to the North Sea, Engteq already worked in west Africa and had moved into Asia recently.
He said the business was targeting major growth in the coming years.
It now accounts for about 20% of CAN's annual turnover, of around £70million, but aims to be responsible for half of group turnover by 2017.
The new company will be led by engineering director Simon Hurst, who has been with CAN for five years. He said: "The CAN remit is pretty wide and all-encompassing, but Engteq is effectively going to focus on integrity-management and engineering services. It is a mature industry, but we think we can still bring some innovation into the marketplace."
Mr Hurst added that, as well as international growth, he believed Engteq could win further work in the North Sea as operators focused on extending the life of their installations.
He said: "The strength of the North Sea industry provides significant opportunities in asset-life extension, so these are exciting times and I think there are huge opportunities out there for us."
Recommended for you

Elemental Energies acquires Aberdeen's Norwell Engineering (exclusive)