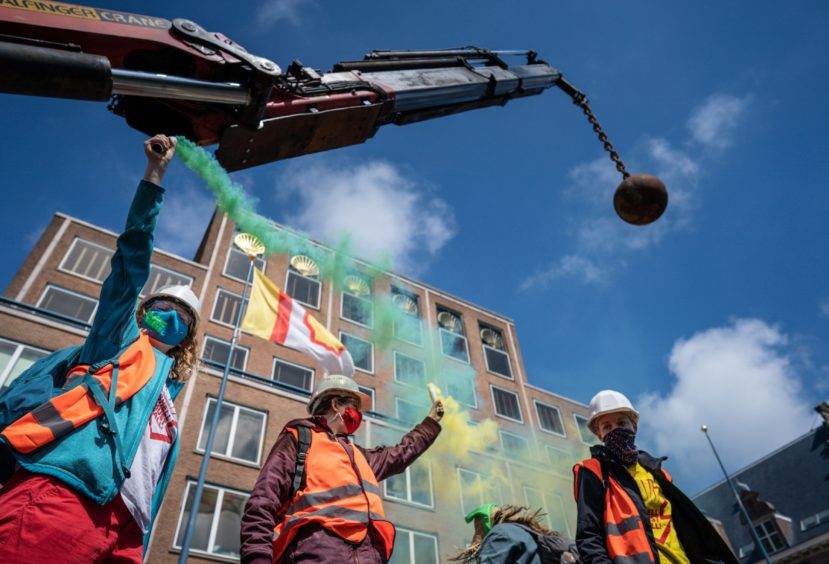 Almost a third of shareholders defied the wishes of Shell board members to vote in favour of a resolution tabled by an activist shareholder group at its annual general meeting today.
Thirty percent of the votes went in favour of Follow This' resolution, which called for Shell to set Paris-aligned short, medium and long-term targets for cutting emissions from its operations and the use of its products.
The resolution was rejected, but the support gained was more than double the level achieved at last year's AGM – 14%.
Follow This, which has become a thorn in the side of oil majors, also saw backing for its climate stance swell at BP's AGM last week, to 20.65% from 8.4% two years previously.
The results indicate that pressure is continuing to build on traditional oil and gas companies to slash their emissions and ramp up their investments in renewables more quickly.
Before the meeting, Shell's board said shareholders should reject Follow This' resolution, which it labelled "redundant".
That's because Shell filed its own resolution offering shareholders an "advisory" vote on its Energy Transition Strategy today, and every three years thereafter.
Shell's own resolution was supported by 89% of votes cast at the AGM.
Chief executive Ben van Beurden said he was pleased with the "strong endorsement" of Shell's strategy and would "seek to fully understand" why shareholders "voted as they did" for Follow This' resolution.
Mark van Baal, founder of Follow This, said the results showed Shell's policy fell short of what was needed to "protect investors from devastating climate change" and called for the firm to revise its targets.
Earlier, he said that if Shell's targets were Paris consistent, then the company would not have to advise shareholders to vote against Follow This' resolution, which simply asked for Paris consistent goal-setting.
Responding directly to Mr van Baal's statement, Shell chief executive Ben van Beurden said: "There's nothing in your resolution we've not taken into account and that's why we say it is redundant."
He insisted Shell's strategy was "comprehensive, rigorous and ambitious" and that its targets were in line Paris Climate Agreement goal of keeping global warming below 2 degrees Celsius compared with pre-industrial levels.
Mr van Beurden also stressed that Shell was working towards clear and concrete milestones, including operating 2.5 million electric vehicle charging points by 2030 and capturing 25 million tonnes of carbon dioxide per year by 2035.
Furthermore, he said Shell would not sell oil and gas products to customers which are not dealing with their emissions – and that the British-Dutch giant would not explore for oil and gas in new "frontier" territories after 2025.
Chairman Chad Holliday said he had "not had time to study" a report from the International Energy Agency, published today, which said no new oil and gas fields should be developed if the energy sector is to hit net-zero emissions by 20250.
Shell was also put on the spot by Adam Matthews, director of ethics and engagement for the Church of England Pensions Board.
Mr Matthews recognised Shell had taken an important step with its energy transition strategy.
But he urged Shell to set near and medium term targets for "absolute" emissions reductions – at present Shell only has these for carbon intensity.
Mr Matthews also said the CoE Pensions Board would divest its shares in Shell if the company hasn't lived up to its ambitions in 2023.
Mr van Beurden said Shell chose to focus on lowering carbon intensity because the company was unable to reduce demand from society for oil and gas products.
If Shell "retreated" from its core business and stopped producing fossil fuels, demand would remain and a different company would fill the supply gap.
"It's not within our remit to reduce demand in society but we can provide energy with lower carbon intensity," he said.
Mr van Beurden also said most of Shell's reserves will have been produced by 2035, which meant the risk that the company is sitting on resources that can't be produced was "negligible".
Recommended for you

Shell pushes on with CCS in Southern North Sea transformation