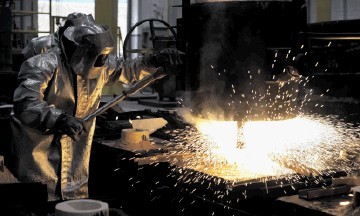 Scottish engineering firm Weir Group said yesterday it had acquired three companies around the world for a combined £55million.
The Glasgow-based business said it had bought a Canadian energy service business and foundries in Malaysia and South Africa in its first deals of this year.
Weir said the Canadian company, R Wales Group, made rubber linings for pipes, tanks and hoses and would add to its services for the North American oilsand industry.
The Scottish firm added that the Cheong foundry in Malaysia and the Xmeco operation in South Africa would boost its capacity in Asia-Pacific and Africa, allowing it to offer castings to several sectors in both regions.
Weir chief executive Keith Cochrane said: "The R Wales Group and the Cheong and Xmeco foundries enhance the group's presence in important growth markets.
"The Wales Group develops our leading after-market offering in the mineral and oilsand sectors, while the Cheong and Xmeco foundries expand our low-cost capacity in the fast-growing regions of Asia Pacific and Africa, enabling us to deliver quality products more quickly to our customers."
The multimillion-pound deals follow a string of Weir acquisitions in recent months amounting to more than £800million.
In December the Scottish company bought a US rival, Mathena, for up to £237million, while a year ago it purchased Novatech for £113million. In December 2011, Weir took on Seaboard for £433million.
Last year Weir also lost out in a bidding war for an Australian mining-equipment firm, Ludowici, which was ultimately bought by Danish rival FLSmidth for more than £265million.
Weir, which has annual turnover of about £2.3billion, employs about 14,000 people worldwide. It also has Scottish bases at Alloa and in Aberdeen.
Oil and gas engineering consultant Optimus (Aberdeen) said it had won contracts worth nearly £2million so far this year after "significant" investment in its expansion.
The firm also revealed a 45% fall in profits during 2012, to £402,394, as it reinvested earnings into its expansion.
Staff numbers rose by more than one-quarter, to 90 from 70, and the firm opened a satellite office in Inverness to tap into the engineering skill base in the Highlands. Turnover continued to grow during the period, rising by 15% to £12.3million. Optimus director Ian Bell expects turnover to rise by one-third, or £4million, to around £16million during 2013, with earnings before interest, taxes, depreciation and amortisation forecast to jump to £850,000.