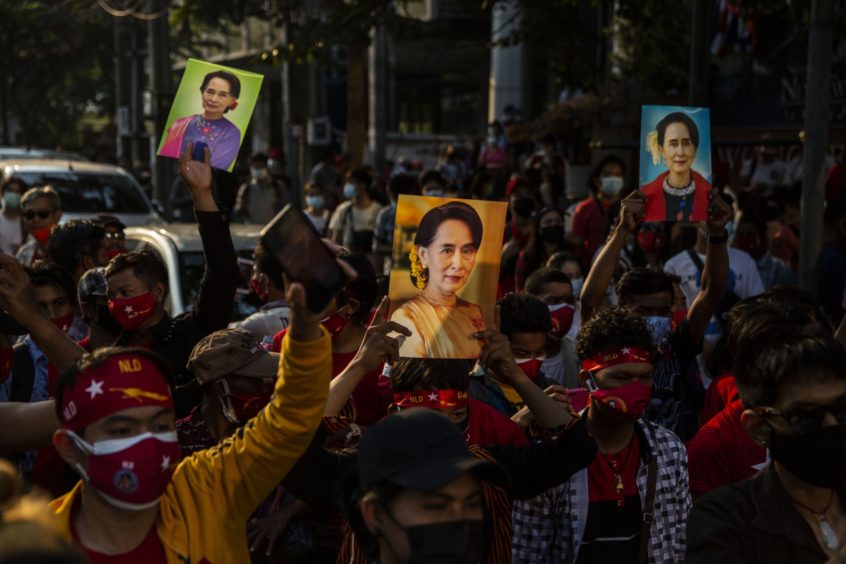 French energy giant TotalEnergies has said it has done everything within its power for now to limit revenues going to the military junta in Myanmar while staying within a legal framework and maintaining crucial power supplies.
Myanmar has been in turmoil since the military overthrew Aung San Suu Kyi and her National League for Democracy (NLD) government on February 1 and launched a brutal crackdown on dissent.
As a result, international businesses active in the country have come under pressure from rights groups, as well as Myanmar's shadow civilian government – that is seeking to reverse the coup – to review their operations and halt payments flowing to the military government.
TotalEnergies, formerly known as Total, and its partner in Myanmar, Chevron, said last week that they were suspending payments from a gas transportation joint venture that would have reached the military junta.
TotalEnergies chairman and chief executive Patrick Pouyanne told a shareholder meeting on Friday that the only way to fully stop all revenues flowing to the junta would be to stop production at the Yadana gas fields, which are operated by the French company and supply power plants in Thailand and Myanmar's domestic market, reported Reuters.
"Gas produced by the Yadana Project is used to supply electricity for approximately half the population of Yangon, Myanmar's largest city, and also for people in Thailand. Effectively turning off the power to half of Yangon's homes, schools and hospitals – in the middle of a state of emergency and a pandemic – risks creating even more hardship," Chevron said last week.
TotalEnergies has rejected the option of turning off production at Yadana for now, saying it would expose workers and the energy giant to legal threats and penalise the region in terms of energy access.
"First of all, the bulk of revenues come from the fact there's a client that buys that production, which is Thai company PTTEP … and then there are the taxes," Reuters reported Pouyanne as saying.
"Deciding to not pay taxes would mean we would be in breach of the law, there's a criminal risk attached."
Total would comply with any further sanctions imposed on Myanmar, including by the US and the European Union, Pouyanne added.
Last week shareholders in the Moattama Gas Transportation Company (MGTC) – led by Total and Chevron and which also includes Thailand's PTT Exploration & Production (PTTEP) and state-backed Myanmar Oil and Gas Enterprise (MOGE) – voted to suspend all cash distributions effective April 1.
This action will stop revenues reaching the state-run MOGE, which is effectively controlled by the military government. However, MOGE is also a partner in the offshore Yadana gas field, and will continue to receive revenues from the upstream project.
Human Rights Watch welcomed the suspension of payments to MOGE, which helps fund the military-led government's aggressive campaign against dissidents. Human Rights Watch said Friday that governments and energy companies should follow the lead of Chevron and TotalEnergies by also stopping payments to the military-led government.
"Governments and all energy companies operating in Myanmar should take stronger action to block natural gas revenues flowing to the Myanmar military. Natural gas revenue is the military's largest source of foreign currency income, including approximately $1 billion in duties, taxes, royalties, fees, tariffs, and other profits. The dividends suspended by Chevron and Total are a minimal part of the overall payments the government receives from natural gas," said Human Rights Watch.
"Chevron and Total's recent decision is a step in the right direction, but it affects less than 5% of the natural gas revenue the Myanmar junta receives," said John Sifton, Asia advocacy director at Human Rights Watch. "To have real impact, governments and companies need to go further to stop the junta from receiving funds or accessing bank accounts that receive payments."
Coup leader senior general Min Aung Hlaing has justified his February 1 power grab by claiming electoral fraud in November elections won by Aung San Suu Kyi's NLD party. Independent observers dispute the assertions of widespread irregularities.
Myanmar's security forces have killed more than 800 people since the coup, according to figures cited by the United Nations. More than 4,000 people have been detained, said the UN.