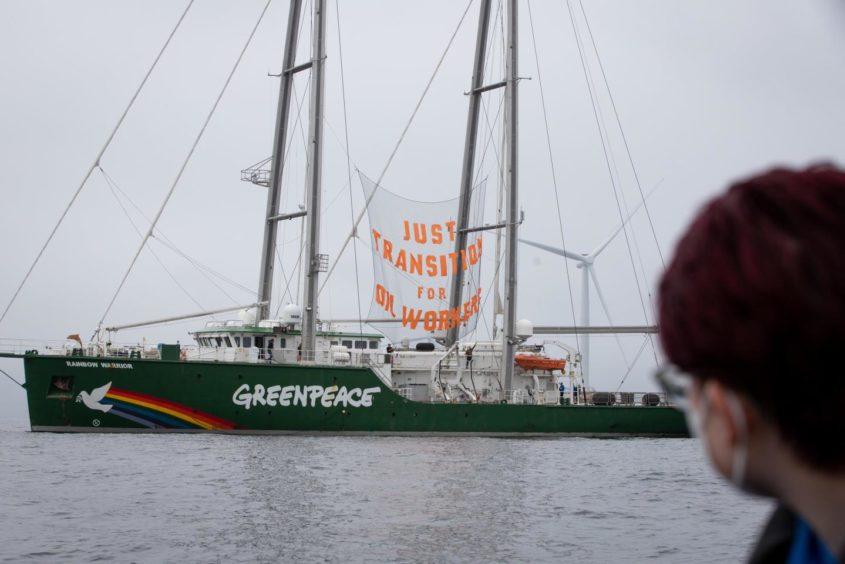 The Greenpeace Rainbow Warrior ship will be back in Aberdeen on Saturday to host a panel discussion on the need for a "just transition" for oil workers.
Aberdeen North SNP MP Kirsty Blackman, RMT union boss Jake Molloy, Narayan Shrestha from Aberdeen Multicultural Centre and Steve Gray from Green Unison Scotland will be taking part.
There will also be representatives from Aberdeen Climate Action and the Friends of St Fittick's Park community group.
The event will be held at 2pm on Saturday at Aberdeen Harbour, with members of the public encouraged to join virtually via a livestream link.
The Greenpeace Rainbow Warrior is sailing back to Aberdeen after staging a demonstration this week at the Beatrice Offshore Wind Farm highlighting the need for a just transition for oil workers to be able to move into renewables.
Greenpeace is carrying out a "Just Transition Tour" seeking action for the Scottish Government to prevent oil workers being "abandoned", which "was seen with coal miners and shipbuilders in years gone by".
As well as the Beatrice protest, Greenpeace has been moving a 42-ft wind turbine blade across the country, including Aberdeen's Duthie Park, to raise awareness.
Saturday's event will likely cover hot topics including the COP26 climate conference in Glasgow, 100 days from tomorrow, as well as new oil exploration in the UK.
The Aberdeen Energy Transition Zone proposed for the St Fitticks area, which is aiming to create thousands of renewables jobs but has come under fire from local groups about the proposal to build on greenbelt space, will also likely come up.
Attendees will be able to put questions to the panel via the livestream link.
Morten Thaysen, oil campaigner for Greenpeace UK, said: "The Scottish government is saying it supports a just transition, but it is utterly failing to engage with oil and gas workers who will be the most affected.
"Workers are telling us they need secure, sustainable jobs. There needs to be retraining opportunities and funding available for every energy worker whether currently employed, unemployed, on a temporary contract. The government must bring in an offshore training passport so workers can move freely between sectors without repeating training over and over and paying exorbitant costs from their own pockets.
"Everyone's welcome to join our live streamed event this weekend, and we hope to have a lively discussion that drives action towards a successful just transition."