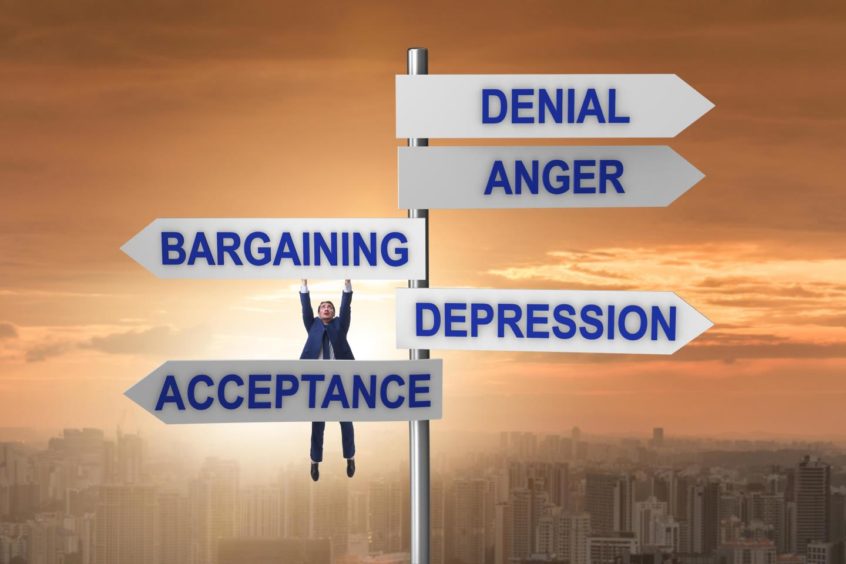 Pinpointing which stage of grief the UK oil and gas supply chain currently sits at it is complicated.
Potentially damaging changes to government policies on support for exports were met with shock – and perhaps some denial.
There would definitely have been anger.
Bargaining would have come earlier, during the consultation stages.
A number of company bosses have come away feeling their concerns were never truly heard during those processes.
Hopefully depression has already given way to acceptance in the sector, which has a proud track record of rolling with the punches when life gets tough.
For this article, Energy Voice spoke to bosses at two north-east supply chain firms which have been commended with Queen's Awards for international trade, Exceed and Hiretech, and the head of the organisation which manages the UK Pavilion at global energy trade shows.
Their messages were clear.
The UK supply chain supports the energy transition and wants to play a key role in the decarbonisation drive.
Just about every oilfield service company has the potential to branch into renewables and many are doing that, but others will need more time. The fear is that these policies will break their backs before they can make the transition.
They are not abandoning their overseas ambitions, but realise the challenge of growing abroad just became a lot more difficult.
Business owners will also have to be more selective about which exhibitions and trade shows they can attend.
In addition, there is concern that the exemptions to the withdrawal of support don't go far enough, which could hurt the UK's competitiveness and the supply chain's ability to make the transition.
To recap, the UK Government, on the same day it announced the North Sea Transition Deal, confirmed it was ending taxpayer support for the fossil fuel energy sector overseas from March 31 2021.
This includes UK Export Finance (UKEF) support, international aid funding and trade promotion for new fossil fuel projects.
The "very limited" exceptions include decommissioning and carbon capture.
There is a one-year exemption for small businesses to give them time to adjust, while UKEF is developing a new type of "guarantee" to ensure oil and gas focused companies with credible transition plans receive support.
In January, the Scottish Government set out its Vision for Trade, which included a proposal to end all overseas trade backing and promotion activities focused on fossil fuel goods and services by COP26, again, with some exemptions.
A spokesman told Energy Voice the Scottish Government had consulted with a range of industry executives and wider stakeholders and staged two workshops in conjunction with Oil and Gas UK.
He said progress was being made on the detail of implementation and that an announcement would be made "in due course".
Ian Mills, managing director of Exceed, an Aberdeen-headquartered well management company, said the moves by both governments were "beyond disappointing".
Mills feels the decisions were motivated in no small part by the UK's hosting of the COP26 summit in Glasgow in November, after which there will be a "dawning realisation" that these steps have been taken prematurely.
Mills said: "We're not energy transition deniers. We want to be part of it. But I think politicians are playing a game and are disconnected from the supply chain and how we can export our knowledge and expertise. They played the game of consultation, but they were not in 'listen mode'. The decision had been made."
Exceed commercial director John Anderson branded the policies "shocking" and said the company and many of its counterparts felt "really let down".
Anderson said: "For a relatively small company built in north-east Scotland, and we're not alone, it really is going to prevent us from growing internationally, or certainly put a roadblock in place.
"We're still going to try, but that support being taken away is going to make it hard."
Exceed, an employer of almost 100 people, does have recipes for international success.
Its exports grew from 20% to 60% of total sales over a three-year stretch, which landed it the prestigious Queen's Award.
Covid-19 dented that, and drove up the UK contribution to 85% of total revenues.
Exceed managed to retain its full-time staff members throughout the pandemic and will break even.
The company is in the process of setting up subsidiaries in Australia, to take advantage of a potentially buoyant decommissioning market, and the UAE.
In years gone by, Exceed could have looked to the government's bond support scheme to help it secure work overseas.
An overseas customer may ask a service company for a bond, which acts as a form of assurance that the contract will be fulfilled.
The exporter may ask its bank to issue the bond and, to get the lender onside, UKEF can provide a guarantee for up to 80% of the value of the bond.
As reported last week, this type of support was pivotal in helping First Subsea, a company which has shifted away from oil and gas to renewables, secure £12 million worth of export orders to supply cable protection systems for offshore wind farms.
Mills said restricting access to this assistance may mean companies like Exceed will need to bring in external investors to finance their expansion.
This is a prospect Mills is clearly unenthusiastic about, as the company's independence and "can-do" culture would be "compromised".
Mills said oil majors had started to release their more experienced and costly "wells people", which he hoped would improve their appetite for working with firms like Exceed.
Decommissioning may offer a silver lining, but margins in that segment are slim, and contracts never come as thick and fast as hoped.
Mills also expects Exceed to get more involved in geothermal and CCS projects, which have an obvious need for well services.
Andy Buchan – chief executive of Hiretech, based in Fintray, near Dyce – also acknowledged that overseas growth would only become more difficult.
Hiretech, which received its Queen's Award last November, supplies equipment and rental packages for hydraulics, well services, pipeline, chemical cleaning, decommissioning, subsea and renewables projects.
It typically counts on trade in its main international markets – Europe, West Africa, Caspian, Southeast Asia and the Middle East – for 35-40% of its revenues.
Buchan said Hiretech, an employer of about 20 people, would forge ahead with its internationalisation ambitions, which were backed up in the past by economic development agencies like Scottish Enterprise.
Trade shows are an important shop window for companies like Hiretech, but regularly booking their own stand at an international event wouldn't be an option due to the costs involved.
Previously, it helped that Hiretech could join the Scottish pavilion at one of these shows.
Buchan said the impact of the governments' policies on exhibiting at trade shows was still unclear.
But he seems resigned to having to be more selective about which exhibitions Hiretech attends.
Buchan said: "The oil and gas industry is our shop window and springboard into renewables and decommissioning projects. We are all now in the energy business. Oil and gas and renewables cannot be separated in terms of opportunity, or the trade shows we attend to promote our capabilities.
"We get involved in discussions about renewables at events such as Adipec, OTC and ONS. In particular, subsea capability is subsea capability, and whether you are working on hydrocarbon or renewable infrastructure, the opportunity and solutions are very similar.
He added: "Scottish Enterprise support is important to us, not just financial support, but in the incredible amount of organisational and logistical experience they can offer SMEs to access all these markets.
"If we lose any Scottish Enterprise support, there is a danger we will lose some of the decommissioning and renewable opportunities we are all keen to access."
According to Stuart Broadley, chief executive of the Energy Industries Council (EIC), which manages UK pavilions, it is too early to say how those stands will be impacted, as no major events have been held since the governments outlined their intentions.
Broadley does hope to run a UK pavilion at Adipec, if Covid allows.
EIC's annual Survive and Thrive report shows consistently that exporting remains the more difficult growth strategy for those surveyed.
The "shock removal of support", with few exemptions, will certainly not be help the UK's 3,500 energy supply chain companies get over their export "shyness".
Oil and gas is still the main revenue generator, a state of affairs that seems unlikely to change, near term.
EIC data shows that 70% of energy sector project capex will be focused on oil and gas in the next five years, compared with 25% for on and offshore wind, solar and hydroelectricity.
Energy transition technologies hydrogen, CCS, energy storage and floating wind account for just 3%.
Broadley said: "We all support the energy transition, but if we want to participate as a supplier rather than a buyer of services, then we need to take the supply chain with us.
"We've got a 5-10 year gap between oil and gas starting to tail off and energy transition technology starting to grow enough to overtake oil and gas.
"Now that gap has to be filled by companies working now without government support where previously they used to get it and clearly that's an unfortunate outcome of this."
A UKEF spokesperson said: "Tackling climate change and aligning government support behind clean growth industries is a top priority for the UK. Export opportunities for the UK's low-carbon sector are expected to be worth up to £170 billion to the UK economy by 2030 and we are helping the UK supply chain tap into that potential with export promotion and financing support.
"However, it is a transition. The offshore oil and gas industry is a major British industrial success story and the government has launched its landmark North Sea Transition Deal, which is a global exemplar of how a government can work in partnership with the offshore oil and gas industry to achieve a managed energy transition, which leaves no-one behind.
"To accelerate this transition, UKEF has launched a new Transition Export Development Guarantee to help UK exporters adapt their business models and government policy also provides a 1 year exemption for SMEs to its policy on fossil fuel support to ensure that vulnerable business are given sufficient time to adjust."
For more on this topic, read Jeremy Cresswell's opinion piece on page 22. Readers may also find the article about the newly-formed UK Energy Supply Chain taskforce on page 28 informative.
Recommended for you

Sir Ian Wood: Government beginning to realise EPL 'is not working'