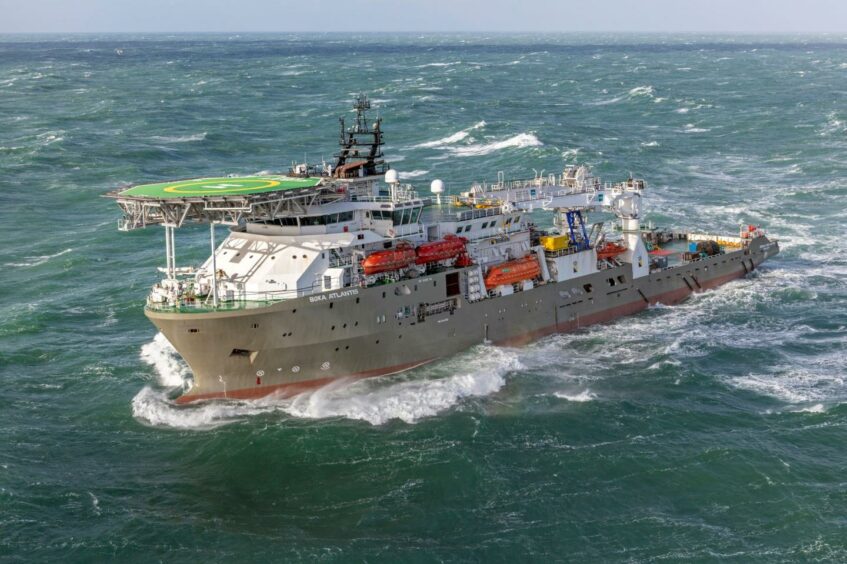 Maritime services firm Boskalis has received a takeover offer from an international holding company.
HAL Holding has announced an intended voluntary public offer of €32.5 per ordinary share for all the issued stakes in the Dutch contractor.
Boskalis, which has a North Sea base just outside Aberdeen, was made aware of HAL's intentions on Tuesday.
Its board will now "carefully consider" all aspects of the proposals and update the market "if and when appropriate".
According to the company's website, HAL is an international holding company based in Curacao, a Dutch Caribbean island.
All HAL's shares are held by HAL Trust (AMS: HAL), which, like Boskalis (AMS: BOKA), is listed on the Amsterdam Stock Exchange.
Boskalis also shared its results for 2021 on Thursday, in which it reported pre-tax profits of £153 million, reversing 2020's losses of £59m.
Revenue totalled £2.5bn, a 17.1% increase on the previous year, while "substantial capital investments" were also made in 2021.
The company's order book increased slightly from £4.4bn to £4.5bn, a rise that "fully attributable" to offshore energy.
Peter Berdowski, chief executive of Boskalis: "Looking back at 2021, we have delivered an excellent performance. Despite the still restrictive COVID-19 measures, we managed to execute our projects well and also in financial terms we can speak of a successful year. Our EBITDA has increased significantly and we have also acquired a large number of impressive projects. In addition, our financial position remained rock-solid.
He added: "In Offshore Energy, our biggest project currently in execution is in Taiwan, where we are constructing two offshore wind farms. Our newest crane vessel, the Bokalift 2, will start working there in the coming months and she is lined up to continue work on subsequent offshore wind projects thereafter. This illustrates the considerable size and opportunities the offshore wind market holds for Boskalis, as long as we continue to be selective. The activities acquired from Rever Offshore at the end of 2020 have been fully integrated into our Subsea organization and made an excellent contribution to the result. Last year we saw that Survey, Seabed Intervention and Marine Transport are in an excellent position to increasingly serve the offshore wind market in addition to our traditional offshore clients. With the award of a sizable offshore wind installation project off the east coast of the United States, the share of offshore wind projects is expected to increase further in the coming years."
Boskalis became something of a household name last year after it played a key role in clearing the Ever Given ship from the Suez Canal.
The vessel ran aground in the shipping channel in March where it remained stuck for six days, massively hampering international trade.
Mr Berdowski said: "2021 will go down in history for salvage as the year of the Ever Given, the container ship that blocked the Suez Canal for just under a week. The salvage operation lasted six memorable days, which we even documented in a book afterwards. In the end, our colleagues, aided by the forces of nature with a spring tide, succeeded in refloating the vessel thereby unblocking the canal."
Recommended for you

Chancellor's £54bn windfall tax 'threatens to drive out UK investment'