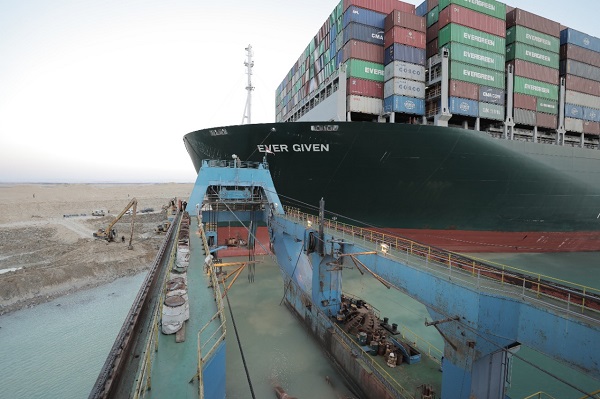 The MT Ever Given has been partially re-floated, although there are conflicting reports about whether more work will be needed to free the container ship.
The Suez Canal Authority (SCA) announced the use of a major manoeuvre to free the boat on Monday morning. The ALP Guard arrived on March 28.
Bernhard Schulte Shipmanagement (BSM) said the arrival of this specialist tug from the Netherlands brought the total to 12 tugs on site.
The SCA said that work had been successful and that the Ever Given was now floating. Work will resume on the rising tide, it said.
430 ships are waiting for the blockage to clear.
The head of the SCA Osama Rabie, in a statement, said navigation would resume once the Ever Given was fully floated. Inspectors will carry out a technical examination of the vessel before it moves on.
The Ever Given ran aground on March 23, apparently as a result of strong wind.
Progress in shifting the vessel put pressure on oil prices, Rystad Energy reported. The consultancy's Louise Dickson said the market expected traffic to "return to normal within days as the stuck container ship in the Suez Canal is partially re-floated and engineers indicated that the trickiest phase to remove it from the Canal is behind us".
No cake
Boskalis CEO Peter Berdowski told Dutch radio station NOS this morning that the ship was still partially stuck. Berdowski said the stern had been pulled free from the west bank but that the bow remained stuck.
The executive said the re-floating work would resume at high tide.
"I wouldn't say it's a piece of cake now," Berdowski was quoted by Reuters as saying.
Shipping company Maersk reported there had been "good progress" in shifting the Ever Given but that it was not yet fully dislodged. "It is too early to say when the Suez Canal will be cleared for operations again", Maersk said.
The company has three vessels stuck in the canal, 29 waiting to enter and has redirected 15 around Southern Africa. Given the size of the queue, Maersk calculated it would take six days or more for this to clear.
Rystad's Dickson went on to say the disruption could mean stronger demand for maritime fuel and jet. Shipping taking the longer route, past the Cape of Good Hope, will require more fuel, she said.
For more urgent good, "a flight cargo option could be activated instead of shipping them by vessel to join the crowd of waiting tankers, which would temporarily boost demand for jet fuel in the short-term".