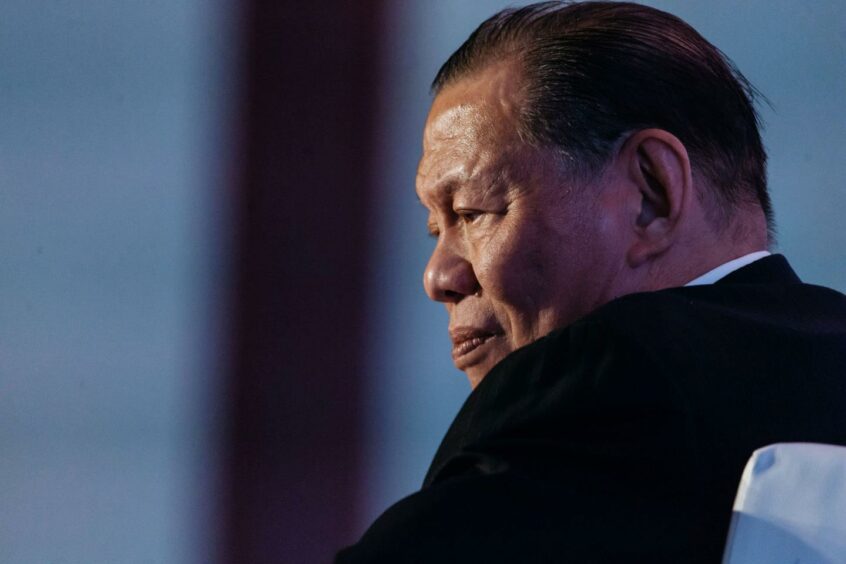 An energy company backed by Indonesian tycoon Sukanto Tanoto plans to spend $500 million this year on a long-planned liquefied natural gas (LNG) project in Canada, the clearest signal yet that it may move ahead with an LNG export facility on the country's west coast.
If the project proceeds it will be just the second in Canada to start work on an LNG export facility.
Woodfibre LNG, backed by Tanoto's Pacific Energy Corporation, has yet to formally announce an investment decision. But Woodfibre president Christine Kennedy gave the spending details to local government officials in Squamish, British Columbia, on Tuesday. The $500 million figure is 31% of the expected $1.6 billion total cost of the project.
A copy of Kennedy's presentation was obtained by Bloomberg. "While we have not yet issued our final notice to proceed, this confirmed investment is indicative of our intent to start pre-construction work this year, and complete this critical low-emission energy project in 2027," Kennedy said in an emailed statement.
Woodfibre's plan follows Shell's decision to build the much-larger C$40 billion ($31.8 billion) LNG Canada project in Kitimat, British Columbia, which is 60% complete and scheduled to start operating by the middle of the decade.
Woodfibre is licensed to export about 2.1 million metric tons a year of gas chilled to a liquid so it can be shipped to faraway destinations on special tankers. The decision to boost spending comes as European countries scramble to find alternatives to Russian gas and cut the continent's dependence on the energy-producing giant following Vladimir Putin's invasion of Ukraine. Global LNG markets are expected to remain tight in the coming years with new developments needed to help balance the market.
FortisBC, a unit of Fortis Inc., also gave Squamish officials an update on the Eagle Mountain-Woodfibre Gas Pipeline, which would connect the proposed project to an existing natural gas transmission line.
Fortis is proposing to increase the size of its planned work camp to accommodate as many as 600 people during peak periods.
"We listened and have made design changes to eliminate pressure on local housing, to address traffic congestion and to alleviate other pressures on community resources," Fortis BC's director for the project, Darrin Marshall, said in an emailed statement.
The Woodfibre LNG Project is owned and operated by Woodfibre LNG Limited, a privately held Canadian company based in Vancouver, British Columbia.
Woodfibre LNG, a Vancouver-based private subsidiary of Singapore's Pacific Energy, said last November it had awarded an engineering, procurement and construction contract to Houston-based McDermott International, to build the facility on an existing industrial site.
If Woodfibre does issue its notice to proceed, or final investment decision, the company will be just the second in Canada to begin work on an export-focused LNG development, after Shell led a consortium that included Malaysia's state-owned Petronas in proceeding with the LNG Canada export project in 2018.
Pacific Energy, which is part of the Singapore-based RGE group of companies, is an independent energy resources development company focused on helping North America and growing Asian economies meet their increasing energy requirements.
Since 2003, Pacific Energy has taken strategic positions in China's gas and related power markets. Pacific Energy is one of the first two foreign companies to own interests in LNG receiving terminals in China. Pacific Energy also successfully built and operates the first 100% foreign-owned combined cycle gas turbine (CCGT) power plant in Xiamen, and owns 70% stake in another CCGT power plant in Wuxi.
In Canada, Pacific Energy's exploration and production of gas are conducted through its subsidiary Pacific Canbriam Energy (PCE). Acquired by Pacific Energy in 2019, PCE is a leading exploration and production company focused on finding and developing over-pressured, liquid rich natural gas resources in the Western Canadian Sedimentary Basin.
Pacific Energy is expanding its existing presence in Canada with the Woodfibre LNG Project, an export facility located near Squamish, British Columbia, about 70km from Vancouver. The Woodfibre LNG Project has obtained a licence to export LNG for 40 years. The project has also received environmental approvals from the federal and provincial governments as well as the local Indigenous people: the Squamish Nation. By using hydroelectric power for the refrigeration process, Woodfibre LNG will be one of the most innovative and cleanest LNG export facility in the world, claims Pacific Energy.
Recommended for you

Japan offers loan to Indonesia to buy Shell's Masela LNG stake