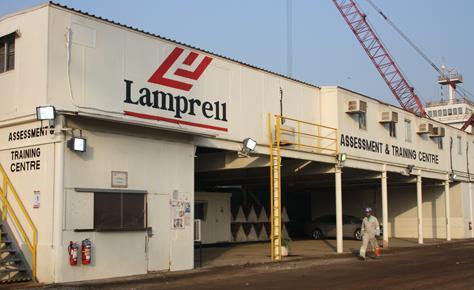 Lamprell (LON:LAM) says it will not be in a position to "trade solvently" unless a proposed takeover successfully goes through.
The company says the joint bid by Blofeld Investment Management and AlGihaz Holding offers a "viable pathway" to settle its financial woes.
It was announced last month that the two firms, which have a combined stake of 44.7% in Lamprell, had tabled an offer of 9 pence per share, with a bridge loan of $145 million.
And on July 21, Thunderball Investments – a newly formed company owned by Blofeld and AlGihaz – and Lamprell's board unveiled the terms of a recommended cash offer.
Lamprell, a UAE fabricator that has been picked to deliver parts for a number of Scottish offshore wind farms, revealed earlier this year that it faces "urgent and severe liquidity constraints".
Several efforts were made to raise cash but with no success, and as a result, it was decided to try to find a buyer for both the group and its assets.
In an update given as part of the company's results on Monday, chairman John Malcolm said: "In 2021 our primary focus was to ensure our business development goals were matched by a funding strategy.
"In Q4, we were pleased to receive in the support of our shareholders and lenders during the first phase of this strategy when we raised $30.1m of equity and a $45m working capital facility, which helped alleviate the immediate pressure on our ongoing working capital requirements.
"Management then continued to pursue a number of financing and strategic options with a view to finalising these in Q2 2022. In the absence of adequate debt finance solutions, the Group management and Board consulted extensively with the major shareholders to gauge their support for an equity raise as a means to meet its $120-150 million balance sheet and growth funding target. In light of the challenging equity markets and the acute liquidity pressure, this option did not receive sufficient support from our shareholders.
"The Group then received a combined all cash offer to acquire the entire issued and to be issued share capital of Lamprell from Blofeld Investment Management, a 25% shareholder, and AlGihaz Holding Closed Joint-Stock Company, a 19.7% shareholder. The offer includes a Bridge Loan Facility to assist with immediate working capital and capital expenditure requirements. Without an agreement on an equity-based financing solution, and mindful of the acute liquidity needs of the Group, the Board views this offer as a viable pathway to resolve the immediate funding obligations and severe liquidity concerns. In the absence of any alternatives, the Group will not be in the position to trade solvently should this offer not proceed to completion."
In its full year 2021 results, which were pushed back to allow the board time to locate financinag, Lamprell reported pre-tax losses of almost $60m, adding to the $53m of losses it made in 2020.
The company generated $389 million in revenue, a 15% increase compared to the previous year.
Lamprell has been hit hard by the "covid-19 pandemic headwinds" and throughout 2021 it has experienced a "number of significant impacts on productivity and cost" as it worked around lockdowns and restrictions.
Christopher McDonald, Lamprell chief executive, said: "As we complete our second year of working with COVID-19, I am pleased to report solid operational results, year-on-year revenue and bid pipeline growth and, more importantly, a number of significant milestones as we deliver our growth strategy."
Recommended for you

Capricorn makes Palliser nominees an offer ahead of vote