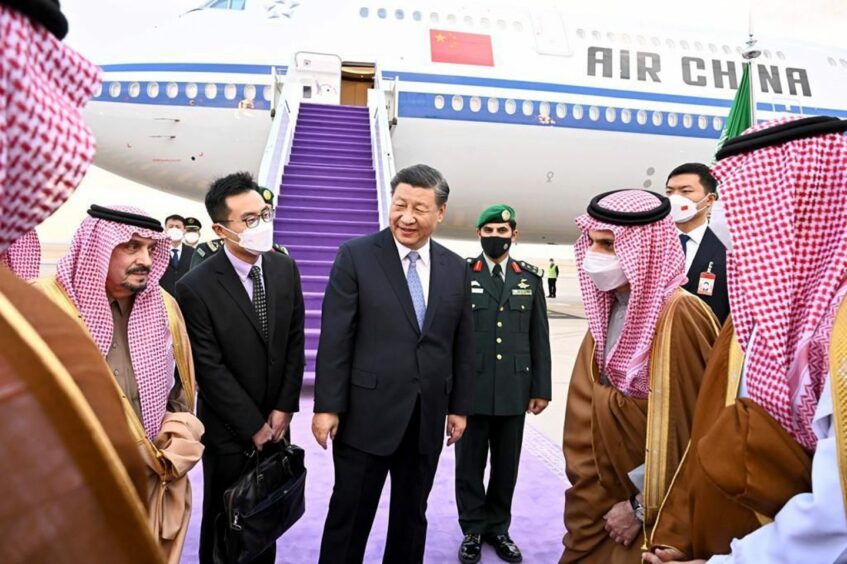 China and Saudi Arabia signed a number of agreements, including on energy and investments, after their leaders met in Riyadh on Thursday at a summit that showcased deep and growing ties beyond oil.
Saudi Arabia's Crown Prince Mohammed bin Salman and Chinese President Xi Jinping signed the agreements at the royal palace. It includes a strategic partnership agreement and a harmonisation plan between the kingdom's Vision 2030 that aims to wean the economy off a reliance on oil and China's Belt and Road Initiative. Memorandums of understanding were also signed on hydrogen energy, solar power, direct investments and housing.
The leaders "reviewed aspects of partnership and joint coordination efforts" and discussed "opportunities to invest available resources" in both countries, according to state-run Saudi Press Agency.
Xi was greeted with a horseback parade at the royal palace where he met Saudi Arabia's crown prince. His visit comes as US ties with the kingdom come under pressure.
Saudi Arabia is the world's largest oil exporter, and China its top customer, making their relationship key to the crude markets. But both are looking to gradually diversify their energy mix.
Saudi state news agency gave few details about the agreements, which also included pacts in other sectors such as information technology, cloud services, transportation, logistics, medical industries, housing and construction.
These include an agreement with China's Huawei on cloud computing and high speed internet complexes in Saudi Arabia, and another to build an aluminium plant signed between between the Saudi investment ministry and Shandong Innovation Group. Also, an MOU to set up a hydrogen cracking project was signed, according to a statement by the Saudi government.
Saudi Arabia has started work on a large facility for green hydrogen in Neom, a Red Sea city under construction. The green hydrogen, a fuel seen as crucial to the global transition to cleaner energy, will be generated using solar and wind power.
"The Kingdom enjoys a strategic geographical location linking three continents" and overlooks some of the most important water crossings and energy resources, Saudi Investment Minister Khalid Al-Falih said, according to SPA.
Xi's trip comes two months after Saudi Arabia angered the US by orchestrating a big oil-production cut by the OPEC+ cartel and cast itself as an emerging power capable of standing up to pressure from Washington. China praised this stance.
The two countries will strengthen collaboration at the UN, the G20 and the Shanghai Cooperation Organization, Xi wrote in an editorial in Saudi newspaper Al Riyadh.
"It suits both Riyadh and Beijing to highlight they have other options to the US, or important partnerships on the world stage that do not include the west," said Raffaello Pantucci, a senior fellow at the S. Rajaratnam School of International Studies at Nanyang Technological University in Singapore. China's engagement with the region shows China illustrating that "an alternative world order" can exist, he added.
Recommended for you

Shell, ExxonMobil, sign CCS study deal with CNOOC in China