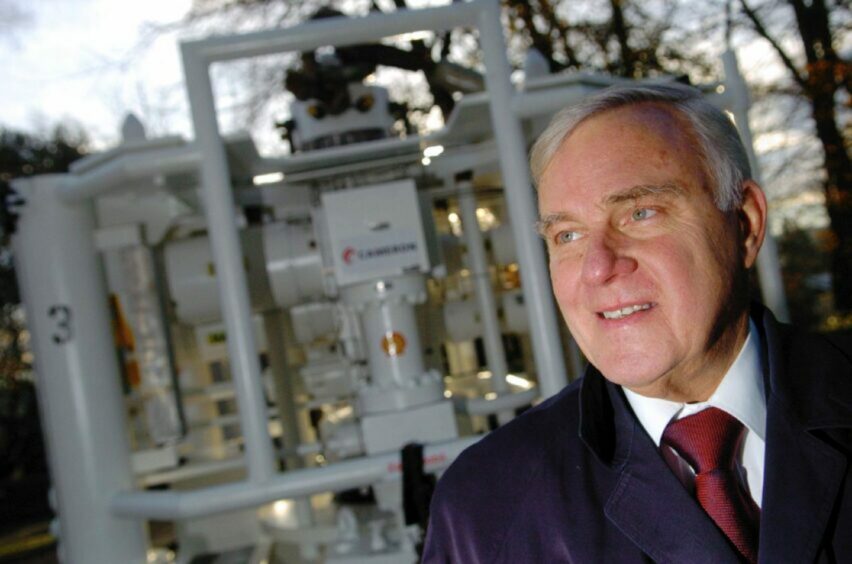 Former Wood Group director and giant of Aberdeen's subsea oil and gas sector, William "Bill" Edgar, has died aged 84.
In the wake of his death his sons pay tribute to their dad, who was also a mechanical engineer working in aviation and heavy manufacturing.
"He was a good man. A family man who worked hard his whole life," said Russell Edgar.
Steel man
Born January 16 1938 in Blantyre, William – always known as Bill – was the only son of coal miner William Edgar and his wife, Alice who looked after Bill and his sister Mary at home.
He attended school in Low Blantyre and the Scouts in his spare time, before starting work as an office boy with steel colossus David Colville and Sons in Motherwell.
Bill then moved to the company's Hallside works near Hamilton to train as a fitter, turner and draughtsman.
Colville's supported Bill's education over a five-year period. He achieved a HNC in mechanical engineering, and an endorsement in electrical engineering.
The firm continued to sponsor him through university where he studied mechanical engineering at the Royal College of Science and Technology.
Further study would see him gaining an MSc in thermodynamics and fluid mechanics from Birmingham University before returning to Motherwell as development engineer at Ravenscraig strip mill.
At the time it was a state-of-the-art facility and one of Scotland's biggest employers.
Family man
On September 15 1961 Bill married his sweetheart, June Gilmour from Blantyre. The following year they moved to Lytham St Annes, Lancashire.
Bill started work as an aeromechanical engineer for British Aircraft Corporation (BAC) and the couple's first son, Russell, was born.
For the next four years Bill worked at BAC on high-altitude military aircraft design but returned to Scotland in 1967 as chief development engineer for Weir Pumps in Glasgow. He progressed to general manufacturing manager of Weir's Cathcart plant.
Bill and June's second son Stephen was born in 1971 while the family lived in Strathaven.
Granite City bound
In the mid-1970s Aberdeen provided an opportunity for the family to move further north.
They relocated to Kintore and Bill became engineering director for Seaforth Maritime between 1976 and 1983, working from Inverurie.
Never settling for too long, Bill, June and Stephen moved to North Berwick when he joined Vickers Marine (engineering division).
Bill then became executive chairman of Cochrane Shipbuilders in Selby though they still lived in East Lothian.
In 1990 Bill took on the role of chief executive of the National Engineering Laboratory (NEL) in East Kilbride.
Then an executive agency of the Department of Trade and Industry, Bill's remit was to prepare the establishment for privatisation.
The Wood Group
With the successful completion of NEL's sale in 1995, Bill and his family returned to the north-east.
With a family home secured in Westhill, Bill joined the Wood Group as group director, responsible for engineering and production facilities.
His appointment – and regular visits to the company box at Pittodrie – meant a Dons fan was born. Although he wasn't a huge football fan he did make sure he followed the progress of Aberdeen FC.
Bill's role within the Wood Group was his passion until he retired in 2004, coinciding with his appointment as president of the Institute of Mechanical Engineers (IMechE) – a role he was exceptionally proud to have carried out.
Among his other accolades and offices held, Bill was chairman of the European Marine Energy Centre (EMEC) from 2005 to 2014.
He was also chairman of Subsea UK, an industry body for the subsea oil and gas sector, from 2005 until his retirement in 2021, when the organisation became Global Underwater Hub.
His prestigious career was topped off with his fellowships to the Royal Academy of Engineering and the Royal Society of Edinburgh. He was made CBE in 2004 and received an honorary DSc from the University of Aberdeen in 2009.
Retirement
In retirement, Bill and June liked to spend time with their grandchildren and holiday when possible.
They celebrated 61 years of marriage before June died on April 19, 2022. He was a member of Westhill Golf Course, near to their Cairnie View home.
He passed away after a short illness on Hogmanay, just weeks shy of his 85th birthday.
Stephen Edgar added: "My dad was incredibly well known in Aberdeen and beyond. He worked hard, was well respected and deserves to be acknowledged for all he achieved.
"His life will be celebrated by a private funeral, in Aberdeen."
Bill is survived by his two sons, four grandchildren and two great-grandchildren, and was recently remarried.
Recommended for you

Subsea 'innovator' honoured at awards following 40-year career