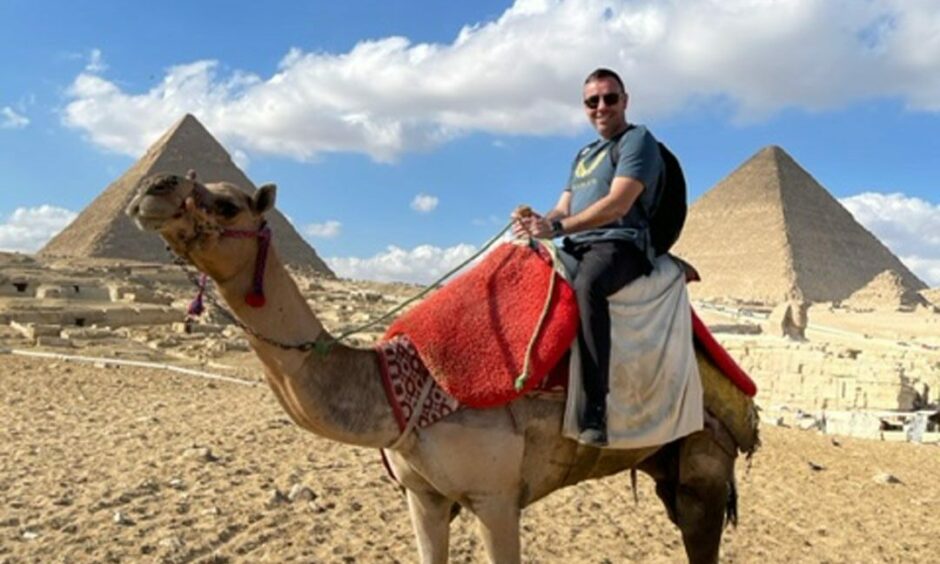 Former oil worker Andrew Morrissey has traded the North Sea for travel around the Seven Wonders of the World.
Mr Morrissey, who wrote a book last year on his negative experiences working offshore, has begun travelling the world, and has already chalked up visits to Rome's Colosseum and Egypt's pyramids.
When asked why he has chosen to travel, he said: "I have worked all over the world but to officially complete the globe you need to have been to certain places, so now I am adding the new Seven Wonders of the World."
"Once I complete the Seven Wonders and Australia and New Zealand I will have officially completed the world.
"I'm walking up the Inca Trail in Machu Picchu in October."
After walking the Inca Trail, Mr Morrissey will still have the Great Wall of China, Taj Mahal, Chichen Itza, Petra and Christ the Redeemer on his list if he wants to see the new seven wonders of the world.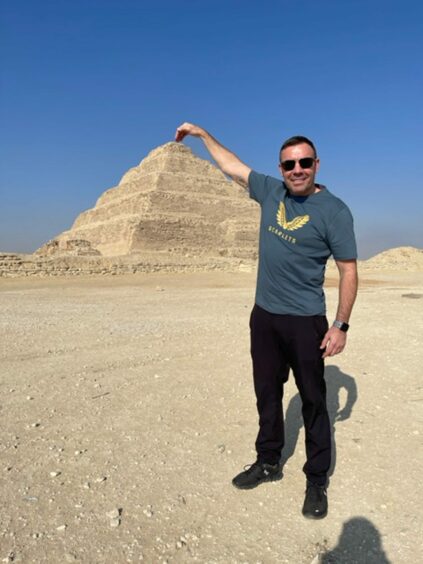 Raising money for charity
The crane operator is not only travelling the world for pleasure, he is climbing mountains and competing in triathlons for charity.
For his next trip, on the 5th of March, the former energy worker will be climbing Morocco's highest mountain as he also trains to compete in future 'Iron Man' competitions.
"I am going to start climbing the biggest mountains in each country," he told Energy Voice, adding: "I am going to start a travel blog, I want to turn my life around and do things that people dream about doing"
Since he began training for and competing in triathlons, Andrew Morrissey's "physique" and "mental health" have "completely changed," he said.
The author has already scaled Mount Fuji while in japan for the rugby world cup where he watch the Wales vs Australia tie that saw the UK side best the Aussies.
After leaving his career in the energy sector, Mr Morrissey "decided to enter a sprint triathlon to start getting fitness back together" in that race he finished fifth.
After this, he told himself: "If I train, I could be good at this sport" and since then he hasn't stopped training.
"I told my friends I was going to enter a half Ironman triathlon." he said, "My friends laughed at me and did not believe me so I entered the hardest half Ironman in Wales, The Rock, which includes a 1.5 km swim in the sea."
For this race, he set himself a time of eight hours and surprised himself when he crossed the finish line, setting a time of "seven hours 14 minutes."
In 2021 he raised £1225 for charity, last he raised £3005.
He now looks to smash 2022's record as he raises money for Help the Heroes, a UK-based charity that helps support veterans.
Another book on the way
Keeping himself busy, Mr Morrissey told Energy Voice that he is looking to write another book.
"I have worked all over Africa all over Europe, all over Asia, America, Canada, and now I just need to complete certain places for another book."
The author's book, 'All At Sea – The offshore worker's fake dream', is an autobiographical telling of Mr Morrissey's time in the energy sector and it currently has over 100 five-star reviews on Amazon with 2000 copies being sold.
If you would like to support Andrew as he raises money for charity, donations can be made here.