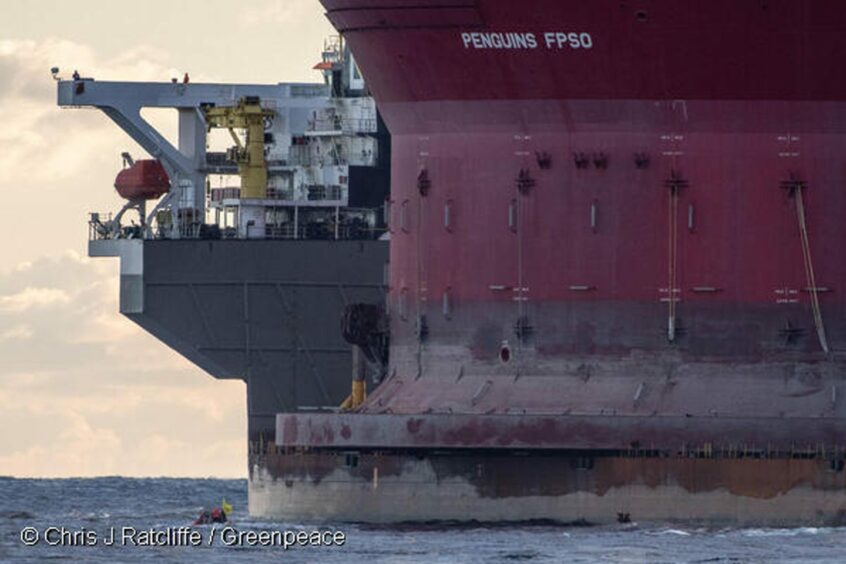 Shell (LON: SHEL) has filed an injunction against two Greenpeace vessels in a bid to deter protestors who have now been on board its Penguins FPSO for 100 hours.
Four protesters boarded the Boskalis heavy lift ship White Marlin last week, which is transporting the oil major's new Penguins floating production storage and offloading (FPSO) vessel, Shell's first new manned installation in the UK North Sea for 30 years.
Under the terms of the injunction, the Greenpeace vessels also have an obligation to chart a course that prevents a collision course with the White Marlin, with threat of a heavy fine or even jail time.
However, Greenpeace successfully transported another two protestors onto the FPSO using other boats that are unaffected by the court order.
Pascal Havez from France and Silja Zimmermann from Germany managed to scale the vessel to board the Penguins as it travels to the UK.
Shell condemned the action as risking life and breaking the law.
Shell commented: "Shell U.K. Limited and Fluor Limited have been granted an injunction in relation to the dangerous and unlawful occupation of the vessel transporting our FPSO to Norway.
"The individuals' actions are not only against the law but raise serious safety risks."
In a statement, protester Silja Zimmermann said: "We will not let Shell silence us. The world needs to hear about Shell's ongoing plans to further heat up the planet, increasing climate devastation without paying a cent towards rebuilding the carnage we're seeing.
"And we have bad news for Shell: people everywhere are rising up in resistance because we no longer accept reliance on fossil fuel companies that are making our lives worse.
"We're living with increasingly sweltering summers, a lack of rain is destroying forests and affecting farmers and with expensive energy bills it's getting harder and harder to put food on the table.
"Whole workforces and entire communities are exposed to the boom and bust of volatile oil and gas markets. In Germany, floods in 2021 killed 180 people, with reconstruction costs of €30bn. Enough is enough. Shell must stop drilling, and start paying."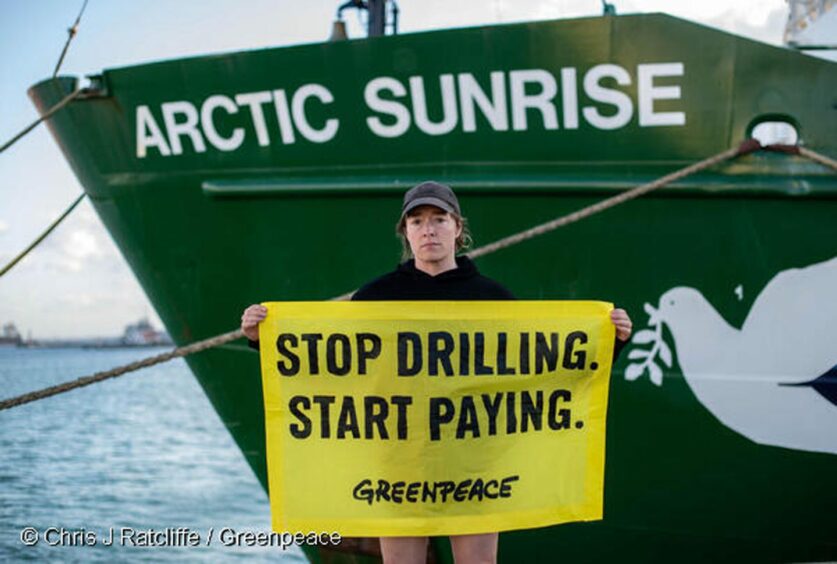 Greenpeace activists boarded Shell's Penguins FPSO as it makes its way to the North Sea last Tuesday and are providing updates from the vessel a week later.
Over 100 hours after the initial boarding, the protestors are providing updates on the occupation of the oil major's brand-new vessel across social media platforms.
Activists from "climate hit countries", including the UK, targeted Boskalis' White Marlin vessel on the 31st of January on the journey to deliver the Penguins FPSO from China to Europe.
In 2019 Shell filed a similar injunction against Greenpeace on a number of unnamed North Sea installations.
Boskalis has been asked for comment.
Solar panels and wind turbines
Since boarding the vessel the initial four protestors, Carlos Marcelo Bariggi Amara from Argentina; Yakup Çetinkaya from Turkey; Imogen Michel from the UK and Usnea Granger from the US, have set up solar panels and a wind turbine to provide power for their actions.
A video posted to the Greenpeace Twitter account on Sunday showed the turbine assembled and placed near the Penguins' helicopter platform.
Powering the occupation of a Shell oil platform with wind and solar energy ☀️😎 pic.twitter.com/KvHkd1Ywej

— Greenpeace UK (@GreenpeaceUK) February 5, 2023
A message to Shell: 'Stop drilling and start paying'
On the Thursday following Greenpeace's occupation of the FPSO, Shell published its annual results, setting a new record in annual pre-tax profits of $64.8 billion in 2022.
The protests on board the Penguins vessel said in response to Shell's reports: "This is a company that is causing climate destruction all around the world and they are not taking responsibility or paying for that.
"Our message to Shell's new CEO is to stop drilling and start paying."
Our four brave activists occupying the 34,000 tonne oil platform on its way to the North Sea have a message for Shell's CEO 👇🏽

They are responding to its announcement of record annual profits #MakeShellPay pic.twitter.com/A7gcMjI51A

— Greenpeace (@Greenpeace) February 2, 2023
A mixture of support and contempt
Updates on the actions taken by the Greenpeace protesters have garnered a mixture of support and contempt from social media users.
One Twitter commenter wrote: "Thank you so much Green Peace! Now that oil is out, we will now cut down and remove all the trees around the world, including in Parks, City boulevards and rain forests, to burn in order to keep warm and to cook our food… we love you!"
Another Social media user added: "Greenpeace, like everybody else, needs to consume less to protect the environment.
"Your gas-guzzling ships and tech don't cut it."
Thank you so much Green Peace! Now that oil is out, we will now cut down and remove all the trees around the world, including in Parks, City boulevard's and the rain forests, to burn in order to keep warm and to cook our food… we love you! 🤪

— Allan Trenholme (@AllanT2340) February 3, 2023
However, those occupying Shell's new FPSO are seeing support with comments calling them "Heroes" and providing messages of "Solidarity", others have supported "protesters showing leadership."
#protesters showing #leadership

— Robert Thompson (@wh0n0z) February 5, 2023
Greenpeace boarding the Penguins vessel
Bearing a banner reading, 'stop drilling. start paying', the demonstrators approached the 51,000-tonne White Marlin heavy-lift vessel off the cost of Morocco at around 8am on the 31st of January.
When the news broke of the Greenpeace occupation a Shell spokesman said: "These actions are causing real safety concerns, with a number of people boarding a moving vessel in rough conditions. We respect the right of everyone to express their point of view. It's essential they do that with their safety and that of others in mind."
Recommended for you

Greenpeace blockades Shell terminal in the Philippines