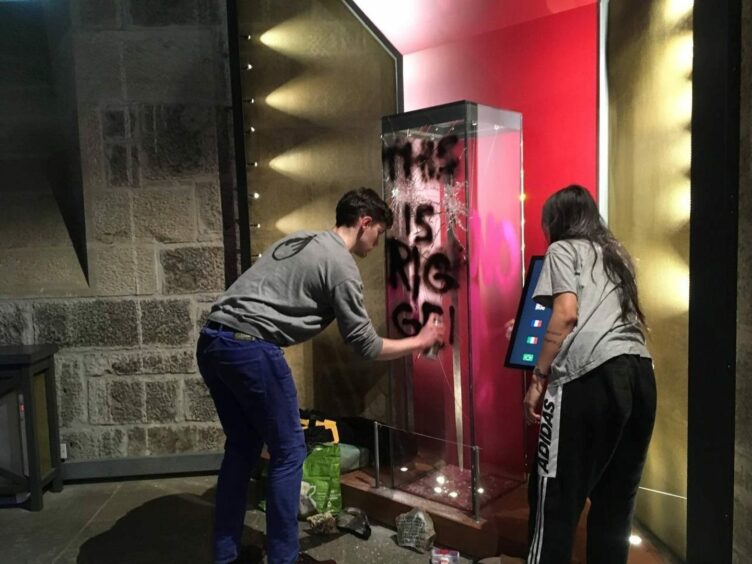 A pair of climate activists have smashed the glass encasing the sword of Scottish national hero William Wallace.
It happened at around 11.30am on Thursday, when the two demonstrators, now in custody, targeted the display at the Wallace Monument in Stirling.
They are part of 'This is Rigged', a new campaign group that is calling on the Scottish Government to "vocally oppose" all new fossil fuel projects in Scotland.
It is also demanding that funds be freed up to oil and gas workers move into new jobs.
Earlier this year Holyrood declared a "presumption against" new North Sea exploration, though energy remains a matter reserved for the UK Government.
One of the activists smashed the glass with a rock that read 'your liberties were won by the sword, your rights were won by the suffragettes, we must once again fight for what is right, no new fossil fuels and a fair transition now'.
The other used a rock with "white fur ye, will no go by ye" written on it.
This is Rigged have pledged to "continue in civil resistance until their demands are met".
A member of the group said: "I'm doing this because we need to be brave to change the corrupt system threatening our lives and driving Scots into poverty. I'm not willing to watch things get worse every year of my life with climate breakdown, I'm sending a clear message to our Government that we won't wait patiently anymore, enough is enough.​​​​​​​
"111 years ago the suffragettes stood in this very spot to stand up for their rights and freedom, 600 years before that William Wallace defended our freedom with this very sword. Now it is time for us to stand up for our rights too." ​​​​​​​