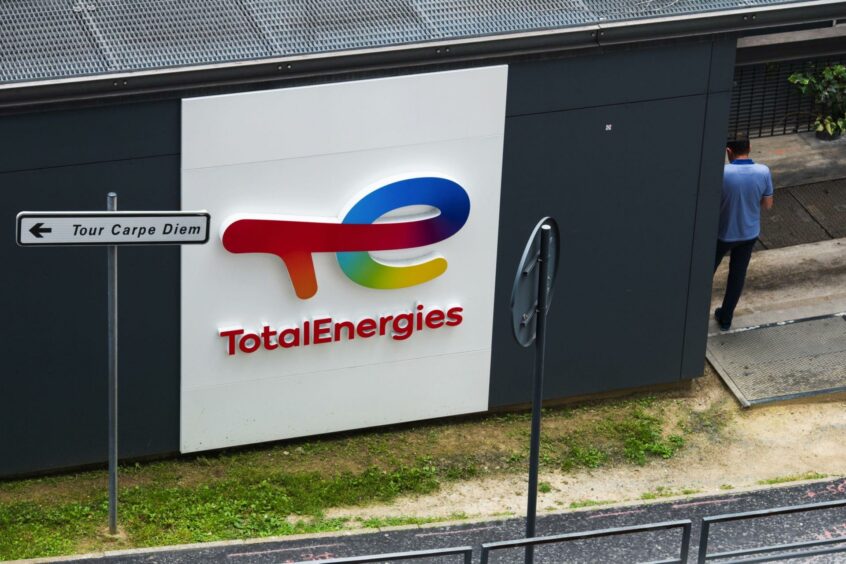 TotalEnergies has launched a legal action against Greenpeace following a report from November 2022 on the company's carbon footprint.
Total took Greenpeace France to court on April 28. It has accused the NGO of "disseminating false and misleading information" in its reporting on Total's carbon emissions.
"Our company's objective is to have the false and misleading nature of the information provided by Greenpeace and Factor X judicially established and to have it stopped. Our company also wants the damage it has suffered to be recognized, even if it only intends to claim a symbolic one euro in damages," said TotalEnergies.
Greenpeace France has said the case is intended to prevent free speech.
"The biggest French polluter is suing Greenpeace, but it is clear that beyond our organization, it is the entire climate movement that TotalEnergies seeks to intimidate," said Greenpeace France director Jean-François Julliard.
The effort that the company is using to silence Greenpeace "could be put to much better use, such as by finally carrying out its energy transition", Julliard said.
Greenpeace's report from November claimed there was a major discrepancy between what Total reported as its greenhouse gas emissions and the reality.
Total said it emitted 455 million tonnes of CO2 equivalent in 2019. Greenpeace estimated this at 1.64 billion tonnes of CO2e.
Greenpeace International has described the move by Total as "outrageous".
SLAPP on
Julliard said Total's plan was to drag Greenpeace into a drawn out legal procedure. The intention is to "have our reports suppressed and to prevent us from denouncing its misleading and 'climaticidal' practices". However, she said, "we are ready . We will continue to lift the veil on TotalEnergies' responsibility for global warming. See you in court."
Total is due to hold its AGM on May 26. The company accepted a request for a vote on setting scope 3 targets aligned to Paris at the meeting on April 28 – but called for investors to reject it.
Total has asked a court to remove the report from Greenpeace France's website. The NGO said the oil company's bid was a "SLAPP", that is a legal case intended to harass opponents.
Greenpeace France said the summons was the first such SLAPP suit by Total against an NGO in France. The legal tactic was "a practice already widespread among the American majors", it said.
Reclaim Finance director Lucie Pinson agreed the legal move was an attempt to silence NGOs.
"TotalEnergies is acting in bad faith and demonstrating double standards. The energy major wants to hide the numbers that are intended to provide information about the importance of its 'scope 3' emissions. Yet just a few days ago, TotalEnergies claimed it was not responsible for these emissions," Pinson said.
"There is absolutely no doubt that TotalEnergies is responsible for climate change and has failed to adopt a credible climate strategy. Shareholders who claim to be committed to climate issues must act now to sanction TotalEnergies by supporting the shareholder climate resolution and opposing its climate plan."
Total has not aligned its plans with limiting global warming to 1.5 degrees Celsius, Reclaim Finance said.
Counting emissions
Greenpeace France had said Total's carbon accounting was out of step with its peers, such as Shell, and vague. Shell reported emissions in 2019 of 1.67bn tonnes of CO2e.
The NGO worked with a Factor-X, a carbon consultancy. It calculated the emissions based on the "physical flows of goods and producing turnover".
Total, commenting today, said Greenpeace and Factor X had "disseminated false and misleading information". The results from their "questionable methodology" had "multiple errors, double-counting, and approximations, and resulting in an inconsistent result. Greenpeace's dissemination of misleading information is serious."
The company rejected the criticism that it was trying to prevent criticism.
"We have also limited our claim for damages to a symbolic one euro, because the challenge for us is to establish that Greenpeace and Factor X knowingly disseminated misleading information. It is therefore a question of principle and a court ruling will not prevent Greenpeace from continuing to criticize us if they wish, but will remind them that public debate on such important issues concerning a listed company requires rigor and good faith."
Last year, Total said the NGO's reporting "challenges the quality and reliability of information" disclosed by the company. There is a requirement for listed companies to report accurately. Given this, the French company threatened at the time that it was reserving its rights. It is now acting on them.
Updated at 4:45 pm with comments from TotalEnergies. 
Recommended for you

West Orkney wind farm becomes first ScotWind project to submit consents