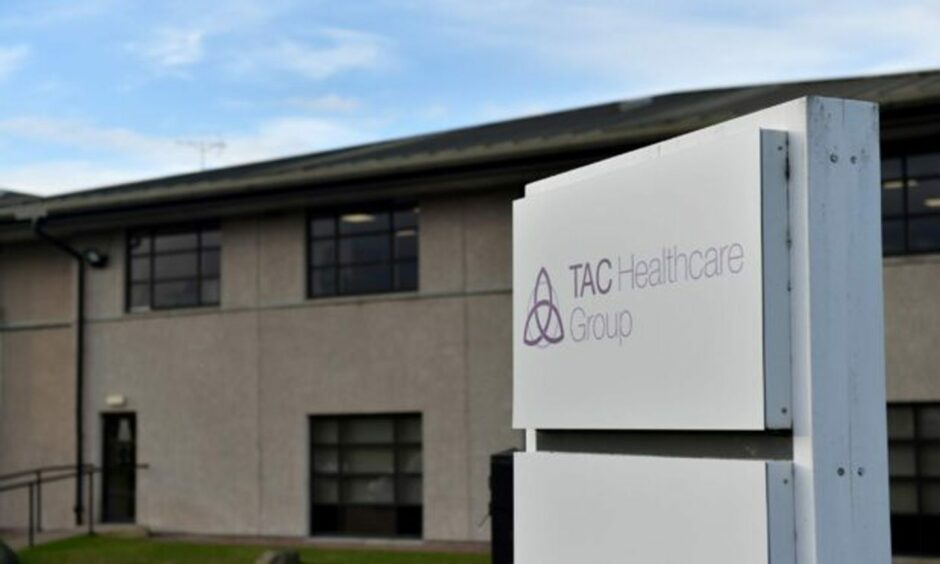 Aberdeen-based TAC Healthcare has bought a 90% stake in rival firm International SOS' occupational health business in Scotland.
The move will see the two firms merge within the next six months and rebrand as TAC Medical Services.
It's understood it could lead to some job losses but it's not known how many at this stage.
There are currently 150 TAC staff based in Aberdeen and 225 at International SOS.
'Business as usual'
TAC Healthcare business development manager Susan Reid said: "It's been in discussion for quite a few months.
"We were making waves in the industry and had taken on a lot of big contracts in our first year.
"As we started to grow, conversations between Phil (TAC chief executive) and the International SOS people opened up and that's where it came from.
"Business as usual at the minute but we will look at integrating the business into one so there will be some headcount that will be lost depending on what we do.
"But it's early stages looking at that and trying to understand what they do and what we do."
Wide range of services
TAC provides a host of medical services including fitness to work assessments, offshore medics and Covid testing.
In 2021 it invested more £2 million in the design and development of a bespoke occupational health facility and software platform, and the expansion of its team.
It also included investment this year on further diagnostics and an MRI scanner.
The company's Dyce facility, in Wellheads Drive, provides a hub for patients to access imaging, exercise testing, physiotherapy, laboratory services and advice. Its occupational health services are housed in a dedicated wing offering patient access and infection control.
Chief executive Phil Webb said: "We have seen rapid growth thanks to our excellent customer service coupled with high quality solutions in wellbeing and clinical services.
"This partnership will be beneficial to our customers as we deliver best-in-class occupational health solutions, locally with TAC Healthcare and globally with SOS."
Multi-million pound deal
The deal, which was for a seven-figure sum, was completed three weeks ago.
Ms Reid said: "It seems to be going well. It's been well received. We are just looking at how we integrate it best and for business and service levels to carry on as they are.
"We are seeing the industry pick up and have moved in to some other industries as well.
"Doing a lot for construction now. It's not just the energy sector. It's a wider field than that."
International SOS regional general manager, medical services, Europe and Middle East, Kathy Brett said: "This development is a testament to our presence in the market and local expertise.
"We are looking forward to working with TAC Healthcare. With a shared mission and values, together we will combine our extensive knowledge and work to deliver innovative medically led products and solutions.
"Our priority will be the continuity of an excellent level service for our customers."
TAC has also announced it has won a "high six figure" contract from Boskalis.
The three-year deal, with extension options, will see the company supply full medical services, including diving support, for the UK business.