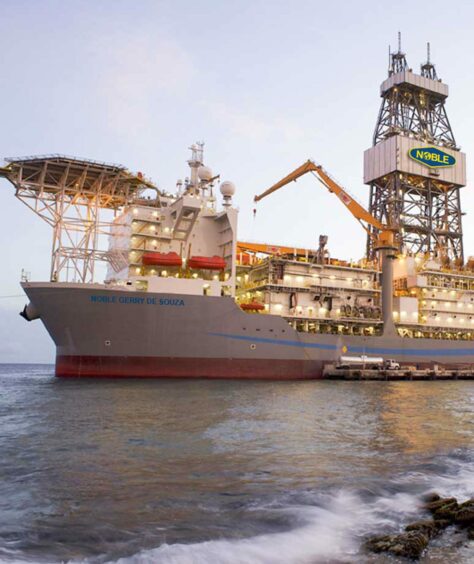 Noble Corporation (NYSE: NE) is reaping the benefits of a "steady tightening" drilling market as the US group's order backlog nears $5 billion.
In the first three months of the year, the offshore rig contractor secured agreements worth a total of $1.1bn, including a deal with ExxonMobil in Guyana, taking its total pipeline of work to $4.6bn.
For Noble, it marks a "strong start" to the company's first full year since formally acquiring rival drilling company Maersk Drilling in October.
Issuing its first quarter results on Thursday, New York-listed Noble posted pre-tax takings of $92 million, reversing Q1 2022's losses of around $42m.
Total revenue for the period was $610m, around three times the figure of the corresponding period last year.
Throughout the first quarter Noble's marketed fleet of sixteen floating rids was 91% contracted, identical to Q4 2022.
Industry-wide, tier 1 drillships remain around the 95% utilisation mark, with day rates for vessels "steadily increasing".
Utilisation of Noble's thirteen marketed jack-ups was 67% in the first quarter, a drop on the 85% achieved in the fourth quarter of last year.
That decrease was "driven primarily" by the Noble Regina Allen, Noble Tom Prosser and Noble Invincible, all of which were off contract for the majority of Q1.
Robert Eifler, president and chief executive of Noble, said: "Our first quarter results reflect a strong start to the year from an operational, financial, and commercial perspective.
"The steady tightening of offshore drilling fundamentals is affording attractive opportunities to place our fleet into improving contracts.
"We are particularly excited to be awarded a significant additional backlog commitment from ExxonMobil Guyana under the CEA, and also to participate in the reemergence of Colombia as an active exploration basin with two of our deepwater rigs.
"Integration of our business combination continues to progress smoothly thanks to the outstanding and tireless efforts of our fantastic offshore crews and global shore-based team.
"With our refinancing successfully completed, Noble has a streamlined and efficient capital structure that will further enhance our ability to focus on our priorities, including returning capital to shareholders."
Looking ahead to the rest of 2023, Noble previously communicated guidance remains unchanged, with total revenue forecast to be in the region of $2.35bn to $2.55bn.
Adjusted EBITDA is expected to be $725m to $825m, with capital expenditures of between $325 and $365 million.
Mr Eifler added: "Deepwater fundamentals continue to tighten, with marketed utilization for all UDW units now approaching the mid 90%s while incremental rig reactivations are governed by significant lead-time and capital requirements. Accordingly, the trend of steadily rising dayrates and expanding contract duration for UDW units is expected to continue.
"We believe Noble's floater fleet remains well positioned to benefit from positive re-contracting opportunities over the near term, with longer contract durations representing a crucial driver for maximizing utilization. With improving harsh jackup demand expected in 2024 and beyond, we remain very constructive on the outlook for our business."