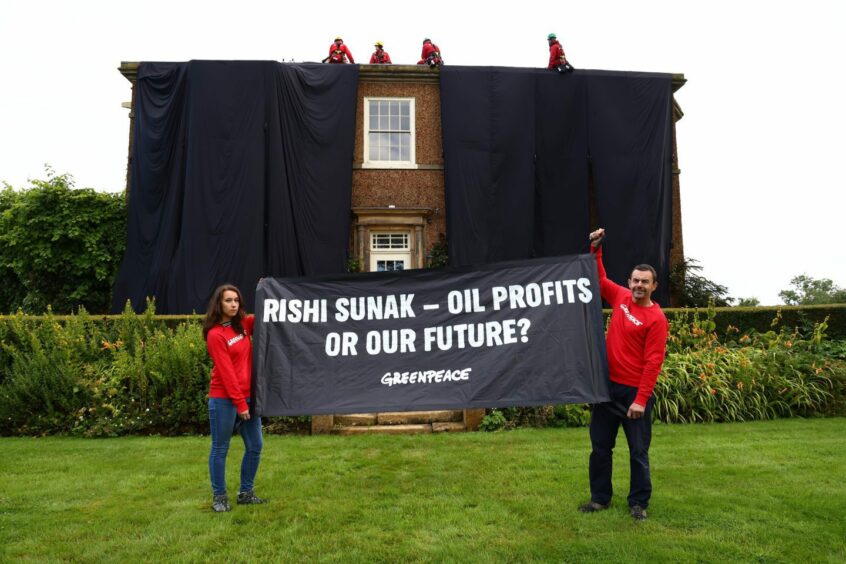 Greenpeace protestors that scaled the North Yorkshire home of Rishi Sunak have been arrested following hours at the prime minister's house.
The activists climbed onto the roof of the grade II listed manor house in North Yorkshire with 200 metres squared of "oil-black fabric" that they draped across the front of the home.
While four protestors scaled the roof, another two were seen on the ground outside the home brandishing a banner that reads "Rishi Sunak – Oil profits or our future?"
The group says that it is protesting "major government plans for more North Sea oil and gas drilling, during a summer of escalating climate impacts."
Earlier this week the prime minister confirmed that the government will be granting hundreds of oil and gas licenses in UK waters.
Hours after gaining access to Rishi Sunak's constituency home, while he and his family were on holiday in California, the four climbers were arrested.
North Yorkshire police said they had been "responding to reports of protest activity".
"Officers have contained the area and no one has entered the building," a statement added.
'Stop the stupid stunts'
Deputy Prime Minister Oliver Dowden, who is standing in for Mr Sunak during his holiday, told the protesters to "stop the stupid stunts".
The group scaled the roof at 8 am on Thursday and returned to the ground at about 1.15 pm and were spoken to by officers before being loaded into the back of police vans.
You might have spotted us on @RishiSunak's roof.

We knew:
– He wasn't in
– How to climb up safely
– How not to cause damage

Rishi knows that new oil and gas:
– Won't lower bills
– Won't give us energy security
– Will wreck the climate #StopRosebank #NoNewOil #Greenpeace pic.twitter.com/n5rkjlC7ci

— Greenpeace UK (@GreenpeaceUK) August 3, 2023
Greenpeace claimed that the protestors know "how to climb up safely" and "how not to cause damage" while criticising the Conservative Party's stance on new oil and gas.
When asked on Twitter about the logistics and safety of climbing the building, the activist group wrote: "Greenpeace activists are rigorously trained to make sure no damage occurs, and people remain safe.
"Safety is our top priority and we carry out our actions with a great deal of care.
"This is evidenced by the fact that we have caused no damage to Sunak's property today."
The group made the argument that the approval of new licenses, such as the controversial Rosebank field which Rishi Sunak has shown support for in the past, "won't lower bills, won't give us energy security" and "will wreck the climate."
Recommended for you

Sunak pledges £1.6 billion to try to show COP28 he's on message