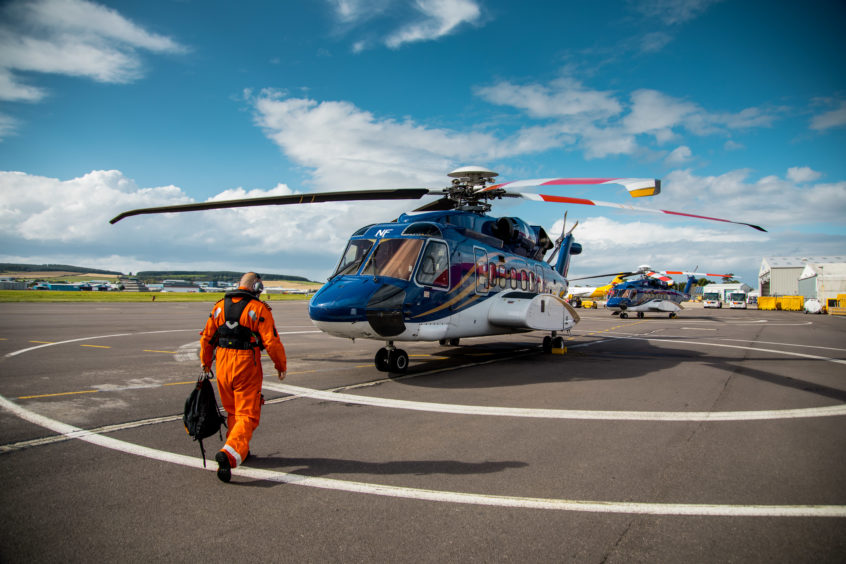 As Offshore Helicopter Services announces job cuts trade body, Offshore Energies UK, says it encourages firms to "adopt a sustainable approach" to aviation contracts.
Offshore Energies UK (OEUK) said it "addressed the issue of tight margins" before Offshore Helicopter Services (OHS) announced it was making job cuts.
OHS announced that it would be reducing staff levels and carrying out a review of its equipment requirements due to a "tough economic climate, as well as the fallout from Government decisions around the windfall tax, and lower than normal client activity levels."
Director of Air & Sea, Steve Robertson, explained that OHS is not the only helicopter operator wrestling with a tough economic climate.
He explained that around "2% of overall offshore operational spending" goes to offshore helicopters, and the market continues "to squeeze the companies providing this mission-critical and safety-critical service."
Graham Skinner, health and safety manager at OEUK, told Energy Voice: "OEUK addressed the issue of tight margins and challenging economic conditions at our Aviation Seminar in June, and we have been working with members and helicopter operators to ensure that procurement managers adopt a sustainable approach when arranging aviation contracts."
Following OEUK's Aviation Seminar, Mr Skinner has been working with IOGP's Aviation Subcommittee to bring its procurement management work in line with OEUK's supply chain principles.
Earlier this year, the trade body also attended a procurement manager meeting hosted by HeliOffshore in which its "Procurement Principles were recognised as good practice that should be adopted," OEUK said.
Safety concerns rise surrounding North Sea flight safety
After the news broke on Tuesday that the North Sea helicopter operator was experiencing "lower than normal client activity levels," one Energy Voice reader got in touch to raise concerns.
The reader, who wished to remain anonymous, explained that the sector risks a "degradation of safety" as firms compete in a "race to the bottom" to be the cheapest provider of offshore flights.
Mr Skinner said: "Helicopter transportation is a safety-critical service and our industry, helicopter operators, its regulators and other key stakeholders make considerable efforts to ensure that journeys are accident-free and that operations are sustainable."
Following its event in June, OEUK has been "Promoting greater awareness of OEUK's Supply Chain Principles, which comprise a set of 10 commercial behaviours developed by the industry to promote continuous improvement," says the organisation's health and safety manager.
He added: "They cover key areas including timely payment of suppliers, clarity regarding contractual terms and conditions and the need for certainty regarding future work opportunities."
Recommended for you

Podcast: What's holding up the North Sea's £200bn prize? – with David Whitehouse