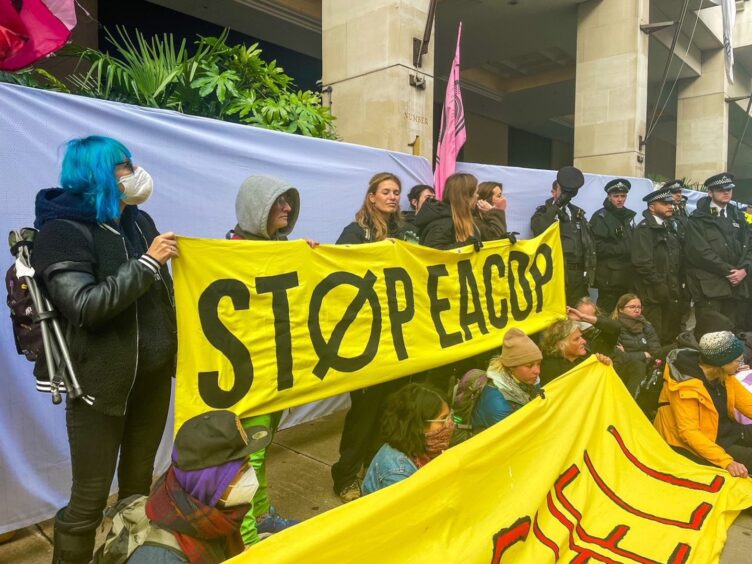 A third day of protests in London has targeted JP Morgan, following a focus on insurance companies on Wednesday and an energy conference on Tuesday.
Greta Thunberg, who was arrested on Tuesday outside the Energy Intelligence Forum, participated in the blockade of JP Morgan this morning.
BREAKING: @GretaThunberg has joined our blockade outside J P Morgan and @chase_uk.

We know where the money is to transform the world into a cleaner, more equal one – it's sitting in the pockets of the 1%

It's time to #MakePollutersPay#OilyMoneyOut pic.twitter.com/rcIZo3cRFE

— Fossil Free London (@fossilfreeLDN) October 19, 2023
Fossil Free London said the bank is the "world's biggest banking climate criminal", having provided a reported $43 billion of financing to fossil fuels since 2016. "Their profit is our loss," the group said.
Further protests have erupted at Barclays, in Canary Wharf. The group said Barclays was Europe's largest financier of fossil fuels.
Protests on Tuesday focused on a hotel on Park Lane, with participation from Fossil Free London and Extinction Rebellion. Demonstrators prevented many delegates from attending the event until around 1 pm. At that point, the police made 26 arrests – including that of Thunberg – and cleared a path to the event.
The police charged Thunberg under Section 14 the Public Order Act. The government amended this act in 2022 to give the police greater powers to tackle disruption. Thunberg, and others, must appear at Westminster Magistrates' Court on November 15.
Most of those arrested were charged under Section 14, but one woman was arrested for criminal damage.
EACOP
Protests at the Energy Intelligence Forum continued on Wednesday. Green MP Caroline Lucas made an appearance at the protest, calling for an end to "oil money" and Rosebank.
The groups also launched other demonstrations, on the East African Crude Oil Pipeline (EACOP) and the West Cumbrian Mine. Ugandan activist Patience Nabukalu also attended the protests.
The group began with a protest at Standard Bank, before moving on to stage sit-ins at a number of insurance companies, including Talbot, Chaucer, Ascot and CNA Hardy.
Some demonstrators glued themselves to the floors.
In addition, Fossil Free London also targeted the offices of TotalEnergies in Canary Wharf.
Today, the last day of the Energy Intelligence Forum, Health for Extinction Rebellion staged a die-in outside the hotel.
In an open letter, the group said it wanted "to make it clear that we understand and condemn the continuing deliberate complicity of the energy sector in this humanitarian disaster".
A Stop Rosebank protest is expected to take place at lunchtime at the Norwegian embassy, in Belgrave Square.
Recommended for you

Greta Thunberg denies a public order offence after central London protest