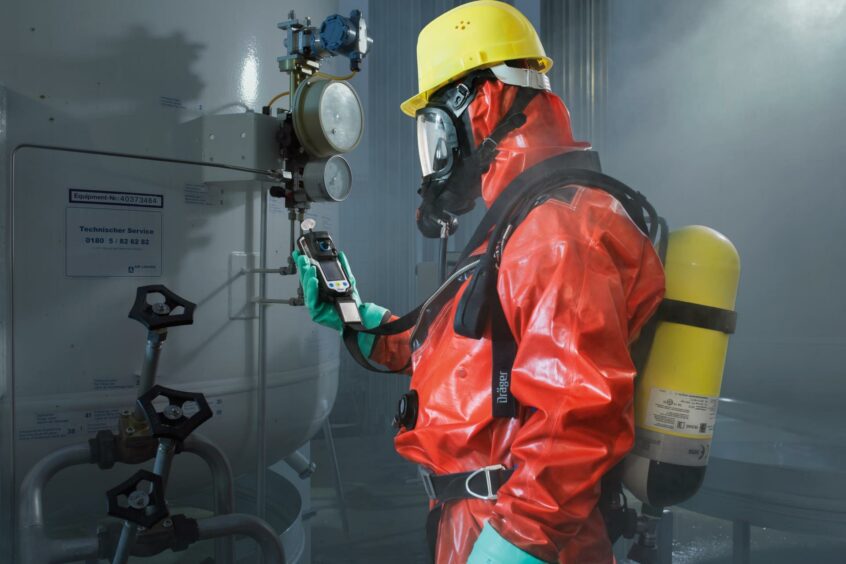 With smart technology taking over many aspects of day-to-day lives, including phones, watches, doorbells and even kettles, the oil and gas industry is following suit.
While the digitalisation of processes is helping streamline the delivery of work, the application of digital technology is also helping make that work safer for personnel both onshore and offshore.
It is no exaggeration to say that advances in digitalisation are making the protection of people and the places they operate stronger than ever.
Systems that enable the collection of real-time data allow safety managers to quickly review the information they require to ensure their people are safe.
Whether it is a case of checking when a gas detector was last tested, when it was serviced, or whether an alarm was acknowledged by the user, they can access the data swiftly regardless of where they are in the world.
Today, many gas detection processes can be automated and accelerated with the ability to turn individual products into one smart system.
Being able to transfer data in real time can reduce errors and save operators both time and costs – two important building blocks in creating a safer and healthier workplace.
What makes a good digital gas detection system?
There are several key points for asset owners to consider in selecting a digital gas detection system. And while every company is different, a robust system should be expected to deliver the following:
increased safety
connectivity across
all elements
reduced costs
visibility of workers
simplified and Automated
documentation
The system must be able to integrate into every operator-specific process and should be linked to a test station.
Data generated at the test station should then be transferred to a central location, meaning anyone with the appropriate permission should be able to access the data -including personnel on site and the emergency services who may be several miles away – via tablets or other devices.
In situations where personnel are in a hazardous area and a gas detector raises the alarm, the system should be reliable enough to be able to immediately display all the required information to enable the most informed decision making.
There should also be capability to store the data for analysis afterwards.
A safe and secure system
Data protection and cyber security naturally play an overriding role for digital systems.
This has to do with trust between the operator and the system provider. It is important to select an industry-recognised partner that can demonstrate robust security procedures to safely manage confidential information.
The Dräger solution
Dräger, a leader in the fields of safety and medical technology, is helping organisations across the oil and gas industry smarten up their operations and protect workers from unseen dangers.
Operating out of Aberdeen since 2010 and with a recent multimillion pound relocation to new facilities in Dyce, the company's marine and offshore safety division covers the detection of dangers in hazardous environments, breathing apparatus and gas detection and portable solutions.
Its facilities include a training academy and the provision of service and maintenance, a growing hire division and an engineering solutions division.
More than 85% of the marine and offshore safety division's business is focused on customers in the oil and gas and renewable sectors.
The company has developed a new system called Gas Detection Connect, which links with existing gas detection units including the Dräger X-dock®, Dräger X-am® 2800 and Dräger Pac®.
With the daily bump test being a fundamental requirement to ensure the proper function of a device, and therefore safety, having the Dräger X-dock automatic test and calibration station synched with the Gas Detection Connect ensures that not only is the testing carried out, but the results are logged simultaneously.
A cloud-based storage system enables the information to be held in one place, meaning that while the execution of work is decentralised, the management of those carrying out the work is centralised.
The system eliminates the technical hurdle of having all the information being stored on USB sticks or on just one computer. With the data automatically backed up every
six hours, the most up-to-date information can be accessed quickly in the event of an incident or near-miss.
The automated system limits the potential for errors and downtime due to false alarms and helps protect the workforce of the future.
By collecting data Gas Detection Connect helps plan projects more efficiently, with the acquired information enabling experts to quickly identify patterns that not only keep people safe but ensure downtime across the course of the project is kept to a minimum.
The IT infrastructure of Gas Detection Connect is taken over by Dräger. This means the company takes care of maintenance, updates, upgrades, and feature enhancements.
That equates to cost savings for operators. A support hotline is available to customers
24 hours a day, seven days a week. Furthermore, operators only pay for what they actually use in gas detection.
There is no requirement for customers' IT departments to support the system, with the software available for use minutes after being ordered. Gas Detection Connect has been developed in conjunction with customers and is only the beginning of the process.
With Dräger's team of experts regularly increasing its functionality, the expectation is that it should be possible to divert users away from hazards through real-time interaction.
The future of gas detection systems
Gas Detection Connect represents the starting point for major changes in Dräger's gas detection technology. To be able to react faster and more flexibly to customer requirements, the company has taken completely new paths in the development process.
Digitalisation offers opportunities in ongoing developments in gas detection systems. Drones can be expected to play an ever-increasing role.
Gas detection alarms will be routed from portable devices to other devices. Stationary gas measurement technology will be more closely merged with portable gas measurement technology.
These are just some of the developments Dräger expects to see in the
not-too-distant future.
Although technologies will evolve, the focus for gas detection systems in the oil and gas industry will remain the same, supporting operators to be smart, safe, and part of the future of occupational safety.
Recommended for you

Harnessing the Power of Digital Twins for Decommissioning