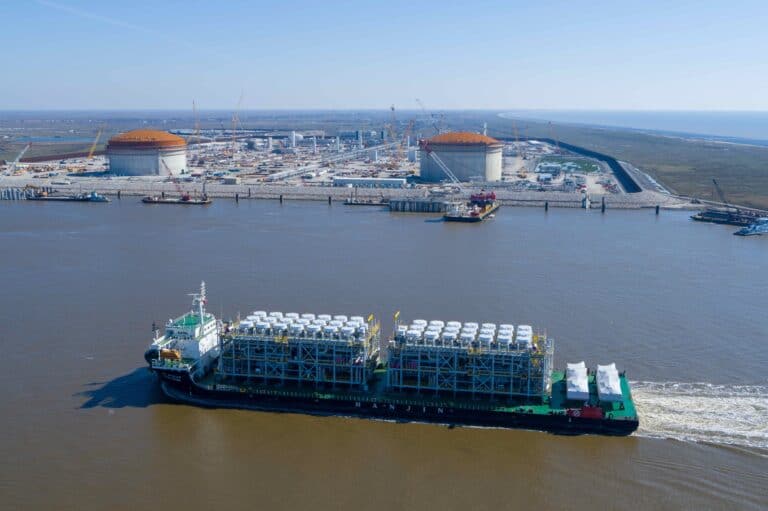 The dispute between Venture Global and its offtake partners has become increasingly bitter, with accusations thrown, court cases filed and requests for intervention filed with governments.
The Calcasieu Pass LNG loaded its first LNG cargo in March 2022. Venture Global has continued to export cargoes from the facility.
However, crucially, the company says it has not completed its commissioning process. As such, it has not formally began selling LNG volumes to the long-term offtakers that signed up for supplies from the plant.
Shell, Edison and BP, which all signed long-term offtake contracts, have complained to the US-EU Task Force on Energy Security.
BP noted that Venture Global had sold 200 cargoes during this period. "Venture Global's conduct has shaken confidence in the trustworthiness of American LNG suppliers at a critical time," BP vice president of trading Carol Howle said in a letter.
Venture Global has rejected the claims. It, too, sent a letter to the task force, dated November 11. The US LNG producer said the complaints were an attempt "to bully an industry newcomer into waiving its contractual rights in order to increase their own profits".
The LNG producer, earlier this year, claimed challenges with commissioning. These included power issues and water losses.
Take aim
The LNG producer also criticised Shell's conduct in particular, in social media posts.
"Shell has an abysmal record of failed execution at its own LNG facilities in which they are a major shareholder or a construction leader. As a result, Shell has been and continues to be short by more than 300 cargos of LNG between 2020 and 2026," Venture Global said.
It went on to claim Shell was "likely targeting Venture Global's volumes principally because the replacement cost for its own catastrophic execution is so high".
Shell has rejected Venture Global's accusations. A Shell representative said the company's "trading business optimises deliveries to customers through a combination of supply from equity offtake and purchase agreements with other suppliers around the world".
He went on to say that Shell had bought some cargoes from Calcasieu Pass in its initial months.
"More than 20 months after their first cargo, Venture Global's claim to still be commissioning a facility that, according to publicly available data, has been producing at around nameplate capacity for more than a year is simply unbelievable and increasingly untenable."
Under a deal Shell signed in 2016, it will buy cargoes from Calcasieu Pass at a price indexed to Henry Hub, plus a facility fee linked to inflation.
Repsol has sought support from Federal Energy Regulatory Commission (FERC), not least to demand evidence from Venture Global about the commissioning process.
Modular challenge
Venture Global expects only to announce commercial start of operations at Calcasieu Pass in December 2024. Next year, the company also aims to reach first LNG at its second facility, Plaquemines.
One reason why Venture Global has defended its commissioning process is because Calcasieu Pass uses small trains, each capable of producing 0.6 million tonnes per year of LNG. The project has 18 such modular trains.
Plaquemines has 36 such trains, spread over two phases. It is unclear whether the project will require a similar 33 months to commission, or whether this may run even longer.
Venture Global has signed deals for the first phase at Plaquemines with PGNiG, Sinopec, CNOOC, Shell and EDF.
The modular design appears to have allowed Venture Global to build its Calcasieu Pass project in record time. However, with reports of "excessive pollution" from local communities this speed has come at a price.
Recommended for you

US LNG producer strikes Baker Hughes deal targeting 100mn tpy