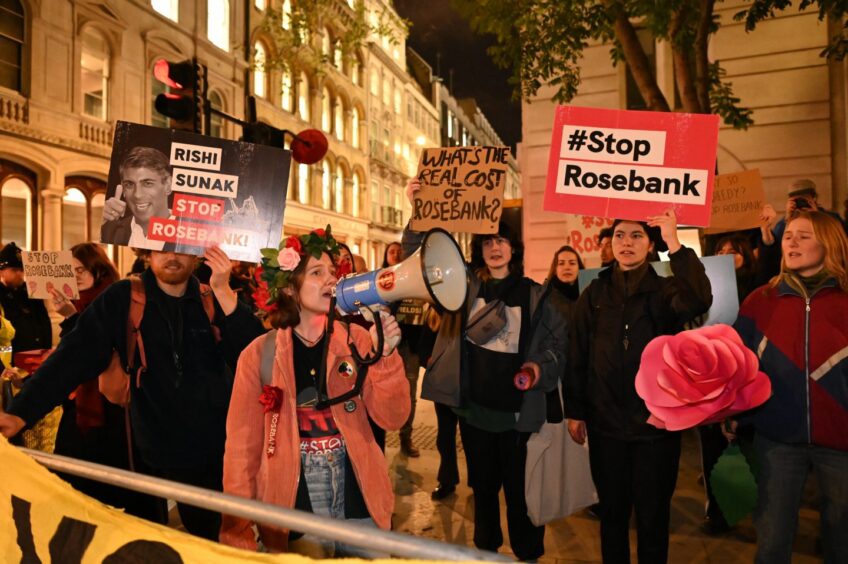 Greta Thunberg, alongside Fossil Free London, staged protests outside of Guildhall in the City of London during the prime minister's speech at the Lord Mayor's banquet.
Rishi Sunak was set to deliver a keynote address at the newly appointed Lord Mayor's banquet when protestors gathered around each entrance of the Guildhall as they chanted 'stop Rosebank', banging pots and pans and playing the drums to drown out the speech being given by the Prime Minister.
Joanna Warrington, spokesperson for Fossil Free London, said: "Sunak and his climate-wrecking Government are selling the UK public a dangerous pipedream.
"They are falsely promising energy security through the expansion of new oil and gas, that if pursued would only spell utter climate disaster, and an insecure, warming world for all of us that live within it.
"Whilst Sunak dines with the Lord Mayor, bankers and business leaders at the heart of obscene wealth in this country; we are outside with a clear message.
"We want a livable future; and secure, affordable, renewable energy for all."
The group stand in opposition to the UK Government's plans to put in place new legislation for North Sea oil and gas licences to be awarded annually.
The bill was introduced in King Charles' speech in the House of Lords last week, the first Kings Speech in over 70 years. 
His Majesty said: "Legislation will be introduced to strengthen the United Kingdon's energy security and reduce reliance on volatile international energy markets and hostile foreign regimes.
"This bill will support the future licencing of new oil and gas fields, helping the country to transition to net zero by 2050, without adding undue burdens on households."
Currently, there are no fixed terms for North Sea rounds, and the licences awarded in the 33rd round last month were the first in three years.
The government says that introducing annual awards will protect jobs, tax receipts and reduce reliance on imports which have a higher carbon footprint.
However, there has been criticism of this proposed legislation as some view the move as "political posturing" rather than an effective move to ensure investment in the country's hydrocarbon industry.
Recommended for you

King's Speech outlines 'record levels' of renewables investment