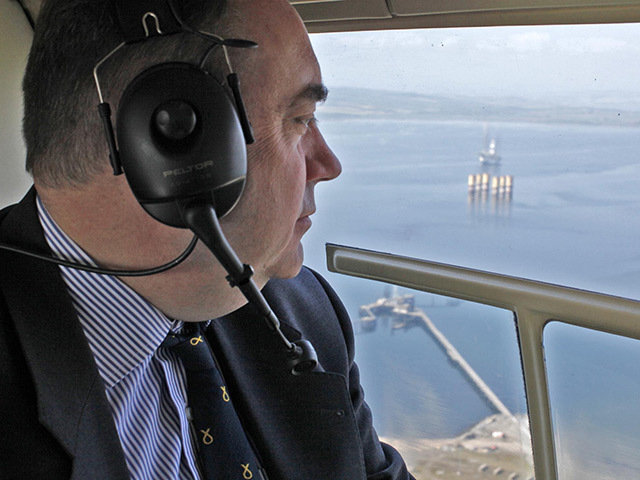 Alex Salmond has been accused of "betraying" Aberdeen over plans to split the energy department of an independent Scotland between the city and Glasgow.
Opposition MSPs claimed last night the SNP were prepared to offer anything to different parts of the country in order to win votes in September's referendum.
But the Scottish Government argued splitting the energy department's headquarters will capitalise on the differing expertise of both cities.
North-east Labour MSP Lewis Macdonald said that when the SNP came to power in 2007, it shut the Aberdeen-based Scottish Energy Enterprise team and the Intermediate Technology Centre and handed responsibilities to Scottish Enterprise in Glasgow.
The former Labour energy minister said the SNP purely regarded Aberdeen as a revenue "milk cow" to fund an independent Scotland.
He said: "It just betrays they have no commitment to the energy industry as an Aberdeen-led industry.
"They see Aberdeen as a bit of the picture but Glasgow as where it really happens."
North-east Tory MSP Alex Johnstone called the split-headquarter idea "utterly ridiculous".
"This is a typically speculative fudge from the SNP who cannot help but introduce a central belt bias into everything they do.
"I am only glad that this circumstance will never come about," he said.
North-east Tory MSP Nanette Milne said: "Alex Salmond is trying to offer everyone in Scotland everything in a desperate attempt to gain votes for his pet project of separation."
A spokesman for Energy Minister Fergus Ewing said: "These are utterly bizarre and incoherent claims from Labour and Conservative MSPs. They support a Westminster system which, despite Aberdeen being Europe's undisputed oil and gas capital, continues to have an energy department in London.
"A new energy department for Scotland, co-headquartered between Aberdeen and Glasgow, will not only bring added jobs to Scotland but will capitalise on existing knowledge and expertise; building a world-leading energy industry.
"Aberdeen is Europe's oil and gas capital and is increasingly influential in marine energy, making it a natural home for a new energy department. At the same time, Glasgow is fast becoming the most influential low-carbon engineering centre in the UK."
Recommended for you

MSPs clash over jobs analysis in just transition plans