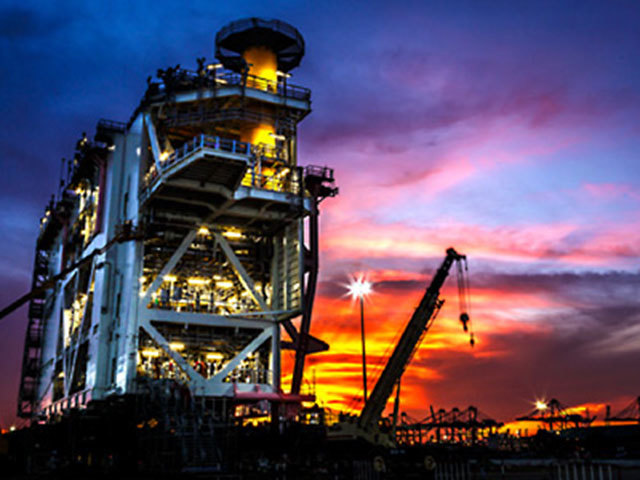 A North Sea oil worker plunged 2,000ft to his death after opening the emergency exit of a helicopter and jumping out.
The 37-year-old was being airlifted from a platform by a Super Puma search and rescue aircraft when the tragedy happened.
He had become unwell and was being taken back to shore on board the CHC-operated copter.
His body was recovered by the helicopter crew after an hour-long search.
Accident investigators are probing the incident – which one union official described last night as "unprecedented".
Jake Molloy, regional organiser for the RMT, said he had "never come across this type of scenario" in his 34 years in the oil and gas industry.
He added: "There have obviously been times when workers have opted to take their own lives and for any number of reasons from deaths in the family to divorces, money troubles and the like.
"An offshore installation can be a lonely place when you are struggling with personal problems, which is why we actively encourage workers to look out for colleagues and specifically for signs they may be struggling psychologically with a problem.
"I don't know the circumstances of this particular case, but clearly there are lessons to be learned."
And Nelson Norman, a retired surgeon who pioneered remote healthcare during the North Sea oil boom of the 1970s, said most people working offshore coped well with the environment, but others found it tough – particularly when they were away from their families for long spells.
Companies providing medical services offer counselling and support for those who need it, he added.
The man who died had been working on Statoil's Troll A platform.
The incident happened a few miles from shore in the Norwegian sector of the North Sea.
The dead man, who was Swedish, has not been named.
It is understood two pilots, a rescue officer, a lift operator and a medic were also on board the helicopter.
A spokeswoman for CHC in Aberdeen said the company was supporting Statoil and Norwegian authorities in their investigations.
The incident happened on July 2 as the helicopter made its way to Bergen in Norway.
The man worked for oil and gas service company Kaefer Energy, which is also helping with the investigation.
Bard Bjorshol, the Stavanger-based firm's chief executive and president, said: "Kaefer Energy expresses our sympathy, and our warmest thoughts are with the families and our colleagues in all respects to this tragic incident.
"We are in contact with the families to assist with our help.
"For our employees, especially on the Troll A platform, Kaefer Energy has been present with representatives from the company's management.
"Statoil has also assisted with medical staff, a priest and an additional platform manager."
Mr Bjorshol added: "It is important that we take care of each other, and if someone needs assistance we encourage contacting the company's management, so that we can offer available support and assistance."
The investigation also involves the Norwegian police and the country's accident investigation board.
The Troll field lies in the northern part of the North Sea, about 40 miles west of Kollsnes, near Bergen.