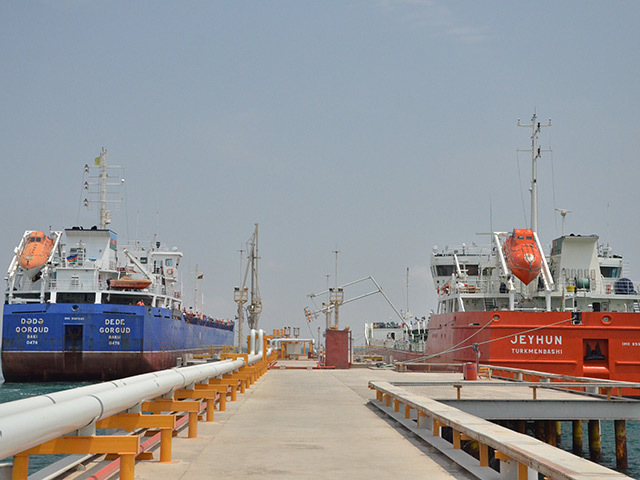 One of Russia's prized oils, facing increased competition in Asia, is traveling to a rather unlikely destination: the US West Coast.
As the US threatens President Vladimir Putin with further economic sanctions over the conflict in Ukraine, light Sokol oil from Russia's Far East is showing up in California for the first time in six years. Tankers have been carrying the crude to western states from Korea since May as Asia cherry-picks supplies from a growing pool of sources, including West Africa and Latin America, shipping data compiled by Bloomberg show.
Sokol's emergence underscores how oversupplied markets have become with light crude as the USproduces record volumes from shale formations and reduces imports. The surplus has grown so large that slowing demand in China and other Asian countries mean it won't be absorbed, according to Barclays Plc.
"With China's economic weakness, they may actually be turning away cargoes," Michael Lynch, president of Strategic Energy & Economic Research in Winchester, Massachusetts, said by telephone yesterday. "That's leaving a few orphan cargoes, and it looks like some of them found their way to the West Coast."
While U.S. companies have been barred from helping drill in Russia's oil plays, sanctions have so far spared exports of the country's oil, leaving the door open for Western states.
The region has benefited the least from the US shale boom because it lacks pipeline connections to oil-producing regions like North Dakota. Imports to the U.S. Gulf Coast have fallen by 1.53 million barrels a day in the last five years. Those to the West are up 75,000, government data show.
The US had stopped importing Russian oil before the May shipment. All of the Sokol, which the US Energy Information Administration describes as prized by Asian refiners for its high yield of jet fuel and kerosene, has been delivered to Tesoro Corp. refineries, U.S. Customs data show.
While the crude had been regularly shipped to Hawaii and Alaska because of their proximity to Asia, it's now showing up in Long Beach, California, as well as Anacortes, Washington. Tesoro declined by e-mail to comment Sept. 30.
"It's basically light, sweet oil getting translated from North Dakota to California in a real roundabout way," David Hackett, president of energy markets consulting company Stillwater Associates in Irvine, California, said by telephone Sept. 30.
Sokol is arriving even as the US weighs further sanctions against Russia because of its involvement in separatist violence in Ukraine. European Union and US companies are prohibited from helping drill in Russian deepwater, Arctic offshore and shale plays, and the U.S. Treasury has restricted financing to some Russian companies.
"The US has not done any sanctions on flows of Russian crude," Ed Morse, head of commodities research at Citigroup Inc., said by telephone Oct. 1. "There really is no irony in Russian exporters trying to maximize value by selling crude into the highest-value market."
The global glut of light oil is depressing prices in Asia, where Arab Light is selling at the biggest discount to benchmark Dubai crude since 2008. Russia's ESPO, a grade slightly heavier than Sokol, is at a record low. Basrah Light to Asia is the cheapest in four years, and West African differentials were the weakest in about five years in August amid "slack demand," the Organization of Petroleum Exporting Countries said in a Sept. 10 report.
Spot Dubai crude, the Asian benchmark grade, dropped 3.4% to $90.60 a barrel yesterday, the lowest level since June 25, 2012.
Even a recovery in demand expected later this year in the Pacific market won't be enough to absorb the oversupply, Barclays analysts including Michael Cohen in New York said in a research note Sept. 26. "Supply will have to adjust to balance the market," they said.
Both Iraqi and Iranian oil shipments to China reached records in April, according to China's customs data. Asia accounted for 68% of Saudi Arabia's oil exports last year, EIA data show.
The US received the least amount of foreign oil in June since 1996. Net imports will fall below 6 million barrels a day next year as domestic output reaches a 45-year high, EIA forecasts show. Shipments from Nigeria have dropped to zero.
US-bound Sokol cargoes will slow as companies boost the output of oil from Alaska's North Slope, known as ANS, after seasonal maintenance and more domestic supply makes its way to the region by rail, Barclays's Cohen said.
Alon USA Energy Inc. and Tesoro are among the companies building terminals along the West Coast capable of unloading rail cars of Canadian and U.S. oil. California received 16,373 barrels of crude a day by train in July, a seasonal record, state data show.
"All of that means the portfolio of options for West Coast refiners is, on average, a portfolio that's getting closer to home," Cohen said.
The West may be gaining access to so much supply that even demand for its mainstay ANS, a medium-sour oil, is weakening. ConocoPhillips loaded a cargo of the crude on Sept. 26 for export to South Korea, marking the first of what Morse said will be many bound for Asia to fetch higher prices.
"It's an interesting parallel that Russia oil is going east and ANS is going west," he said. "It's rail and sour crudes coming to the West in greater quantities to escape the glut in the Gulf. If you think about it in terms of all the flows in the world, the West Coast has for the first time seen the spillover."
Recommended for you

Oil powers ahead as critical OPEC+ meeting looms, markets rally