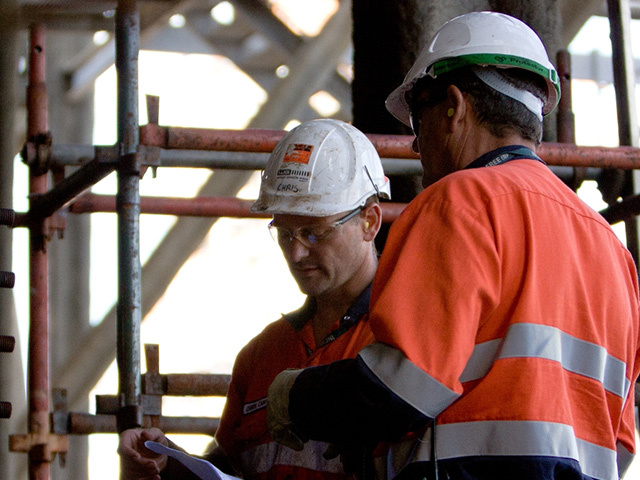 Offshore and onshore contract workers employed by Wood Group PSN (WGPSN)  will have their rates cut by 10% on the back of lower oil prices.
The company said the move will be effective from January 2015.
Salaries will also be frozen for the majority of UK-based Wood Group onshore employees.
The move will affect 1250 onshore contractors and 60 offshore contractors.
It follows a previous 10% cut for UK-based onshore contract workers in May.
A spokeswoman for WGPSN said it was keen to retain people and increase its staff ratio in the UK, so there would be opportunities for contractors to transfer to staff positions.
Dave Stewart, UK managing director of WGPSN, said: "These measures have not been taken lightly, but we believe they are required in light of the cost and efficiency challenges affecting the UK North Sea oil and gas sector, exacerbated by the fall in oil prices.  We understand the need to contribute to creating a sustainable industry and are committed to playing our part to the long-term changes needed.
"Safety and assurance is our top priority and integral to how we do business.  Our focus is on assuring the safety of our people and everything we design, construct, operate and maintain, while taking measures to improve efficiency and reduce cost for our customers and safeguarding the future of our industry.
"We are committed to undertaking proactive reviews of our contractor rates on a regular basis to ensure competitiveness within the marketplace.
"Our customers are focused on prioritising their spend and according to Oil & Gas UK's latest activity survey, production in the sector dipped eight per cent last year to an average of 1.43 Million Barrels of Oil Equivalent (MMboe) per day. Escalating costs at any level has a domino effect on any mature sector and we want to help the long-term health of the industry."
WGPSN employees 12,000 onshore and offshore in the UK. Its parent company Wood Group records about $7billion in sales and operates in 50 countries.
The company founded by Sir Ian Wood last week announced it will create 150 new jobs after securing a BP contract worth almost £500 million.