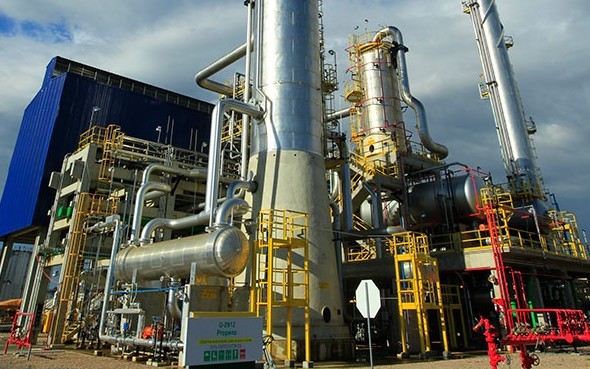 Phillips 66, the largest US refiner by market value, said profit from the sale of gasoline and other fuels tripled in the fourth quarter as prices fell to a five-year low.
Net income rose to $1.15 billion, or $2.05 a share, from $826 million, or $1.37, a year earlier, the Houston-based company said in a statement.
Excluding one-time items, per-share profit exceeded the $1.41 average of 16 analysts' estimates compiled.
Sales fell to $35.6 billion from $43.8 billion a year ago.
Gasoline prices dropped alongside a precipitous decline in crude prices, which decreased 42% during the fourth quarter.
The average price of a gallon of gasoline in the US fell by a third to the lowest since 2009, according to AAA.
Some stations posted prices below $2 a gallon, the first time that's happened in almost five years.
Phillips 66 profited as pump prices for gasoline and diesel did not fall as quickly as oil prices, said Rob Desai, an analyst for Edward Jones in St. Louis.
"As oil prices fell, they were able to basically squeeze out some extra margin from gasoline and retail customers so that's really what helped that segment to report stronger results," he said.
The company's "marketing and specialties" unit, which sells gasoline, diesel and aviation fuel through Phillips 66, Conoco and 76 brand stations, reported earnings of $367 million from $105 million a year earlier.
The results were released before the start of regular trading on US markets.
Phillips 66, which has 17 buy and four hold recommendations from analysts, climbed 2.5% to $70.10 at 8:54 a.m. in New York.
Refining profit rose mainly because of a $369 million gain from the sale of its stake in a Malaysian refinery.
Excluding that and other one-time items, profit from the division was $322 million, down from $418 million a year earlier.
The company reported a 21% drop in earnings from the unit that moves and processes oil products.
Phillips 66's share in DCP Midstream LLC, a joint venture with Spectra Energy Corp., lost $11 million, compared with a profit of $37 million a year earlier.
The loss from DCP was a result of lower fees from falling oil and natural gas liquids prices.
Phillips 66 was spun off from ConocoPhillips in 2012 and in 2013 sold units in a pipeline partnership that now has a market value of $5.5 billion.
For more oil and gas news click here.
Recommended for you

$100 oil is in sight, says analysts and Chevron CEO