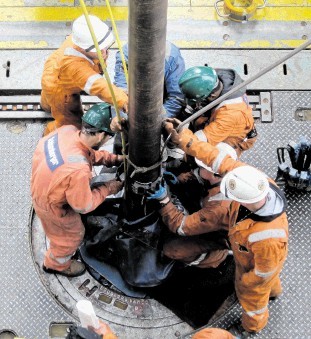 Oil and gas explorer Xcite Energy said it is still seeking out additional partners to help fund its Bentley Field project amid an industry-wide slowdown in project financing.
The Aberdeen-headquartered firm yesterday posted losses of £5million for 2014, against profits of more than £9million a year earlier.
Xcite had no revenues to report, as the 300million-barrel Bentley Field, which lies south-east of Shetland, has yet to start producing.
In August the firm described the field as one of the North Sea's largest untapped resources with the potential to produce more than 700million barrels of oil over 35 years.
Xcite chief executive Rupert Cole said yesterday the drop in oil prices has impacted the project-financing environment, prompting his firm to expand its cash hunt into "new geographic regions where there appears to be a longer-term strategic view."
"Despite yet another challenging year across the oil industry, we have continued to make significant progress with the Bentley development project in those areas within our control," said Mr Cole, who took home a basic wage of £250,000 last year.
He said: "We believe that this work supports our commercial discussions with the contractor group and ongoing funding discussions with potential co-venturer partners.
He said Xcite remains "optimistic about the long term economic viability of the project," adding that the "technical and engineering work streams are largely complete."
An Xcite spokesman declined to indicate when production might get under way, saying that it would be "rash" to make a prediction before the funding was in place.
The company already has a raft of Bentley field agreements under its belt.
Last autumn it signed a memorandum of understanding (MoU) to buy a high-spec drilling rig from Chinese state-owned firm COSL for its Bentley Field, and another MoU with Baker Hughes for oil field services.
It also has deals in place with Amec, Arup and Teekay, as well as agreeing to share technical and operational information with Shell and Statoil regarding Bentley and the nearby Bressay Field.
Last March the UK Government extended its licence for the field until the end of 2016.
As well as looking for support from external sources during the last year, Xcite carried out its own refinancing with a £90million bond issue.
The firm's cash balance at year end was £32.5million. Its shares were down 0.85% at closing on the London Exchange yesterday.
Recommended for you

Adnoc stakes its claim to meet the world's energy needs