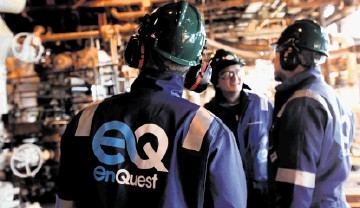 A consultation by EnQuest into changes in shift patterns for offshore workers could mean a reduction in headcount of more than 100 contracted employees.
The oil firm, had previously announced to staff it was considering a move to a three on, three off shift pattern, in line with a number of companies including Shell and Chevron.
A consultation period is currently being carried out and is expected to last around 30 days.
The move could see companies including KCA Deutag, Petrofac and Sodexo see a reduction in headcount of up t0 146 staff in total used by the operator .
This total includes nine EnQuest jobs previously announced.
Neil McCulloch, president, North Sea, EnQuest, said: "The review of our offshore operations to address our unsustainably high operating costs has been ongoing since last year and EnQuest is proposing these changes to ensure the long-term sustainability of our business.
"While no one wishes to be in this position, these changes are in line with what's happening across the industry and we are seeking to follow industry best practice throughout this process.
"The review across our established North Sea assets could result in a potential overall reduction in the core and drilling crews from 681 to 535 – a potential reduction of 146 positions in total.
"This includes nine EnQuest offshore staff positions, and a reduction in positions in a number of contracting companies including Petrofac, Sodexo and KCA Deutag across the Thistle, Heather, Northern Producer and Kittiwake platforms."
A number of companies have made reductions in staff since the decline in oil price last year.
Last month, Shell said it would be reducing the number of staff and agency contractors working on its North Sea operations by 250.
The move by Enquest could see a reduction of around 79 positions from Petrofac.
A spokesman for Petrofac Offshore Projects & Operations said: "We are supporting our customer EnQuest regarding the implementation of proposed offshore rota changes.
"If, as seems likely, this leads to a reduction in numbers employed, we will look to redeploy personnel elsewhere where possible."
In February, Enquest revealed it had made a pre-tax £392m loss in 2014.
But the firm pledged to increase investment on Kraken, one of the largest North Sea developments, which Enquest said was on budget and on track for first oil in 2017.
It is understood around 15 KCA Deutag positions could be at risk.
A spokeswoman for KCA Deutag said: "KCA Deutag is currently the drilling contractor on the Thistle and Heather Platforms.
"As a result of Enquest's proposal to implement changes to offshore rotas on these platforms, we are currently in consultation with our crew and will make every effort to redeploy them, should there be a reduction in the number of crew required."
A spokeswoman for Sodexo declined to comment on the matter.
Recommended for you

EnQuest in hunt for new chairman as Martin Houston steps down