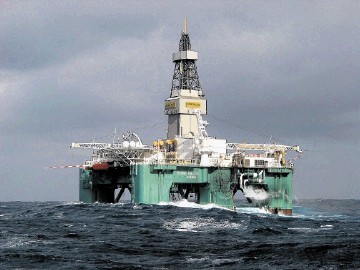 Premier Oil has spudded its second well in the Falklands.
The rig Eirik Ruade moved a short distance a few days ago to the next target of the current four prospects exploration campaign, Isobel Deep.
Earlier this week Premier said it had made an oil discovery in the Zebedee well, with a total of 81 feet of net-oil bearing reservoir and 55 feet of net gas-bearing reservoir being discovered.
In February Falklands oil explorers shook off concerns about low crude prices as they revealed plans to press ahead with work in the region.
Drilling for oil and gas in the resource-rich Falklands area by London-listed companies remains controversial as a decades-long row between the UK and Argentina over the sovereignty of the islands has not been resolved.
Rockhopper and Falkland Oil and Gas previously told how their shared drilling rig was being moved from west Africa to start work in the first week of March.
Once the Isobel Deep exploration well has been explored the Eirik Raude rig will move on Jayne East and finally Chatham.
Isobel Deep sits in an untested area around 40km to the south of Sea Lion, and the prospect could unlock the greatest potential of the wells in the rig's North Falklands Basin ng schedule.
From seismic, the prospect is interpreted to be a lookalike and on a similar scale to Sea Lion, which is now being developed by Premier. Sea Lion's reserves appear to be around 300million barrels of oil.
Isobel Deep is a large sedimentary fan formation. Although this apparently promising geology underlies up to eight further stacked fans, including one called Elaine, the well has been designed to test Isobel Deep only.
Premier's development was downsized to a recoverables figure of around 160million barrels earlier this year because of the collapse in oil prices and mounting costs.
Recommended for you

Well-slot: One-in-four hit rate for Norway exploration