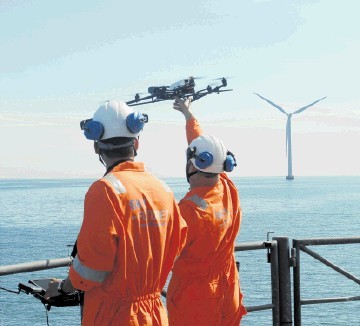 A drone firm specialising in the oil and gas industry has been boosted by venture capital investment worth more than £2.5million.
Sky-Futures, which is opening a new, larger office in Aberdeen on Monday, has also been backed by a US fund specialising in drone technology.
The firm was founded in 2009 by James Harrison and Chris Blackford who operated drones in Iraq and Afghanistan while in the British Army.
The third co-founder Nick Houslop-Rogers is a BA airline pilot who brings the firm extensive regulatory expertise.
The company raised the £2.5million from London-based venture capital fund, MMC Ventures earlier this month.
Another investment from Jonathan Downey, a US-based drone aviation specialist, was announced yesterday.
Sky-Futures has worked with more than 30 of the biggest oil and gas companies including Apache, BG Group, BP, ConocoPhillips, Shell and Statoil and offers drone inspection services in the North Sea, the Middle East, South-east Asia and North Africa, and has recently opened an office in Houston to serve clients in the Gulf of Mexico.
Chief executive Mr Harrison said the fresh investment came after a seven-fold growth streak in 2014 and winning regulatory approval to fly the drones in the US.
He said: "We have experienced a fantastic level of growth in the past year, expanding our global reach and further establishing ourselves as the world leaders in oil and gas drone inspection.
"We recently received the permit to use our drones in United States national airspace, an incredibly significant development, allowing us to further expand our international operations footprint."
Simon Menashy, investment director at MMC Ventures, said: "Drone technology is an exciting area of innovation, but it's only now that we are seeing leading commercial operators emerge. Sky-Futures' use of drone technology in the oil and gas market is world-leading and changes the game for platform operators in terms of cost, safety and depth of data analysis.
"We're excited to work with an exceptional trio of founders in James, Chris and Nick, and look forward to helping the team to take the business to the next level of global scale."