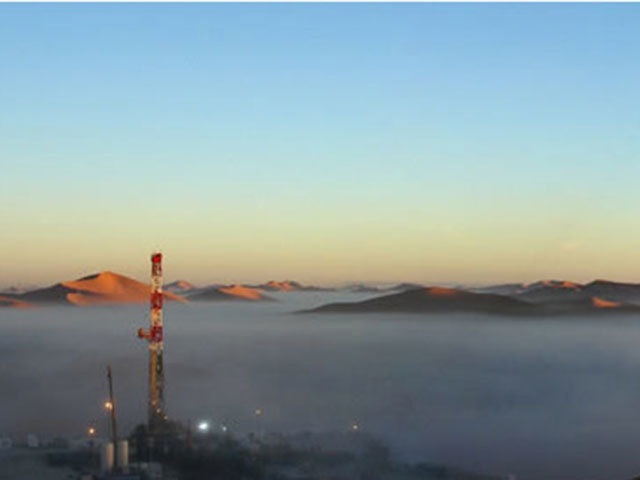 Irish oil and gas producer Petroceltic has invited bids from contractors to begin work on its flagship gas plant in Alergia,
The pre-qualification process has been completed for the engineering, procurement and construction ("EPC") contract for the Ain Tsila gas and condensate development in Algeria.
The short list of preferred companies with Algerian experience and are capable of delivering the central gas processing facility includes Daewoo, GS Engineering and Dodsal Engineering (acting as a consortium), JGC Corporation, and Tecnidas Reunidas and Bonatti (acting as a consortium).
The scope of work comprises a central processing facility, an industrial base, an administration-accommodation base, well gathering system, and product export system.
The surface facilities have been designed to process up to 420 million standard cubic feet per day of wet gas, and transport the resultant product streams of dry gas, liquefied petroleum gas ("LPG") and condensate to existing tie-in points in the Algerian national hydrocarbon export infrastructure.
The contract is scheduled to be awarded later this year with first Ain Tsila gas export scheduled for 2018.
Ain Tsila will produce gross reserves of 2.1trillion cubic feet of sales gas, 67million barrels of condensate and 108million barrels of LPG.
Development drilling is due to start later this year with a newly-built rig, contracted from Sinopec, which is currently en route to Algeria. Up to 24 new wells will be drilled and six existing wells recompleted prior to first gas, with a production plateau of 14 years maintained by further drilling.
Petroceltic holds a 38.25% interest, Sonatrach a 43.375% interest, and Enel an 18.375% interest in the Isarene PSC.
Chief executive Brian O'Cathain, said: "We are delighted to see the continued solid progress of the Ain Tsila project towards the EPC contract award, and onwards towards first gas in 2018. The anticipated award of the EPC to an EPC contractor with significant Algeria experience will be a major milestone in de-risking that schedule."
Earlier this month Petroceltic backed down in a drawn-out bond battle with majority shareholder Worldview Capital which had threatened legal action over Petroceltic's plan to issue a $175million bond secured on Ain Tsila.
Recommended for you

Gazprom launches El Assel work in Algeria